Thank you for applying for the Online Transformation Program for Skinny-Fat Guys.
Right now I'm fully booked with clients but I promise I will read carefully through your Client Assessment Form and get back to you via email within 48 hours.
To ensure that you receive my response:
1) Check your email inbox (and SPAM folder) for a confirmation email from my email "Oskar Faarkrog".
The confirmation email proves that your Client Assessment Form went through.
2) Whitelist my email address to prevent deliverability issues.
Because of the large size of my email list, a lot of email providers such as Yahoo and Google mistakenly catch my free training emails as spam and often my email doesn't even get delivered to your inbox.
To prevent email deliverability issues, you can whitelist my email address by following the 1 minute the guide below:
Whitelisting my email address only takes 1 minute and it is important because many long-time readers have told me they didn't receive my emails.
After you've whitelisted my email address, I highly recommend that you check out some of my fitness articles.
My fitness articles have been read by over 3 million skinny-fat guys from all over the world.
You can see 10 of my most popular ones below:
You may also want to check out my YouTube transformation video, showing my 60 pound fat loss and 40 pound muscle gain:
And how to train your chest if you have puffy nipples or man boobs (you would be surprised but most men train their chest the wrong way):
Follow me on social media:
Instagram: Client transformations, training tips, meals and so on.
Facebook: Articles.
YouTube: Training videos and my transformation videos.
And check out some of my success stories:
Logan Rando: "After 6 months of doing the beginner body weight routine I found myself 30 pounds lighter, with visible abs and a lean build."
"I began my fitness transformation in December of 2014. I stumbled across Oskar's website while reading through some fitness forums. For several months I had been killing myself in the gym, lifting heavy weights five days a week. My results were lackluster and I constantly felt lethargic and irritable. I was putting in very hard work at the gym yet wasn't gaining the muscle I felt I deserved. Even worse, I felt that I was retaining fat in all the wrong places. I still had a visible belly and very little definition.
When I discovered Oskar's website, SkinnyFatTransformation.com I had a moment of clarity. For the first time in my life, someone was specifically addressing my build and my genetics. The "skinny-fat" physique perfectly described my body type. When I read about Oskar's personal transformation from skinny-fat to ripped, I knew I had to try his body-weight regimen for myself.
After 6 months of doing the beginner body weight routine I found myself 30 pounds lighter, with visible abs and a lean build. I took a vacation to the Dominican Republic and was constantly complimented on my physique. After making the best progress I ever had, I felt amazing but was hungry for more. I knew I was ready to take my fitness to the next level, so it was a no-brainer when I made the decision to work with Oskar in the online coaching program.
After skyping with Oskar he made note of my personal fitness goals and designed an exercise routine and diet plan tailored to my goals and lifestyle. Following the fitness regimen could not have been simpler. Oskar laid out each exercise with the prescribed rep range, number of sets, and rest periods. The diet plan included nutritious foods that I like to eat and was incredibly easy to follow. I was never tempted to fall off the wagon because Oskar built into the plan two cheat meals per week. I constantly looked forward to my meals, felt satiated, and was energized for my intense workouts.
The routine that Oskar designed challenged me to work every muscle group in my body in a timely, effective manner. I always left the gym feeling satisfied that I put in a hard day's work while hitting each muscle groups effectively. Simply put, the return on investment that Oskar's plan yielded far exceeded that of any workout I had previously used. I felt that I received a lot of value and personal attention from the program. Oskar is determined to help you reach your fitness goals and will be along with you every step of the way." – Logan Rando
Harshit Godha: "I started with 0 wide grip pull ups, and progressed to 15."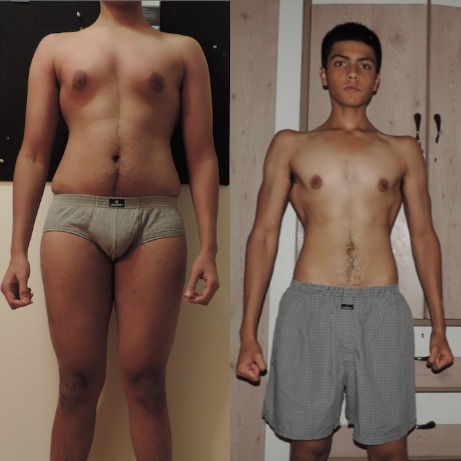 "I faced the same problems of low testosterone and skinny fat body type as you did, and after following you advice i made some real progress, but realised that I needed some personal guidance, and it helps to have someone to motivate you when you hit a plateau. I started with 0 wide grip pull ups, and progressed to 15. I am quite surprised with my back and shoulder growth, it's evident in the progress pictures you asked me to take. The workout also helped my posture, which often is an overlooked aspect. The training routine is tailored specifically to my needs and goals. The diet plan works great, definitely boosted my testosterone levels, and also its flexible and includes 2 cheat days, so it its quite easy to follow. I am happy with the progress I have made so far and am looking forward to work more with you."
Francis: "This is probably the most amazing thing I have done with my body, and it's due to this program."
"This is probably the most amazing thing I have done with my body, and it's due to this program. I'm amazed. The fact that I have done no cardio is crazy. I love this program man, thank you Oskar! If it wasn't for you keeping me in check, I would be way off and probably starving myself trying to loose weight. I can't wait to see what I look like in another month." – Francis
Steve Chavez: "I've never did a single pull up, managing to do pull up reps was a breakthrough for me.

"



"I watched your transformation pictures and video and it amazed me, I didn't think anyone that was skinny fat could be in that shape and I could relate to all the problems you had been through.
Also I read all your blog articles and they all made sense to me. They were to the point and filled with your experience, they were exempt of any motivational bullshit and completely logical.
I never did online coaching before and I didn't thought I would never do it since I've always heard that it was easy to get scammed, but after reading your honest advice and doing the application form for your coaching it was clear to me this risk didn't exist, so that made the decision easier for me, it was the best decision I made for my personal health. Without your coaching I wouldn't been able to improve my physique.
Many, the clothes now fit me better, I haven't just improved my physical health but also my mental health. Also there's another perhaps not planned consequence of the body transformation. It used to be impossible for me to go out of my house after eating lunch or any other significant meal, I felt bloated and overall irritable and also avoided eating on the street. This caused me a lot of social issues. Thanks to the constant exercise and the customized diet plan, nowadays I can go out after lunch and eat on the street normally.
Results have being the best I've got in my entire life. I'm in the best shape I've been. I think the pictures say all of this. Before I followed intermittent fasting, HIIT and a routine that was designed for me in a gym, I didn't get any noticeable results.Yours were the best results by far.
Diet: It is the best diet I've followed. Since you customized according to my needs it was simple and easy to maintain and I never felt it was hard to follow it. The pinneaple does magic to my stomach, I never feel bloated now and I feel energized over the day. I'm planning to stick with this diet for the rest of my life.
Training: Is the best workout I've had, I've never did a single pull up, managing to do pull up reps was a breakthrough for me. I really like the bodyweight exercises, I feel accomplished when I progress on them and also I feel stronger and more agile after doing them. With weights exercises I feel I somehow get clumsier. It's really fulfilling seen I'm getting closer to that v-taper form.
Your program has improved my physical and and mental health. It was the best investment I've ever made. Also a life lesson I got by reading your blog that can be applied to accomplish other long term goals as well was that one must not rely on motivation but on habit. I'm going to maintain your training program and diet as a lifestyle." – Steve Chavez, Peru
Gordon Martin: "For the first time in 36 years, I am losing fat rather than gaining it!"
For the first time in 36 years, I am losing fat rather than gaining it! I already look better than most of my friends who are out of shape and overweight.
I have never eaten so much on a diet! There were many times I simply felt that I couldn't stuff another bite in my mouth.
I shop and cook once a week. Right now, my fridge is stocked for the week… salmon, chicken breast, ground turkey meat, grilled vegetables, rice, sweet potatoes… I have the most delicious meals that only require 3 minutes in the microwave. No more endless snacking on garbage that never fills me up.
The food always makes me feel full and happy and never bloated or slowed down or gassy.
I loved the customized bodyweight workouts. For those of us who travel a lot, there are no more problems with finding a gym. Also, the workouts are short and to the point. I like working out now, but I still want to be done in an hour or less. Your workouts were perfectly timed and easy for an out-of-shape beginner to follow and work on.
The training program and meal plan are clear and easy to follow. I would tell future clients to turn off their brains, listen to Oskar, and get ready to lose some weight.
You are one of the few people on the Internet involved with men's health topics that actually cares and can get results for clients. The money I spent on your coaching services are the best money I ever spent! – Gordon Martin, New Jersey
FJ: "Well, it's the first time I've been lean since my early 20s… so there is no comparison!!!"
Why did you hire me as your body transformation coach?
I was researching different exercises and diets for guys with "dad bods". I was very impressed with your articles on skinny-fat transformation, because that is me!
I was equally impressed that you had gone through – and documented – your own skinny-fat transformation. I hired you because I was confident that you knew what you were talking about, and could help.
How has my coaching helped you with your body transformation?
I have fully leaned out, and am just beginning the bulk phase. You have monitored and advised on my progress all the way through. I have much better eating habits, and feel good with my physique
What kind of results have you gotten since you started following my coaching program?
I have fully leaned out, and am in much better shape
How do these results compare to the results you got on other programs you followed prior to my blog advice and coaching?
Well, it's the first time I've been lean since my early 20s… so there is no comparison!!! I did not get results with any other workouts I tried.
How do you feel about the structure of my diet plan?
The structure is great. It is easy to follow and meal preparation isn't overly taxing. I definitely feel healthier and more energized on the diet plan.
How do you feel about the structure of my training program?
I love the structure. The training time per workout is not too long, and it is not overly demanding in terms of complicated exercises.
What makes my training programs and diet plans better than those you tried before?
I had never been on a formal plan before. What I can say is that your program is easy to follow – and works!
What does a typical day in your life look like?
My days are crazy. I have my kids half the time, and obviously all of the responsibility that comes with being a single dad. I have a full time job, and a busy social life. I also travel a lot. My typical days are generally a rushing combination of all of these things!
Is there anything you would like to add? If so, please do it here.
I'd like to say thank you. I took a leap of faith hiring someone through a website & email – and you have come through in flying colors. I am very happy with the results so far and am looking forward to completing the bulk phase. I am excited to see where my physique is at in another few months.
Rob: "

I can finally see my abs! I've gotten wings and more definition plus more stamina and went from 9 pull-ups to 17."
I had previously had two coaches, one online and one at a gym. Both were probably OK coaches, but I found that they didn't quite understand my main problem, which was that I would just gain a lot of weight following their program and would not see the actual results because the fat would hide any muscle i gained. When I saw your before picture and read your story, something ringed a bell and I could identify with the struggle.
After having followed your online blog and read all articles and testimonials, I got really excited when I saw you were taking new clients and was elated when it was a reality that I was in the program.
Once I joined the program I felt a responsibility to get results since for one, I paid for the service and secondly, because you were there asking me for results and giving advice when I needed them. The program helped me understand that it takes dedication, not just going to the gym, but also following the nutrition plan.
The program has certainly made me more proud of myself and more self confident. I now go to the beach and have way less issues with showing myself without a shirt than I did before.
I can finally see my abs! I've gotten wings and more definition plus more stamina and went from 9 pull-ups to 17. I lost much of the fat around my waist
The other programs advocated eating a lot and lifting heavy. While I did get stronger and did gain muscle, I also got more fat in unwanted places, which is not what I wanted. I wanted definition and a lean look
The workouts were extremely well planned and focused on developing the muscles that mattered for the type of body I have and for the muscles I wanted to develop.
It was interresting to see the numbers change, which also was motivating. But the biggest motivator, for me, was the pictures when I started being able to see the changes, which meant that other people around me would also see it.
Emilio: "Having been a skinny fat for 15 years (I'm almost 30 now), I'm still surprised and enjoying not being it anymore."
Hi Oskar, my name is Emilio, I´m 29 years old and I'm from Argentina. I came across your site and felt identified with you almost instantly. As a skinny fat guy, I have been struggling for a long time to improve my appearance with a lot of effort and poor results, following the same bad advices as you in your beginning. It's been 7 weeks since I started applying your ideas and so far I've had the best progress in my life after years of intermittent weight training. Having been a skinny fat for 15 years (I'm almost 30 now), I'm still surprised and enjoying not being it anymore. From being about 1m85 / 87 kg with 20-25% BF, right now I'm about 77 kg, with about 12-14% bodyfat, and I love the way I look. I still sometimes look at me in the mirror and I can't believe I am now between slim and toned, having been flaccid all my life, ashamed of taking off my t-shirt. I really appreciate having found your website and I want to thank you for sharing all your experiences!
Andy: "I'm pretty amazed by the results from such a simple and easy to follow workout."
"Oskar, Just a quick note to thank you for your website and all of the articles. I've been following Phase 1 since January and can now comfortably do 15 chin ups and 16 diamond press ups, I'm pretty amazed by the results from such a simple and easy to follow workout. Thanks a lot, see what you think of the transformation so far from the attached!"
Janu Rasby: "September 2014, I just could do 3 pull ups. Now, My warming up consists of 12 Pull Ups."
Amelia: "I no longer read other training blogs/websites for answers as the programs you have created work so damn well! :)"
Your personal experience in fat loss and muscle gain was a real drawcard – I could trust your opinion and guidance knowing you had also been been through the process. Being a certified personal trainer also gave you cred that you had the education to back up your programs. You also looked super friendly!
Nutrition: Freedom from obsessive eating / dieting. Your nutrition program has allowed me to simplify my meals and also be flexible in what foods I enjoy the most and the times i enjoy eating them! I am also no longer afraid of rice – infact we are now good friends! ha
Training: No longer focused on big numbers and having to be in the gym everyday – my program is fun and i can train at home!
I am extremely happy with both my programs – you have really taken the time to customise them to my preferences and lifestyle and for that i am so thankful – I no longer read other training blogs/websites for answers as the programs you have created work so damn well! :)
Dennidick Durian: "From the bottom of my heart thank you so much brother"

I decided to send you my pictures because I just want you to see how much I improve my body when I started reading your blogs. From the bottom of my heart thank you so much brother keep up the good work. I know I'm not ripped as you are but I'm almost there. :) Happy anniversary!
Rioghan, 16 years old: "My Puffy Nipples Are Gone"
I had puffy nipples for nearly 2 years and they they affected a lot of little things like standing in the corner of a changing room with your back to everyone when getting changed. These things added up and decreased my self-confidence.
To get rid of them, I first and foremost followed your diet advice for puffy nipples.
The dietary changes had immediate effects such as increased concentration, more energy throughout the day and a lot more motivation to workout.
As a result of my success on your diet, I started following your training advice too. I did diamond push ups for the puffy nipples and I did most of the exercises you mentioned in your eBook "How to Create the Illusion of Wide Shoulders".
My chest is now clearly defined and the puffy nipples are gone. (Just in time for summer)!
In total, the puffy nipples took about a year in total to get rid of. (I did nothing about my issue the first year I had it).
The progress was gradual and consistent. I didn't wake up one day with normal nipples.
A lot of the time I didn't notice any difference until I looked at old pictures.
In hindsight, puffy nipples are the best thing that have happened to me.
If I didn't have them, I'd still be sitting on my ass playing Call of Duty right now with a saggy chest, completely unaware of all my health problems.
Regards,
Rioghan
Alex Huang, Taiwan: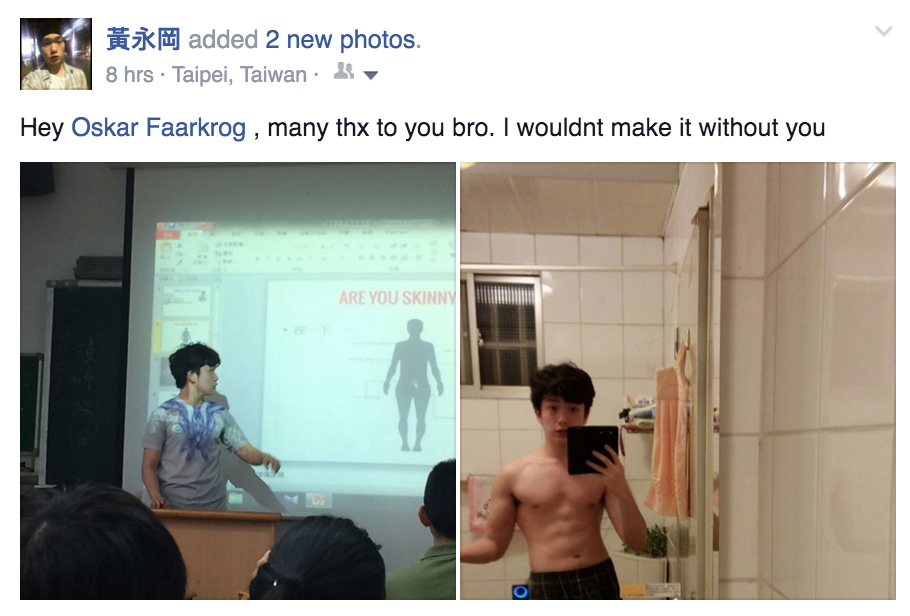 Param D: "I am seeing changes I didn't expect"
I was your typical skinny-fat guy; love handles, wide hips, narrow shoulders, looked thin in clothes but a whole different story once the shirt came off.I used to do workouts such as Stronglifts/Starting Strength and eat as much protein as possible while being in a great surplus. For years I had no results and began to lose motivation but always managed to keep working out. One day, I decided that enough was enough and I had to find a different way to make changes. I went on Google and typed in "Skinny fat transformation" and I was very pleasantly surprised to learn that there was a website dedicated for helping people like me.
I read through the articles and really liked what I read. Oskar had even provided pictures of when he used to be skinny-fat which is something most "skinny-fat experts" had never shown me. After signing up for Oskar's diet plan I was surprised by the flexibility and simplicity. There were no complex calculations or guess work at all. His diet plan is very well balanced, to the point where I am seeing changes I didn't expect. I used to get massive headaches throughout the day, but now there are completely gone. Due to my now eating a balance of protein, carbs, and fats, my body is able to function MUCH better than before. Currently I am 170 lbs which is amazing since I haven't weighed this for over 7 years now! I still have lots of progress to make but with Oskar helping me I am confident I can do it!
Going into this diet plan I knew it would be well worth the effort. Oskar had proven himself to be an incredible coach and a great guy. I think everyone should have a friend like him. He was always very patient with me and always answered any question I had in great detail, despite me constantly asking him something every other hour haha. I've since come to see Oskar not just as my coach or mentor, but as a friend as well. He cares about my progress and that means a lot to me, and I know he will care about yours as well.
NJ Golla: "Wow! I've never been this lean before."
Wow! I've never been this lean before. All my life I was full of bulk. Then I read on your website on the importance of getting lean. I was tired of not having confidence of taking my shirt off so I decided to diet hard and stop my bulking sessions as I could see myself getting fatter and fatter if I bulk more.
I applied what I learned in you such as eating 2 meals a day and doing bodyweight exercises. All I could say is that thank you because I learned a lot from you and I still can't believe that I am 10-12% body fat because I've never been this lean before! Thank you so much Sir Oskar.
Ludvig Sunstrom, Co-Host at one of the biggest Swedish self-development podcasts "25 Minuter"
With the advice Oskar gave me, I was able to put together a simple (but effective) upper chest workout routine. In just 5-6 weeks, it made my upper chest striations pop!
Ash S. "I couldn't have done this without you"
Oskar! Just wanted to write in and thank you for all the help this past year. I couldn't have done this without you. I'm so glad I came across your website end of 2013 and didn't end up making the same mistakes as you did in your early years. I know I annoy you with the most basic questions, but you answer them all patiently and that's what makes you more of a friend than a mentor. Thank you again for all the help and I'll be seeing you soon!
Sairaj Patil: "It's almost been a month but I can see various changes in my body, such as in my digestion, I do not feel hungry anymore."
It's almost been a month but I can see various changes in my body, such as in my digestion, I do not feel hungry anymore. All these years I've wasted following improper diets and training for a waste. I'll work harder to make you proud of me and so I can show the world how extraordinary my training guru is, you. Thank you for leading me on the right path, now I hope you can walk by it, side by side , guide me on this help me accomplish my goal, so I can finally be proud to see myself in the mirror.
Regards Sairaj
Tjrejo Wuluhan: "I am so amazed to see the result"
Hi Oskar, thanks so much for your advice. You know, I'm not skinny fat actually. I'm ectomorph. I have been in this kind of state for about 35 years. I'm tired of this. Just 2 months ago I came across your website after hundreds of browsing body building website. Now, I apply your basic body weight exercise: squat, diamond push ups, and chin ups. I am so amazed to see the result. I can see my chest separation lines for the first time!!!. I don't eat clean because I'm very low paid worker here. I just eat anything in sight. I weight 52 kg before, and now 62 kg with 175 cm height. I know, my real transformation is still very long to go. But I just don't care about it. my hardest adversary is me myself!.
Fabio: "I feel like I have endless possibilities and I'm not afraid to fail anymore."
Prior to finding Oskar's website I was doing strength training 3x times a week with little to no results. When I started following his advice, things started to happen. I became leaner and put on a lot of muscle (mainly on my back), giving me a "big guy" look. His advice REALLY WORKS. I'm working out 4-6 times a week using mainly bodyweight excercises and can now easily perform 15-20 pull-ups. When I started, I could barely hang on the bar. When you start changing your body, your mind start changing too. Now I feel like I have endless possibilities and I'm not afraid to fail anymore. Thank you Oskar, if it wasn't for your experience I would have lost a lot of time!
Tommy Nguyen: Lost 37 Pounds!
Before: 176 pounds
After: 139 pounds
Lassi: "I love you man, keep doing what you doing!"
I love you man, keep doing what you doing!
Your fan from Finland,
Lassi
Luke Loizou Makaveli: "Everything in my body gets stronger thank to your advice from the web page skinny fat transformation."
Hi sir. My name is luke and i am 16 years old. I started training 7 months ago because was skinny fat overweight guy. I decided to make a change and I am on the half way there. Everything in my body gets stronger thank to your advice from the web page skinnyfat transformation. I want to say thank you because you have provided me with all the info i needed to know
Daniel: From 4 to 14 pull ups in 3 months
Man my strength increases a ton! Went from 4 pullups to 14 and 15 crappy form diamond pushups to 30 good form diamond pushups. It's only been 3 months so I have a long way to go but. The first pic was after going to my local gym for a full year and seeing no little to no results. I'm glad I ran into your video on youtube. Thanks for everything man I'll definitely keep you updated for my 6 month and 1 year transformation!
Joshua Cash: Complete 1 year body transformation
My name is Joshua Cash, I am 33 years old, I recently went under total hip replacement surgery. I lost a bit of weight before surgery to help aid in recovery after the surgery. After gaining back some weight from being inactive after surgery I decided I wanted to start getting into shape. I initially convinced myself that I wanted to start doing stronglifts 5×5 and I even set up all my weights that a friend had given me, but I could not get over the concern of hurting myself especially so soon after major surgery.
So I started searching body weight exercises and came across the Skinny-Fat Transformation blog. That was in early September of 2013. After reading through several articles I realized that I was not far enough in my fitness journey to worry about heavy lifting especially since I still have some bodyfat that I need to get rid of. I did not take measurements at my fattest but but I know that I was borderline obese.
I was able to achieve this by eating good foods at a small deficit everyday, I have also incorporated intermittent fasting since I have found that I feel much more satisfied using that as an eating schedule. I am doing a pushup challenge that I modified in order to challenge me more. I am also doing a pull up challenge that I try to add onto every time I work out. I have only been working out 3 to 4 times a week but plan to increase that very soon. I have done very little cardio, I usually only do about 30 minutes a week or so. I have played around with ab workouts as well but have not done them regularly. I feel like I am still a work in progress but am happy to say that I am making this into a lifestyle instead of a crash diet like we have in the past.
Cole St: "I have managed to go from 5 chin ups to 10 in 3 weeks with a huge mass gain."
Rob: "The diet is going great!"
Online Coaching Client
Hey Oskar ,
Just wanted to let you know the diet Is going great! I am down 3 pounds already ! At this rate I'll be cut in no time! Thanks again!
(Quick update just wanted to let you know I lost 2 lbs last week (185) an 2 more lbs (183). Total loss 7 lbs an all while eating a ton of awesome food ! Thanks again !)
Rody Bothe: Ready for the beach in 3 months
I started reading your website like 3 months ago just after I was really annoyed of not getting the results I should have made. Earlier when I was under supervision of an ex bodybuilder who told me to do pullups and deadlifts for 3 times a week I saw good results in my back and arms. Then when I read your website and remembered this sort of overtraining working my body and getting results that I wanted.
Pablo Torres: "I like your simplified approach"
Dude I don't really have any questions at all, I just wanted to shoot you a big big THANK YOU for all the info you put out there. I like your simplified approach to fitness and beating skinny-fatness. It's awesome! I can currently do 10-12 chinups in one go or 5 sets of 5, and around 15 diamond push ups distributed in 3 sets. I attached one picture that shows how happy I am with my progress. For the first time in maybe 5 years, I like my body! Not a huge midsection and also not skinny, small and weak. Next goal: lose inches from my belly without getting (too) small. Today is deadlift day! Best day. And then we feast on chicken, spinach and a cup of oats. Thank you again! Cheers.
Riskes: "thanks to you now i am free from that side flab and my body feel more functional now"
your approach is minimalistic and felt easy on the paper.. but when I started out with bodyweight exercises i couldn't do a pullup or chin up .. my pushup capacity was 4 and squat was horrible because of the pain next day.. but when i gradually progressed the results came out slowly and it took more than six months to cut those flabby parts. i was a regular gym goer who dreamt of a physique and your approach was kind of my last resort before giving up completely.. thanks to you now i am free from that side flab and my body feel more functional now . you have been a hell of a motivation for me. thank you for that .
Regarding photos: the one in which i am just skinny fat i weigh 91 kgs. but i am just 80 kg now and look more muscular and feel functional now.. the pump training you wrote about is amazing . my pants size were 38 which is now down to 34 . wouldn't be here if not for your approach.. thank you
Lassi: "After 5 months of training I've never looked or felt better. All thanks to you."
Holy shit Oskar, this latest email you sent is by far the most motivational thing I've come across the whole internet. There is not many bloggers out there who really open themselves up and talk about these benefits aswell. I love your approach on fitness and you are the only blogger whos advice I follow without questioning. Hell, you are like a big brother to me.
I found your site last September and it took me 3 months to get shit started.
Now after 5 months of training I've never looked or felt better. All thanks to you. Next year is going to be very interesting, can't wait to see the results.
Have a great summer Oskar, keep doing what you do. I'm sure you inspire a lot of people including me.
Sincerely,
Lassi, Finland
Kuba Bielecki: From 1 to 8 Pull Ups In 3 Weeks
Hello again, finally I've got some free time. So, I started to following your advices, because I was depressed about my look, I felt different. At the beginning i could only do 1 pull up. After three weeks i can do 8 pull ups and 10 diamond push ups. For the first two weeks i used three basic bodyweight exercises: push ups, squats, pull ups three times a week. After these two weeks i felt much stronger and lighter. In the 3rd week i've been using a little harder routine which consisted: pull ups, chin ups, squats, lying leg raises, pike push ups. For now, I've been training for about one month and i feel like a different person. Thank You very much!
Mikael H.: Body recomposition
"Here are my humble gains from the past 4.5 months. When I took the first picture I had done body weight exercises consistently for maybe 2 months. Now I'm 79kg or 175lbs with the height of 186cm. I must admit that I am more to the skinny side on the skinnyfat spectrum so losing fat (more like weight including all hard worked muscle) has never been a problem for me. But I do have ridiculously long and thin arms and a tendency to get muscle on my ass and thighs.
When the first picture was taken, I was able to do maybe two diamond pushups, now I do sets of 8-12. I just finished a pushing workout with a circuit of hindu, diamond, spiderman, broad and clapping pushups. I hadn't done any other pushing or pulling exercises except pushups and pullups but recently I started to do some dips and deadlift aswell.
Arms are still skinny as hell but atleast I got some definition on my stomach and back. Also my shoulders and traps have grown which is good since my neck doesn't look that giraffish anymore."
Mohammad: "I couldn't have done this without your website"
"Greetings Oskar!
I was fortunate to come across your website and I want to thank you so much because of your great advice I am becoming successful enough to becoming fit.
These photos are taken precisely 11 months apart, and I'm in the best shape I've ever been.
I looked at my training as a lifestyle choice and made it a habit. I try to eat healthy most of the time but I do cheat here and there. I've stumbled a lot throughout this journey however I got to know my strengths and weaknesses and how my body reacts to different foods. Without your guidance I wouldn't have known how to start my fitness journey. Thank you so much Oskar, you're an inspiration.
All i want to say is THANK YOU
I couldnt have done this without your website.
Thank you and God bless,
Mohammad"
Nick: "The best part about his approach was that I saw real results."
I found SFT in late March after another unsuccessful bulk. I was around 158 pounds and looked pathetic. All my friends told me to keep bulking but I was tired of looking like a blob. SFT gave me the advice to get lean before doing any bulking and build strength using bodyweight. I was skeptical until I read Oskar's story. It gave me hope because I made a lot the same mistakes as he did. Seeing him rise up from being skinny-fat into his current physique was downright inspiring. The best part about his approach was that I saw real results. I got stronger on body weight exercises. I went from doing only 6 chin ups to 15 and from 8 diamond pushups to 25. I now weigh around 152 and I can finally say I'm not ashamed of my body. What I liked the most about the dieting approach is its dedication to the fundamentals. No counting calories, no multiple meals or meal timing. I also like bodyweight exercises because I feel more tired in the end and get a great pump in my arms. Oskar's approach has had some big effects on my life. I no longer obsess about every calorie, or gram of protein. I don't freak out when I gain a pound after a day. The biggest thing though, is I'm not stuck in the skinny-fat cycle. I am never going to allow myself to balloon up so bad that I have to do extreme cuts and look like a skeleton. I can now steadily increase strength and muscle mass and see my own progress. In fact, for the 2nd time in my life, I have abs! The last time I had abs was in high school when I was 130 pounds.
Seamus: "The coaching was awesome!"
David Rodriguez: "My back is wider"
Thanks, thanks, thanks. You have saved me months of training. For the last three months I have focused on pull-ups/bar dips/chin ups/push ups (in different varieties). Always increasing reps. It was hard at the beginning, but man… That coca cola shape that my body used to have has completely disappeared. My back is wider and makes it look like I have a narrow hip.
Always grateful,
D/
David Navarro: Adding 200 pounds to my deadlift
Hello Greetings from Southern California. My name is David. I have been following your book "How to Create the Ilusion of Wide Shoulders" and I have improved my chin ups and deadlift. The beginning of January 2014 I was only about to do 4 chin ups in a row and only deadlift 60 kg. Now i can deadlift 150 kg and I am now on good sets able to do 8 to 10 chin ups. Really happy I found your website on "Bold and Determined" by Victor Pride. Keep up the great work.
Robert: "I stumbled upon your website and decided to take your advice on training. After a couple of months, I definitely see results."
"Hi Oskar!
Thank you for this blog. I have tried various things for decades. Nothing worked. I couldn't get lean and toned. I tried hitting the gym and endless (aimless) weight lifting, I tried running for miles, etc. After not seeing much progress, I would quit. And so the vicious circle would continue. I've spent years researching anatomy, exercises, nutrition and expert advice. Once I became aware of different body types, I began moving in the right direction. Finally, I stumbled upon your website and decided to take your advice on training. After a couple of months, I definitely see results. I'm far from looking great, but unmistakably, I am on the right path.
Robert, 37"
Soumick: "Your Diamond pushups, pull-ups are really helping me gaining muscle."
Nathan: From 0 Push Ups to 14 Diamond Push Ups
Hi Oskar
Just writing to say thanks again and to tell you how im doing.
I started your body-weight training back when you e-mailed the original version about 4 months ago, back then I could not do a single push up or pull up. since following your training I can now do 14 diamond push ups and 5 chin ups. From when I started reading your website back in may I've gone from a 37 inch waist to 30. I've still got along way to go and other ways to progress, such as getting rid of most of the milk products and other foods for substitutes (I would have done but I'm at college and live with my mum still) but I'm hoping to get a job in the very near future so I can change that. I am now at the skinny side of skinny fat rather than the fat side of skinny fat. Also today I was told by my mum "you look so skinny now its pathetic" from which i just smiled and just ignored the negativity, I think she said that cos shes been so used to me being fatter all my life, but as you said in one of your articles its better to be skinny than skinny fat. And thank you for the new body-weight training book, it was even more helpful and the instructional videos helped with making sure I'm keeping the right posture and that. I look forward to doing 20 pull ups and 20 raised diamond push ups and onward.
This e-mail has gone on for too long so thank you again.
Many thanks from Nate.
Andrew B., Software Company Owner
September 2014: 185 pounds, 0 diamond push ups, 0 chin ups
January 2015: 174 pounds, 20 diamond push ups, 6-8 chin ups
Hey Oskar, I can testify myself after 18 years of going to the gym (from age 16 to 35), including doing the most intense HIITs cardio, compound weights etc… my persistent 'man boobs' didn't shift, I was fit but I could not get lean without starving myself and losing muscle. Then suddenly, after reading your blog, I got results.
I incorporated diamond push ups into my training (daily), added coconut oil and saturated fats, and started chin ups (negatives) and body weight rows.
In Sept 2014 I could not do one diamond push up or one chin up and I weighed 84kgs. Now by Jan 2015 – just 4 months – I weigh 79kgs and can do 20 good form diamonds and 6-8 chin-ups. I have not weighed 79kgs since I was 23!
I believe your focus on getting your hormones right, healthy fats (coconut oil) and body weight training that you can do every day is what makes it so successful. I look forward to 2015!
Yours is a great blog and tackles head-on some of the problems guys with less-than-brilliant genetics face. Keep doing what you do!
James O Toole: "At 41 years old I'm in better shape than I was at 20."
Jeremy: "My physique is skyrocketing"
Thanks for all the advice. I've used it and have dropped from 170 15.5% bf with only 3 chin-ups to 167 12.2% bf with 15 chin-ups unjust the past 10 weeks. I've also never been able to do a diamond push-up and now I can do 20 in a row. Strong lifts was just making me fat before and now that I have implemented MAINLY bodyweight training my physique is skyrocketing to where I'd like it to be. I don't know when I should start bulking though. Ha, maybe in like two or three months when I get to 9-10% bf. :) And I love intermittent fasting and no tiny meals I have to prepare every two hours.
Chris J. Douglas: "In my fist 4 weeks I've dropped 8lbs and feel far better than I have in recent times."
Oskar's simple plan of 2-3 core exercises to improve strength and 3 solid meals a day have been a god send. I struggled to get my head around all the dietary requirements and training plans till I found SFT and gave it a go. In my first 4 weeks I've dropped 8lbs and feel far better than I have in recent times. Now the eating clean and training regularly doesn't feel like a chore and I'm enjoying it, which makes losing weight and staying fit far easier. Thanks Oskar"
Abdul: "I lost 10 pounds since we saw each other that day."
Joshua: "Your guide really works and is easy"
Hey Oskar ,
Been follow ur guide since July and I lost 10KG as of today, your guide really works and is easy , I still allow cheat meals during weekend yet I still can lost my fat. Besides that I also go to check out my T level and it's really really low when the result is out, my T level is around someone who are above 60s. I hope my T level can back to normal after I lost necessary fat and build some muscle. But until now I still hard to sleep and will wake up at middle of night too, I will try out ZMA soon n hope it will aid my sleep since you mention before it can aid sleep. I can wait to get enough lean and start to follow your guide to build muscle. You are really my savior….! Thank you so much for having this site!!!
Jun: "I have transformed because of your articles and tips."

Nathan: "It's crazy to think how much stronger I've gotten in such a short period…"
Oskar, you're right about these diamond push-ups… They're incredible!
I've been doing them for about 4 weeks at this point, have gone 14reps to 19reps and… here's the best part… CAN NOW DO FREAKIN' ONE-ARMED PUSHUPS! It's crazy to think how much stronger I've gotten in such a short period whilst still in a caloric deficit.
I've never been able to do these before now and I can attribute it to the diamond push-ups. They're the perfect set-up for this movement. Thanks, mate!
Joseph: "I am looking leaner"
You have so much knowledge, it's actually crazy! You're a walking encyclopaedia! I am looking leaner and leaner following your advice with diet and bodyweight training, that hopefully I will look "normal" while on the beach this summer.
Jay Michaels: "I've had more success from your philosophy than anything else I've tried"
You couldn't have explained this any better! I love the simplicity and straightforwardness in what you teach. I've had more success from your philosophy than anything else I've tried. Keeping it real and simple is where it's at, no doubt! Thanks Oskar!
Frank: "Your tips are actually helping me and I can see the progress already"
Hey oskar !
Im here to share my progress ! Ur article has been super helpful ! I cant explain how hapy i am. I stoped flat benchin and startin concentrating on incline bench press and dumbell press and my chest looks much beter than before. The niples are puffy but look beter. ur article has motivated me alot ! Keep up the work bro ! Ur tips are actualy helping me and i can see the progress already. Thanks for helpin me out :))
KTS: Making progress after a year of stagnation
Thanks for this article; my lifts had gotten pretty stagnant over the last year or so of doing heavy lifts, and after just a month of using this set\rep scheme I'm seeing gains. It's also a lot less grueling than my previous routine, and my CNS and joints are appreciating me giving them a break for once.
Prabh: From 0 to 10 chin ups in 20 days
Oskar,today first of all,i want to tell that i have progressed from 0 to 10 perfect form chinups in 20 days thanks to u and your ebook.
Lutty Moreira: "I feel more confident and with more energy"
When did you find SFT?
In january, 2015.
Why did you like my website/approach?
I'm a skinny-skinny guy, and though I'm not as concerned about gaining (muscle) weight anymore, I would like to look leaner, and I liked your approach because it's the only one I've found that is not for the usual guy who has been hitting the gym for years, who's already developed the base for muscle building, but for guys like me, who need a good base to start with, without losing motivation and actually seeing improvement, be that in numbers or physique. Though I'm not skinny-fat, I assume the principles are essentially the same.
What kind of progress have you made so far?
I started late january doing 3 sets of 10 standard push ups and 3 sets of 5 chin ups. Four months later I'm up to 22 controlled diamond push ups and 16 controlled chin ups on my first sets (a little less on the remaining sets).
How you feel about the overall progress and the diet/training approach?
I like how I can see the numbers increase. That's my biggest motivation!
How has my strategy changed your life so far?
I feel more confident and with more energy. Of course, some days I feel like watching tv and eating crap, but then I feel guilty and more motivated to train the next day, which takes me to the next level.
Zenh: "This is the first fat loss I have seen in maybe 7 years"
hi there, i have been doing the basic bodyweight routine since 1.5 months , intermittent fasting, hiit. And I went from 34 inch waist to 31 inches. and 20 % body fat to 16.2%.Aiming for 9 to 10 % bf. Strangely i am the same weight of 139 pounds. Donno maybe my muscle increased. Also I want to say this is the first fatloss i have seen in maybe 7 years. This did not happen in gym earlier. im 23/m.
Peter: "I wish I knew all this stuff when I was 20"
Thank you for putting everything together for us skinny fat blokes, Oskar. I keep coming back to your site for information. I started doing basic calisthenics 5 months ago–pushups, squats, and chinups/pullups. Sometimes I do lunges, planks, and mountain climbers. Progress is really slow for me. I started from from zero pushups and chinups to 15 pushups and 4 chinups/1 pullup. But I went back to 8-10 pushups because of sore rhomboid muscles. Chinups and pullups are a real challenge, especially for someone like me who never had any sport or fitness training. I started doing negatives and then incomplete chinups. Only last month was I able to do a full chinup. Someone told me it'll take time to wake my body up from years of laziness. LOL. That was spot on.
I wish I knew all this stuff when I was 20. It sucks to be skinny fat when you're 30. I should know. I'm seeing small changes now. I still have belly fat and love handles, but I'll see where this attempt at transformation will take me in a year. Nonetheless, these bodyweight exercises are fun and addictive.
Matias Page: "In the last 2-3 months I've seen more progress than ever before"
I've been applying your concepts and in the last two/three months I've seen more progress than ever before. I'm naturally prone to gaining fat and losing muscle like lightning. I eat in a slight caloric deficit on weekdays and I do controlled cheat meals on the weekends. This has allowed me, just like you said, to keep on training and burning fat while keeping the muscle. I'm doing it very slowly, because I've got a tendency to hypothyroidism and low T. (I've had blood tests confirming this, and I'm trying to fix this with proper training and nutrition). And it is my hypothesis that next month when I test my Testosterone levels and Thyroid, they will be both better. I'd bet on it, because I feel great, not drained. Thanks a lot for your work, man. Cheers!
Ollie: "I will be forever grateful"
Been following your site for a while now and its currently just over six months since I started on the road to transforming my body and I'm delighted with the results so far. Just want to say thank you again, you're making a real difference in people's lives and I for one will be forever grateful for finding this site!
Mat: "Your advice seems to be the most genuine and well-written"
Been following your posts and newsletters a lot. Mostly a lurker here and even on other forums. From all that I've read, your advice seems to be the most genuine and well-written. Unlike other sites or people seeking to profit by providing their routines/advice, yours seems to be the most honest and appropriate.
You seriously inspire me and a lot of others, I'm sure. I hope to show you my progress one day and give you a sincere thanks.
MAJMONE94: "I'm making really good progress gaining strength in pull ups and pushups and getting leaner"
Josh: "I've lost around 33 pounds by following your guide"
Thanks for the great article! I'm still in the phase of losing my body fat, so far I have lost around 15kg by following your guide, I hope I can be lean enough soon so that I can go into next phase! I feel very hopeful everytime i read your article. Thank you Oskar!!!
Zarrar: "My friends used to bully me about my chest"
Comment #1 excerpt (November 2, 2014): BEFORE following my advice
Hello dude ….. i am 23 years old now , and the reason i just found you here is that my friends still bully me over my chest …. today they made so much fun of me i almost cried in front of em ….
i go to gym on regular basis from the last two years and i can say i have improved a lot with both physically and mentally …
but even after all these years my chest was the same bcz of this puffy nipples …. read your article with interest and i promise i m goint o follow each nd every instruction you just gave for the next couple of months to see if it goes away even for some hours ……. whenever i talked about this to some trustworthy people all they had to say was " go eat some medicine , ask some surgeon to get a surgery " hell i dont even have fees to complete my education , my parents are giving it to me , i dont want to drop another bomb of surgery on them …. today i was feeling so depressed …. i m just glad that i found your article here…. please share some email i.d or facebook link to keep in touch with you to get further info/tips/instructions ……………
and p.s its a promise i'll try my best to eat clean from now on….
feeling quite relaxed now ……
thank you ………
Comment #2 excerpt (December 16, 2014): AFTER following my advice for 44 days
HELLO DUDE …….i posted in the comments above , a couple of months ago … started doing chest rigorously, actually i am noticing a bit difference
actually the nipples are like that , but my upper pecs are going rapidly nd they've kinda started to hide them ..
i mean no one is able to tell i have puffy nipples now unless i take my shirt offffffffffffffffffff ………………
thank you for that
Allen: Lost 25 pounds in 40 days
Hello man… l want to say thank you for your advices… l lose 25 pounds in 40 days + diet and biofreeze…. l see great changes and the most important of them is HOT FLASHE'S…. Temperature inbalance…. Mentaly, am not nervos, am so quiet and l have a lot of focus… My nipples size are reduce with a half of size…. Testosterone levels are incrased and a see a great changes of body line's like legs , abs, chest, showlders…. Let's hope for a invisible before summer time ;) … Thank you bro…
Alex: "Your Advice Have Helped Me Start Making Real Change"
Oskar,
My name is Alex and I've been skinny-fat for as long as I can remember. I've been trying for years to become lean and muscular but most of my attempts have been fairly misguided. This has included weight training, running long distance (8+ miles regularly), cycling, swimming, and changes in diet and even though I have always been able to lose weight I have never been lean and muscular.
Now, my story is pretty similar to that of many others that have struggled with being skinny-fat so I won't bore you with details. Since completing my undergraduate degree about 3 years ago my weight has gone up and down and I've spent a lot of effort just to be discouraged with my results. However, your site and advice have helped me start making real change.
I don't have a complete transformation to detail, but I did want to take the time to thank you for all of the work that you put into this site. I'm currently following your advice by leaning down to ~10% body fat before starting bulk/cut cycles. I'm about 6'3″ (190cm) and in the past 6 weeks or so I've gone from ~185lbs to ~175lbs and lost a fair amount from my waist circumference. I'm doing bodyweight training along with weight training and walking, which really seems to be
helping me preserve the small amount of muscle that I do have. It's great to see muscle definition instead of the 'soft' look I've always had, even if I'm still not 'muscular' by most standards.
I will be sure to keep you updated on my progress if you're interested but I mostly just wanted to say thank you for this site and for all of the work that you put into it. You are an inspiration and it's really great to see the transformation that you've made.
Many thanks,
Alex
Andre:"I honestly feel more normal doing it like this."
After struggling to cut with calorie counting for the first time in years I'm gonna attempt your method and just eat 2 big meals a day. Been about 3 days already and it's a lot easier this way. I honestly feel more normal doing it like this. I just base my diet on certain foods and that makes it easier. The frequent calorie counting led me to binge on weekends and I have been in that vicious circle of yo-yo dieting since last summer. Hopefully I can keep this up and can cut 20-30 pounds by summer before the bulk/recomp!
To anyone just starting out or is sick and tired of counting calories just follow oskars fat loss guide. It will be mentally easier on you while dropping fat. The last thing u want is fat loss causing unnecessary stress on ur mental health. Focus on 2-3 good meals a day.
Anyways Oskar looking forward to more articles and tips. Best site ever! Only site I'm browsing now for nutrition and training tips. Keep it up
Dan: Lost 18 pounds and built a stronger chest
Maledetto: From 25% body-fat to 14% in 3 months
Blog/YouTube Praise
Steven S.: "It took me 8 years to come to the conclusions you have in your blog"
John: "I wish these articles were around 20 years back"
Just read a load of the articles on your site and have to say that I think you have it absolutely right for that type of body structure and also what a pleasure it is read someone writing it so clearly. I'm 6″5 and before I trained was over 100kg with no visible muscle. That was 25 years ago before I started training, since then I spent about 20 years trying every programme and diet out there with varying degrees of success. About 3 or 4 years back by trial and error I worked out that doing between 100 and 300 chin-ups and dips 3 times a week combined with 3 short 20 rep progress squat/Heavy Deadlift/Row/Press/Bench and 2 or 3 tabata conditioning sessions is by far the best way for me to progress. I have to say what a delight it was to read your article on overtraining. There are loads of articles out there on the dangers of overtraining for ecto/hardgainers which give bad advice to most people in this category. I think that many SF/ecto/hardgainers genetically have a high capacity to tolerate and recover from high rep bodyweight training (chins, dips push-ups), which they should use to their advantage to stay lean and build muscle. And as you point out numbers are king, they tell that you you're progressing and let you know when it's time to back off. Absolutely no need to reply, I have never before written a comment to an article etc ( and I've probably read most books and articles) but because training is my passion in life and I get annoyed by all the bad advice out there I felt compelled to say keep up the good work. Everyone's different but if all SF people take your advice most will get their best results. I wish these articles were around 20 years back.
David Kirby: "I'm starting to tighten up"
Tate
Joan
Pedro
Ron Mercado: Doing 17 chin ups at age 62
Thanks Oskar, I find your info to be a great help! I'm skinny fat and 62 years old. I'm up to 15 chins and about 12 pullups. (17 chin ups today). I'm really glad to have met you! Your site is the best I've found. You are very straight forward about what works for you and how you got results and what didn't work. That is EXTREMELY helpful! I was inspired reading how you tried to do what the building strength book prescribed and how you found that it did not work for a skinny fat guy. I have a similar experience. You give other guys the confidence to see what works and makes sense to them.
DT
Mohammad
Micheal
Oscar
Ann
Hands down the best fitness website on the entire internet. Thank you for this brilliant website :)
cmml, forum.BodyBuilding.com
Asim Kazi
Best website I have ever seen …….thanks for motivating us .
PokerHero, forum.BodyBuilding.com
Rich Martin
Mandeep Dhami: Lost 22 pounds in 3 months
Dean R. Lomax
Andrew Eddie
Anonymous
Anonymous
Mike
Harun Taflan
Joe
Hashem Amer
Rod Freeman
Stace Jeka
Anonymous
Matej Remias
Anonymous
Robin De Valk
BodyBuilding.com Praise
Read more: forum.bodybuilding.com