Article last updated: December 2018 by Oskar Faarkrog, ISSA Certified Trainer
When I started learning about bodybuilding at age 17 I was a tall and lanky skinny-fat guy and my #1 goal in life was to achieve a lean and muscular physique. (So I could get a girlfriend).
I started training in February 2010 but my strength on the compound exercises was similar to that of a girl.
Here are my starting strength numbers (February 2010):
Bench press 75 pounds (34 KG) for 1 rep. (58% of average).

Press 33 pounds (15 KG) for 1 rep. (42% of average).

Squat 75 pounds (34 KG) for 1 rep. (62% of average).

Deadlift 117 pounds (53 KG) for 1 rep. (78% of average).
When you look at my starting strength numbers you will find that my squat, bench press and overhead press were equivalent of an untrained female.
To give you some perspective of how bad my genetics for strength were: My training partner who weighed nearly 65 pounds pounds less than me and followed the exact same program as me made strength progress at 2-3 times the rate I did.
With my low starting strength numbers and slow progression I knew that I was in the bottom 1% in terms of genetics for lifting.
But that didn't stop me for lifting heavy.
After continuously pushing myself, I added a total of (1082 pounds – 300 pounds = 782 pounds) or 355 KG to my 4 main lifts:
283 pounds (128 KG) to the deadlift.

233 pounds (106 KG) to the squat.

155 pounds (70 KG) to the bench press.

121 pounds (55 KG) to the press.
Again, here are my starting strength numbers (February 2010):
Bench press 75 pounds (34 KG) for 1 rep. (58% of average).

Press 33 pounds (15 KG) for 1 rep. (42% of average).

Squat 75 pounds (34 KG) for 1 rep. (62% of average).

Deadlift 117 pounds (53 KG) for 1 rep. (78% of average).
And here are my ending lifts on the programs:
Bench press 220 pounds (100 KG) for 1 rep. (76% of standard advanced).

Press 154 pounds (70 KG) for 1 rep. (88% of standard advanced).

Squat 308 pounds (140 KG) for 1 rep. (79% of standard advanced).

Deadlift 400 pounds (180 KG) for 1 rep. (87% of standard advanced).
(I made all of this progress in my first year of training with the exception of the overhead press which was an extreme weak point for me. I worked on the overhead press exclusively in my 2nd, 3rd and 4th year of training.)
In the next section I will share the programs I followed and how they worked for me.
Starting Strength, MadCow 5×5 and Reverse Pyramid Training
At the time I started training I got most of my information from the bodybuilding.com forums.
The popular advice for a beginner was to follow the program "Starting Strength" by Mark Rippetoe.
Here's the full program I followed:
Workout A
Squat 3 x 5
Bench Press 3 x 5
Deadlift 1 x 5
Workout B
Squat 3 x 5
Military Press 3 x 5
Barbell Row 3 x 5 (the original Starting Strength program would replace barbell row with power clean 5 x 3)
You alternate between Workout A and Workout B on 3 non-consecutive days of the week and do the exercises in the order they're listed above.
I followed Starting Strength for 7-9 months but I made very little progress and found myself constantly stalling on exercises.
I went into each training session feeling tired and drained and the only way to keep making progress was to eat more food which in turn would make me fat.
Roughly 7-9 months into the program, I switched to the intermediate program MadCow 5×5 where you perform the same lifts but only progress once per week instead of every session.
I followed this program for roughly 3-5 months and made some great gains on this program.
However, just like Starting Strength, I had to eat a high Calorie diet to make consistent progress on my lifts.
This again led to me becoming fat.
Overall, in my first year of training I gained a total of 35 pounds of bodyweight while adding a lot of strength to my compound lifts.
When you consider that the maximum amount of muscle mass you can gain in your first year of training on a good program is 20-25 pounds you would think that I had made some pretty good progress but that wasn't the case at all.
I had at most gained 10 pounds of muscle mass and nearly all of that mass was in the quads, lower chest and posterior chain muscles: the traps, hamstrings and glutes.
(I did gain a bit of muscle mass in the lats and arms too but it was minimal compared to the kind of gains I made with chin ups, diamond push ups and isolation exercises).
In exchange for that muscle mass I gained a good 25-30 pounds of body-fat in the love handles, chest, face, thighs and glutes.
Here's a photo showing how I looked 7 months into heavy compound training (I use my 7 month photos because I lost my starting photos and there was almost no difference in my physique the first 7 months):
And here's a photo showing how I looked after 1 year of heavy compound lifts:
So that was my 1st year of training.
The conclusion: I gained good strength but I didn't feel athletic or fit at all.
All my clothes stopped fitting and I became fat instead of skinny-fat.
I also felt a lot of discomfort in my hips, knees, wrists and lower back from all the heavy lifting.
After my first year of doing heavy compound lifts, I still had hope and I truly believed that compound exercises were the key to a great physique.
I had been so brainwashed by keyboard warriors on bodybuilding forums that even though I made terrible progress with compound lifts, I continued doing them for another 1 year.
At the time, I thought compound lifts were the only way to build a muscular physique and that bodyweight training and high volume isolation work only works for genetically gifted guys and steroid users.
After finishing up Starting Strength and MadCow 5×5 I got into Reverse Pyramid Training (RPT) which I followed for 1 year while cutting body-fat.
To keep it short: With RPT I performed the same main exercises but I did just 2-3 sets on each a few times per week.
One set was heavy and the other 1-2 sets were done to failure with 10-20% lighter loads. (I.e. higher reps).
I would also strategically implement a refeed week once every 3-4 weeks on my cut to ensure that I maintain all my muscle mass and strength.
In that 1 year, I lost all my excess body-fat and ended up with this result: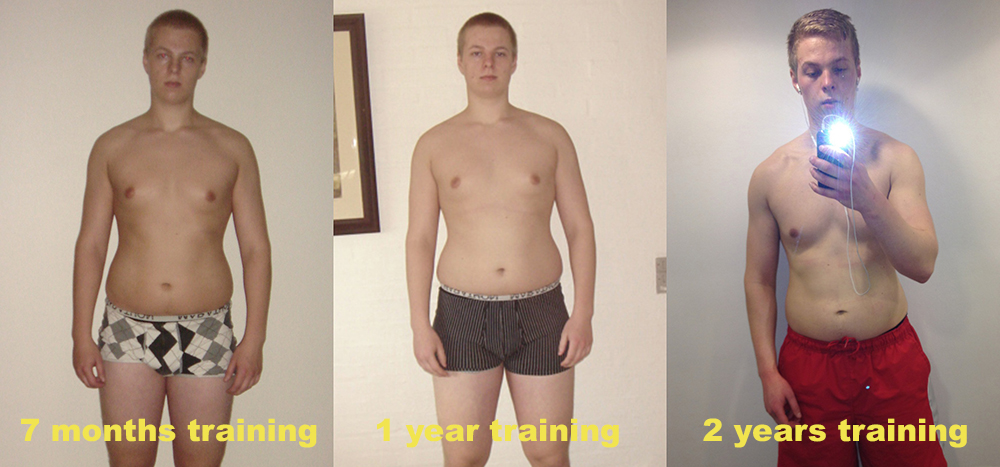 When I saw these progress photos I was disappointed.
I had gained a lot of strength but a minimal amount of muscle mass.
Overall, I had followed all the rules and worked my ass off for 2 years straight but I had nothing to show for it.
I felt like my training time was wasted and I even started to believe that I simply don't have the genetics to get a great physique.
But I was wrong.
After wasting 2 years with heavy weight training programs I made the switch to bodyweight training and achieved the progress below in just 1 year:
In my April 2013 photo I could do 15 clean chin ups at 190 pound bodyweight.
Later I added high volume isolation work for all my weak points and started playing around with advanced bodyweight exercises such as muscle ups and added another 15 pounds of muscle mass:
Starting Strength Is Not A Program For Physique Development
So what is the conclusion of this post?
If you're a skinny-fat guy who trains to get stronger on the squat, bench press, deadlift and press then by all means follow the basic, proven compound programs.
They will get you +90% of the strength gains your body is able to make.
My personal recommendation would be to:
Ditch the bench press and focus exclusively on the overhead press because the overhead press has direct carryover to other exercises (including the bench press) and most sports and it trains the beach muscles (the shoulders, upper chest and triceps) much better than the flat bench press.
If you are a skinny-fat guy with a small bone-structure, skip the linear progression routines such as Starting Strength and StrongLifts 5×5 because they're too difficult to recover from unless you overeat. Instead, jump straight into an intermediate routine such as MadCow 5×5 or a Reverse Pyramid Training scheme. This will give you much better progress when you're dieting off body-fat and reduces your risk of injury greatly.
With that said, I know most of you don't care about what your lifts are because you train for aesthetics.
If you train to gain muscle mass, the big compound lifts are not the best way to go about it.
In 5 years of running this website I've coached hundreds of people and emailed with thousands.
Most of them had previously used heavy barbell training, but similarly to me they never got results with it.
Here's just one email I got from a blog reader:
I wasted nearly two years so far with Starting Strength/Stronglifts type routines, and all I got was fat with very little to show for it.I went from about 140lbs to 198 (at 5'8) on that routine. I looked better BEFORE I started it. I also made very little strengths gains to go along with it, which makes it even work. At least you made some strength gains. I kept convincing myself that if I just eat a little more, I will make progress.

I would get fat and cut then start it all over again. I am only a week in to another one of these viscous cycles. I had myself convinced that I just need to eat more than I ever did before, then it will finally happen.

Only a week and half in, and my lifts are stalling again, I gained 5 pounds (probably fat), and I already injured my knee from squats. I've had enough!I am going to use all the info from your site.Thanks again for sharing your experiences.
To this day, I still haven't seen a single skinny-fat success story on a minimalist program that focuses on the squat, bench press and deadlift. (I didn't include the press here because I believe this is one of the best lifts skinny-fat guys can do).
In my case, getting stronger on the deadlift, squat and bench press mostly helped me build up the posterior chain muscles: Thighs, glutes, spinal erectors and traps.
These muscles are important for building an overall functional and strong looking physique.
However, these are not the muscles that transform your upper body proportions.
The muscles that make the biggest difference are the lats, upper back, biceps, triceps, shoulders and upper chest.
These are the 6 most important muscle groups for improving your aesthetics.
To grow these muscles to their maximum potential, you have to perform exercises where you can really feel those target muscles working.
I emphasise really, because most compound exercises will make you feel all muscles working to some extent.
That's why they're called compound exercises. They work a lot of muscles at the same time.
For example, if you perform bench presses, you will most likely feel the chest, shoulders, triceps, forearms and even lats working to some extent.
But compare the triceps activation on the bench press to performing rope pushdowns or diamond push ups and you will understand what I mean.
Compound exercises are great if your time is limited, but if you're looking to maximise the size of a muscle that doesn't respond well to training, you will not make that muscle respond by doing an exercise that "somewhat" activates it.
If you're a skinny-fat guy with a low response to training, the only way you will maximise the size of your weak muscle groups is by doing exercises where you REALLY fell those muscles working.
And you have to do these exercises often, when you're fresh and at a high volume.
For example, if you don't really feel your triceps working on bench presses, you will not see great gains by adding another 50 pounds to your bench press max.
But you may very well see great gains by changing your main compound movement to weighted dips.
Or by doing 3 arm days per week where you blast the arms with a variety of isolation exercises and high volume training.
The same principles apply to all your weak muscle groups.
Also, for maximum muscle growth, it's important that you do the most effective exercises first and that can often conflict with your goal of increasing your squat, bench press and deadlift total.
For example, if you go in 3 times per week to squat heavy, you won't have the energy needed to properly train the muscles that you want to grow the most.
When you start on the exercises that really work your muscles, you will already be drained from the heavy squatting.
You need to think of your training in terms of limited energy.
You only have so much energy and the compound lifts can drain anywhere from 60-100% of your energy.
If the compound lifts aren't growing the muscles you want to grow, your training is not leading you closer to your goal.
In my case, nearly all of the growth I made on my upper body comes from doing basic bodyweight training and isolation exercises for moderate-high reps. 
To be specific, I trained with much higher volume and tried to make the weight feel harder so I could get a better pump and mind-muscle-connection using less weight.
The end-result was that for years I didn't increase the amount of weight I lifted but my muscles kept growing each year.
This directly proves that:
Increasing the amount of weight your lift on the big compound lifts is not the only (or even the best) way to gain a lot of muscle mass.
Contrary to popular belief, high volume and pump training methods do not only work for bodybuilders on performance-enhancing-drugs and guys with great genetics. They work for everyone as long as they're applied the right way.
If I had continued focusing on increasing my squat, bench press and deadlift, I wouldn't have made those gains because my energy would have been depleted.
Therefore, the main takeaway is that: If your goal is to develop a muscle to its maximum size, you need to train that muscle often with high volume and with exercises that really make that muscle work.
The popular compound training programs accomplish the goal of training muscles often, but the volume is too is limited and the exercise selection is not optimal for most people.
Be proud but stay hungry,
Oskar Faarkrog
Apply For The Online Transformation Program For Skinny-Fat Guys: