Page last updated: May 2019 by Oskar Faarkrog, ISSA Certified Trainer

The Online Transformation Program is the best online personal coaching available for skinny-fat guys.
It follows my proven 2 Phase training and diet system where we first focus on optimising your hormones and shedding off all your excess body-fat and then we rebuild your body with muscle mass in the right places (with the most important muscles being the upper chest, shoulders, arms, lats and upper back):
The way the Online Transformation Program works is outlined below:
Step 1: I assess your physique through a comprehensive Client Assessment Form.
You fill out a 6-page Client Assessment Form that covers everything from your training and diet history to your body-composition, goals and training preferences.
The assessment form ensures that the training program and diet plan are customised specifically for your unique body-structure, goals and preferences.
Step 2: You receive a customised training program and high testosterone diet plan.
Customised Training Program (+60 page document): You will receive a fully detailed training program with the best exercises for your unique body-type. (Both home and gym training offered).
Customised High Testosterone Diet Plan (+33 page document): The diet plan includes over 115 food options for each meal to help you optimise your natural testosterone production and everything will be laid out clearly so you know exactly how often to eat, what to eat and how much to eat of each food.
(I know the documents aren't pretty but they will get you results).
Step 3: I monitor your strength progress and body-measurements every week and update your training program and diet plan whenever needed.
Every Sunday you will input your body-measurements, bodyweight and key strength stats in a shared progress tracking sheet:
Based on your weekly check-ins, I update your training program and diet plan whenever it's needed.
This means that your training program and diet plan are 100% customised for your unique body-structure and constantly updated.
The weekly check-ins are the most important aspect of the Online Transformation Program because as you go through your transformation, your training and diet needs change.
Therefore, in order to make continual progress, your training program and diet plan need to be adjusted along the way.
Overall, this structure has ensured that the program has an almost 100% success rate.
You can see some of my success stories on the program below:
L.R., US (6 month transformation):
L.R., NY: "After 6 months of doing the beginner body weight routine I found myself 30 pounds lighter, with visible abs and a lean build. Friends who hadn't seen me in months were astonished and inspired by my transformation. Simply put, the return on investment that Oskar's plan yielded far exceeded that of any workout I had previously used."
Harshit Godha, India (1 year transformation):
Harshit Godha, India: "I started with 0 wide grip pull ups, and progressed to 15. I am quite surprised with my back and shoulder growth, it's evident in the progress pictures you asked me to take. I am happy with the progress I have made so far and am looking forward to work more with you."
Apostolis Georgodakis, Greece (1 year transformation):
Apostolis Georgadakis, Greece: "I was skeptical about online coaching at first but I decided to trust Oskar and I was right. I remember when I started the program; my waist was almost around 109cm wide. Nowadays, it is around 94cm and it keeps decreasing. My hips have also decreased substantially and I have got bigger arms and shoulders. So I am packing up muscle while losing fat at the same time. All diets I tried before were not sustainable for a long time. So I was gaining back any fat lost after resuming my diet. Oskar's diet can be kept for a lifetime. Nothing extreme or too restricted."
Francis, USA (10 week transformation):
Francis, USA: "This is probably the most amazing thing I have done with my body, and it's due to this program. I'm amazed. The fact that I have done no cardio is crazy. I love this program man, thank you Oskar! If it wasn't for you keeping me in check, I would be way off and probably starving myself trying to loose weight. I can't wait to see what I look like in another month."
Alexander Huang, Taiwan (12 week progress):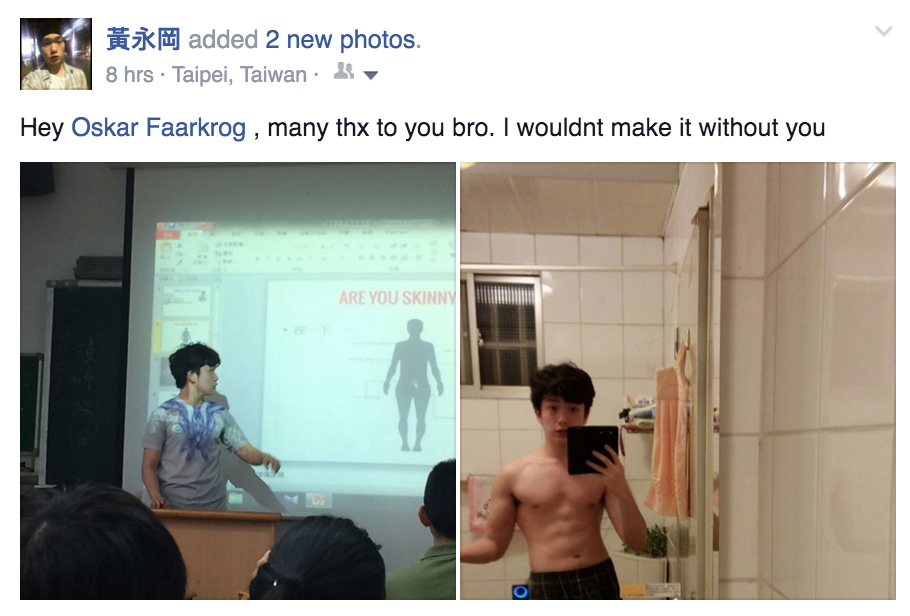 Andy, USA (8 week transformation):
Steve Chavez, Peru (1 year transformation):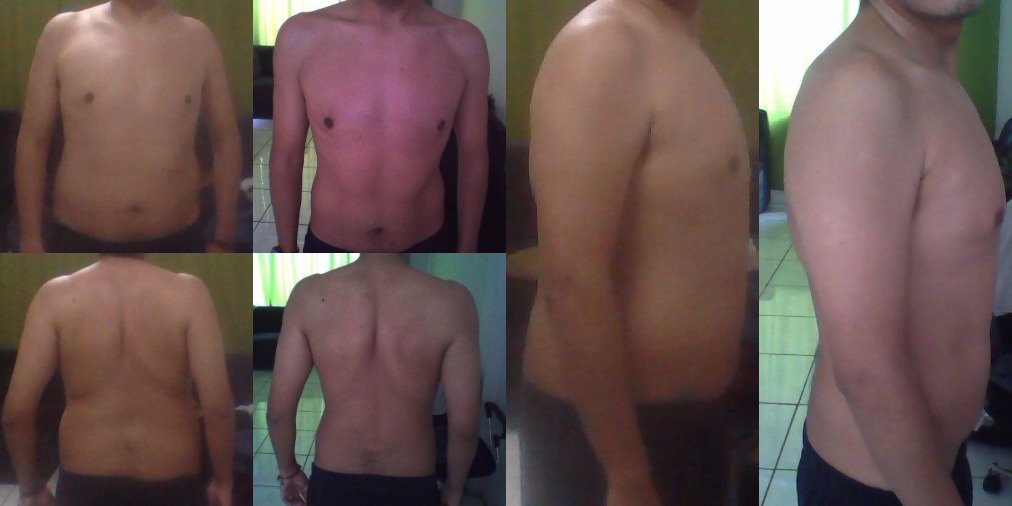 Steve Chavez, Peru: "It is the best workout I've had. I've never done a single pull up before. Managing to do pull up reps was a breakthrough for me. Your program has improved my physical and and mental health. It was the best investment I've ever made. I'm planning to stick with this diet for the rest of my life."
Madhuranga Liyanage, Sri Lanka (8 month transformation):
Blaine, USA (13 years old, 6 week progress):
Janu Rasby, Indonesia (1 year physique result):
Karim Harbott, United Kingdom:
Naveen Viswa, India:
Harrison Max, USA:
Half of the transformations here were achieved purely through home bodyweight training and the other half used a combination of bodyweight training and weights.
Apply For The Online Transformation Program:
Since early 2015 over 1500 skinny-fat guys have applied for the online transformation program.
I used to do Skype Video interviews with those from the waiting list who qualified, however that was a very time-consuming process that took away from my time training my clients.
Therefore, I've decided to let you apply through my website instead.
The way it works is as follows: You contact me through the form below and tell me a bit about yourself: Your current fitness levels, goals and why you want to work together with me.
I will then get back to you within 48 hours and tell you if we are a good fit for working together and if I have spots open on my program.
Here's the application form: