Apply for a 28 Day Risk Free Trial on the Online Transformation Program for Skinny-Fat Guys:
How the program works: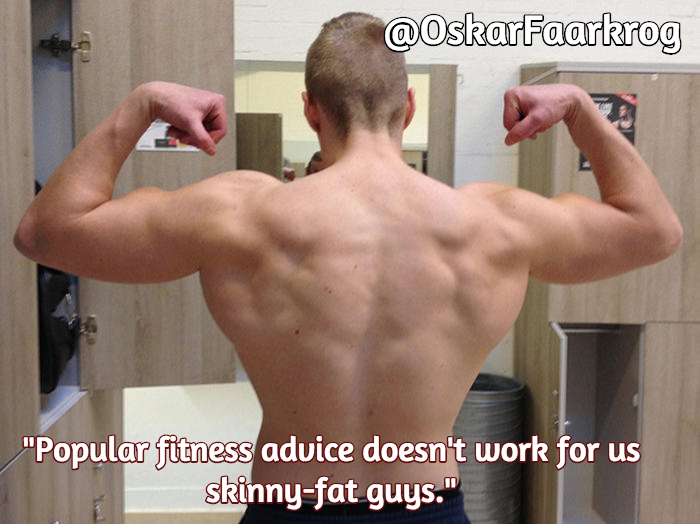 The Online Transformation Program is the best online personal coaching available for skinny-fat guys.
It follows my proven 2 Phase training and diet system where we first focus on shedding off all your excess body-fat and then we rebuild your body with muscle mass in the right places (with the most important muscles being the upper chest, shoulders, arms, lats and upper back):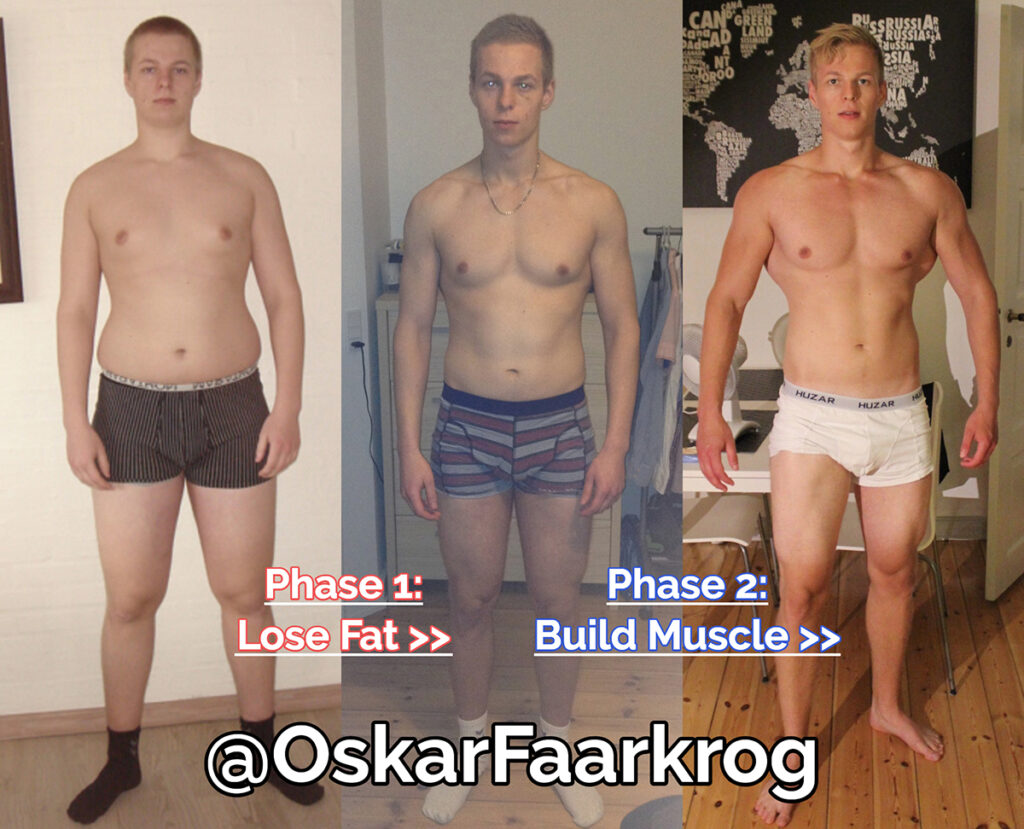 I accept a limited amount of clients each year and if you're accepted to join, here are the steps we will take:
Step 1: I assess you through a comprehensive Client Assessment Form.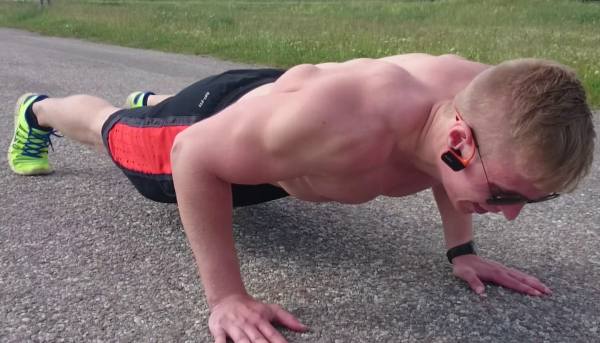 You fill out a 6-page Client Assessment Form that covers everything from your training and diet history to your body-composition, goals and training preferences.
The assessment form ensures that the training program and diet plan are customised specifically for your unique body-structure, goals and preferences.
Step 2: You receive a customised training program and diet plan:
Customised Training Program (+60 page document): Fully detailed training program for your unique body-type. As a minimum, I recommend you have access to a pull up bar and can train 30 min per day. Being able to do pull ups or push ups is not a requirement.
Customised High Testosterone Diet Plan (+50 page document): The diet plan will have over 115 food options each meal to ensure that you have a big variety of healthy food options to choose from. Each meal will be designed to help you optimise your natural testosterone production and everything will be laid out clearly so you know exactly how often to eat, what to eat and how much to eat of each food.
Step 3: I monitor your strength progress and body-measurements every week and update your training program and diet plan whenever needed.
Every Sunday you will input your body-measurements, bodyweight and key strength stats in a shared progress tracking sheet:
I will also monitor your satiety levels, digestion, sleep quality, stress levels and how each exercise feels.
The long-term goal is to not only get results but also to max out your energy levels, vitality and overall health.
Based on your weekly check-ins, I give you feedback and update your training program and diet plan whenever it's needed.
This means that your training program and diet plan are 100% customised for your unique body-structure and constantly updated.
The weekly check-ins are the most important aspect of the Online Transformation Program because as you go through your transformation, your training and diet needs change.
Therefore, in order to make continual progress, your training program and diet plan need to be adjusted along the way.
Overall, this structure has ensured that my clients have an almost 100% success rate.
You can see some of my client success stories below:
L.R., USA: "For several months I had been killing myself in the gym, lifting heavy weights five days a week. My results were lackluster and I constantly felt lethargic and irritable. After 6 months of doing Oskar's bodyweight routine I found myself 30 pounds lighter, with visible abs and a lean build. I took a vacation to the Dominican Republic and was constantly complimented on my physique."
Rikesh Murali, India: "I was a regular gym goer who dreamt of a physique and your approach was kind of my last resort before giving up completely"
janu rasby, indonesia:
Francis, USA (10 week transformation): "This is probably the most amazing thing I have done with my body, and it's due to this program. I'm amazed."
Read detailed article about Francis' success story
Harshit Godha, India: "I started with 0 wide grip pull ups, and progressed to 15. I am quite surprised with my back and shoulder growth."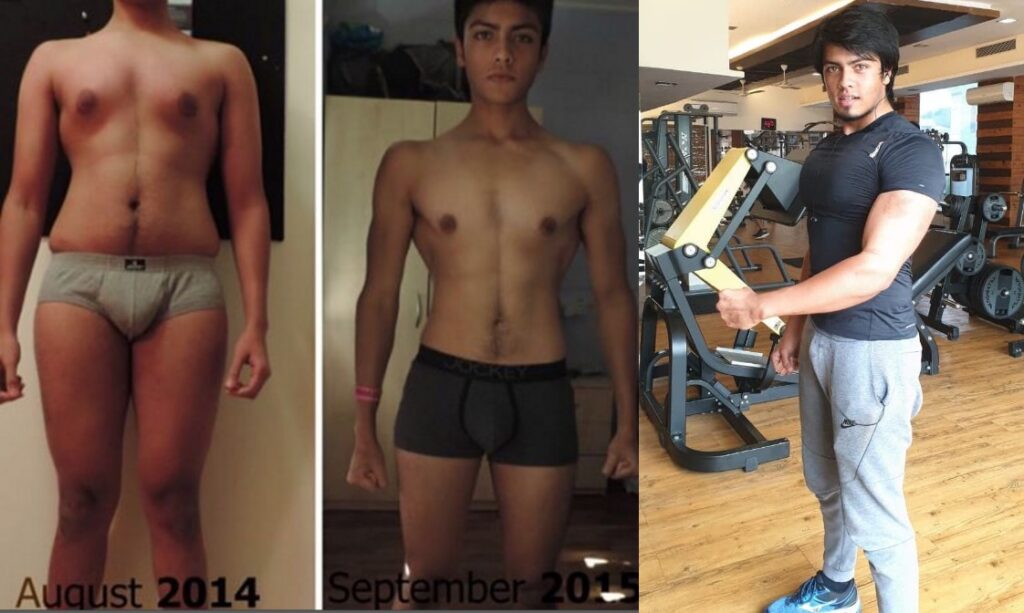 Read detailed article about Harshit's success story
Pablo Lazaro, Northern Ireland, 12 week transformation: "I am glad to inform you that people have noticed my physical transformation, even I noticed how girls approach me more lol, I guess it is a good sign. ????"
niklas hanhisalo, finland:
mostafa monzer, lebanon:
Jack Wilde, UK: "It's been 2 years since I started working with Oskar and I've lost 30 pounds and increased my pull ups to 20 reps."
Joseph Agosto, Puerto Rico: "Before that last pic I used to lift heavy weights until I injured my hips and lower back. While recovering I lost muscle and looked skinny-fat again. Then I started your program and advise and now I look better."
Peter Antaky: "I have always been knowledgeable on eating properly and calorie counting as well as using proper weight lifting methods. My lifting always seemed to progress in the gym and I did gain some size however my overall physique barely changed. So just wanted to say a massive thank you for generously sharing your tips and knowledge on remedying the skinny-fat body type."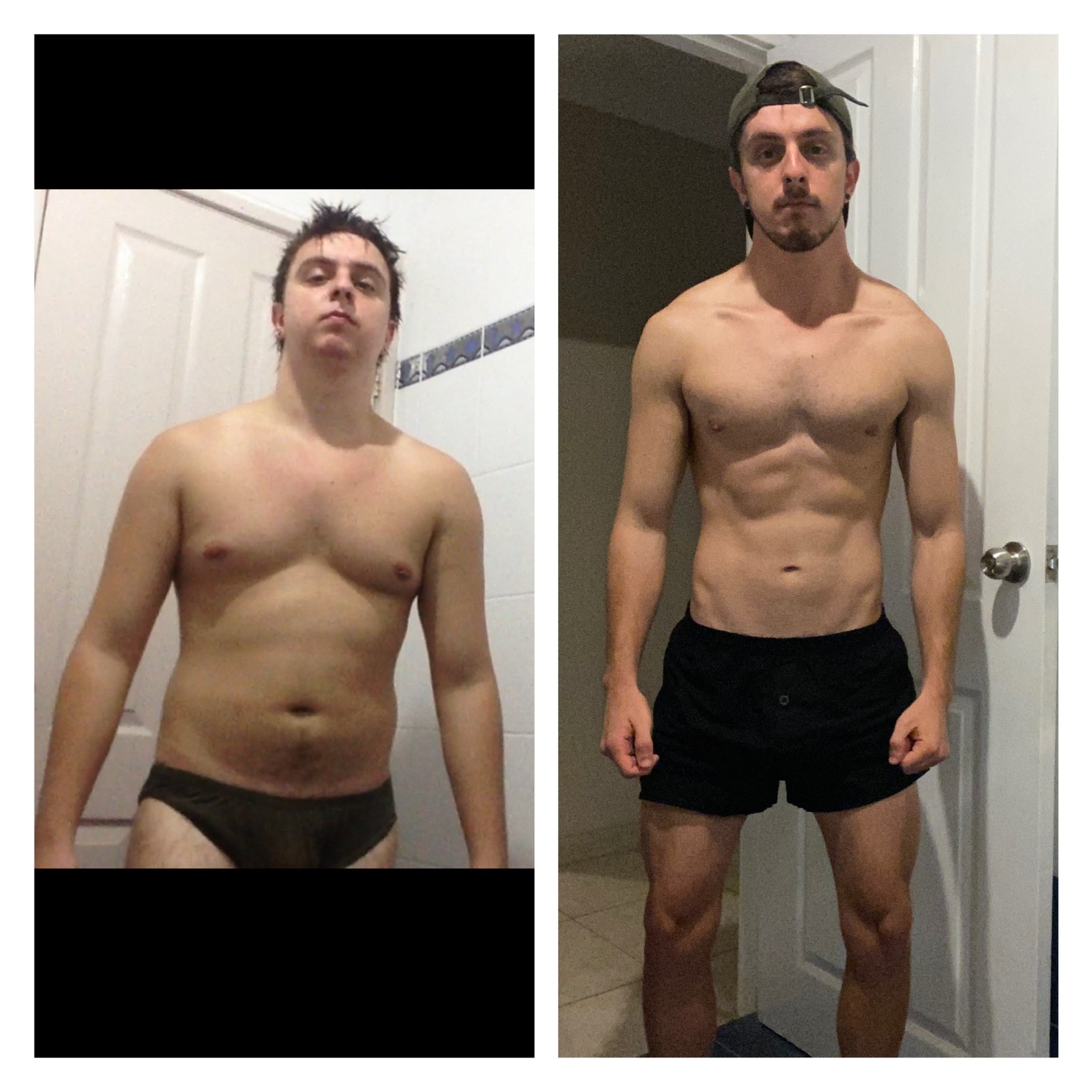 Petko Kostadinov, age 44: "As a long time bodybuilding enthusiast I was training but not seeing real results on my physics. After this training, my overall physic is much better. In any aspect. Even my son who is 16 is training the same way for now."
Emilio, Argentina: "It's been 7 weeks since I started applying your training and so far I've had the best progress in my life after years of intermittent weight training. Having been a skinny fat for 15 years (I'm almost 30 now), I'm still surprised and enjoying not being it anymore."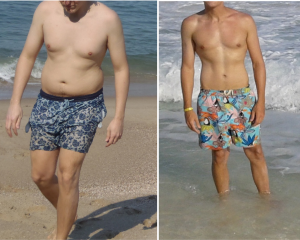 Madhuranga Liyanage, Sri Lanka: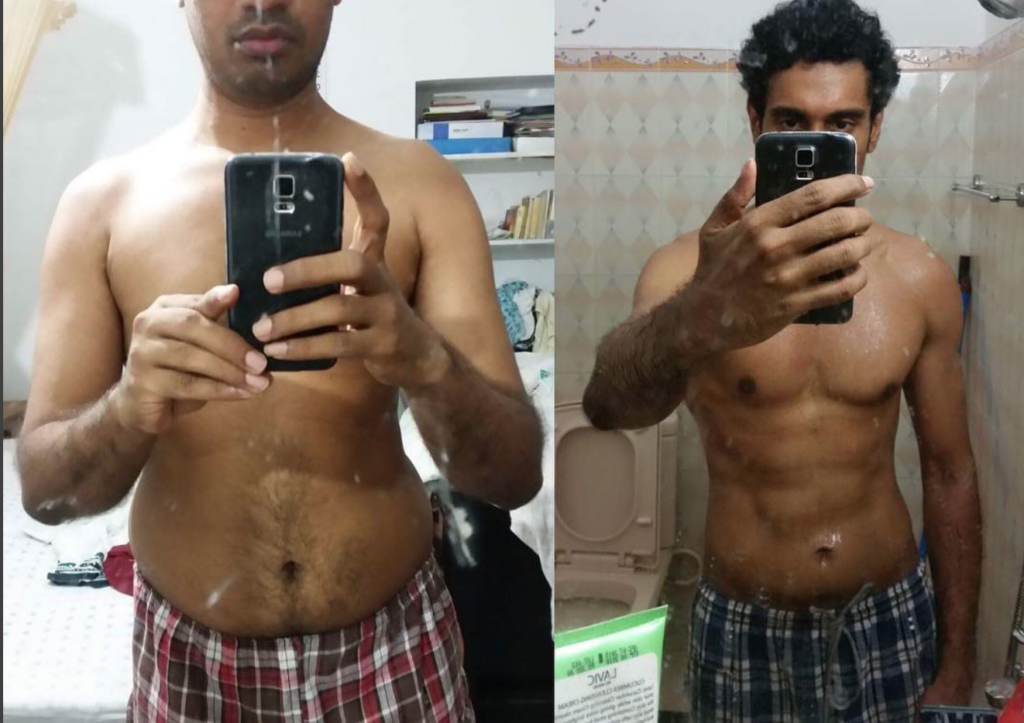 Arthur Braz Leal, Brazil: "
At 19 years old, 174cm (5'8.5″) and weighing 54kg (119 LBS), I thought I had been cursed with bad genetics."
Angel, Brazil (225% Boost in free testosterone, +20 CM / 8 inches on the shoulders in 1 year): "For the first time in my life, I'm receiving compliments from girls because of my body (!). It never happened before. My arms look huge for the first time in my life. It never happened before. I think I told you that, when I was powerlifting, I tried to bulk up and I ended with 8cm+ on belly and 0cm+ on arms. Now, with 39cm flexed, my arms look good even when relaxed."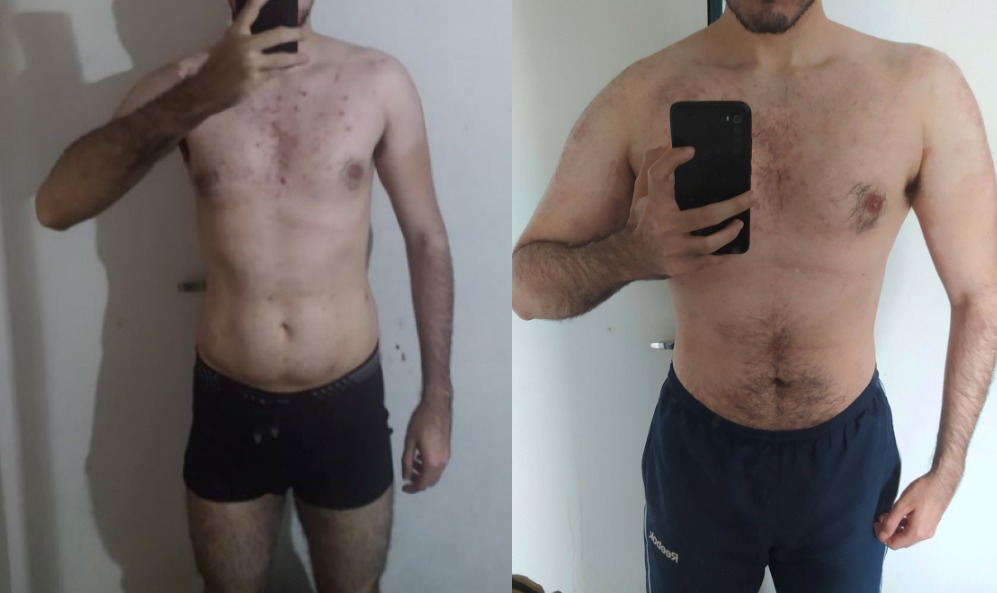 Read detailed article about Angel's success story
Harrison Max, US: "For years I have been lifting heavy and never getting results I wanted, including abs and a nice physique. Since I have been working with Oskar for about 3 months now, I have seen abs for the first time with solely bodyweight exercises."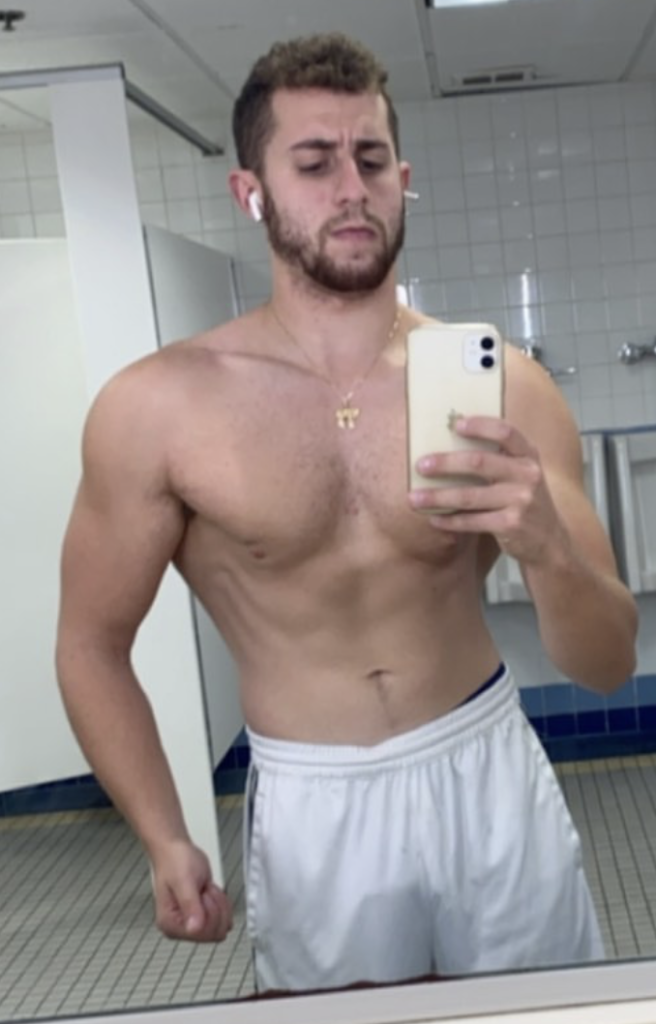 Read detailed article about Harrison's success story
Eren Can Sucuoglu, Turkey: "I got better results in 2 months than 5 months weight training and I feel great rn"
Jatin Gupta: "I could not do even a single pullup and hardly any pushups with good form. It was difficult for me to even lift an empty bar when I first started. I built upto 8 pullups with 35lbs weight attached and 20 bodyweight diamond pushups in one set."
Dylan Owen, UK:
Umar Alam: "Working with Oskar is one of the best decisions I've ever made and I'd do it again in a heartbeat."
Blaine, USA (Progress from 13 to 14 years old):
Andy, USA (8 week transformation):
Dennidick Durian: "From the bottom of my heart thank you so much brother"
Ash S. "I couldn't have done this without you"
Naveen Viswa: "After joining your program my testosterone levels have increased from 372 Ng/DL to 745 Ng/DL and my free testosterone levels have increased too !"
Max, Netherlands: "Every fitness youtuber I followed told me to get stronger at the key compound lifts and that would make me look good. Oskar, I could write for hours and hours about this subject. But just know you changed my life. I feel so much better now and the quality of my life has drastically improved."
Apostolis Georgodakis, Greece (1 Year Transformation): "I was skeptical about online coaching at first but I decided to trust Oskar and I was right. Oskar's diet can be kept for a lifetime. Nothing extreme or too restricted."
Alexander huang, taiwan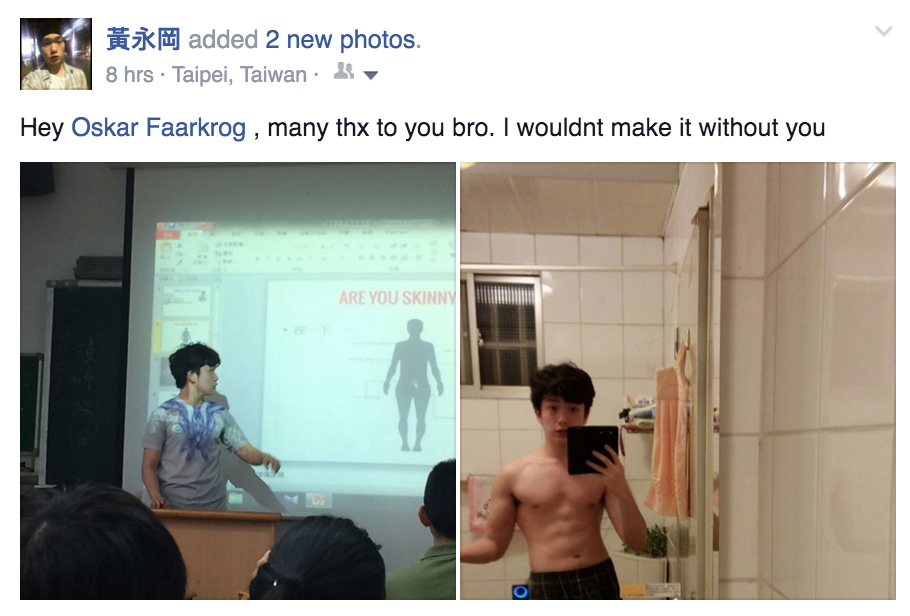 Kevin Brown, 5 month progress: "It took me around a year to finally take on your program because of some of the opinions of others online(mainly reddit), who did not actually partake in your program, and said your concept of people being "Skinny-Fat" wasn't true."
FJ: "Well, it's the first time I've been lean since my early 20s… so there is no comparison!!! I took a leap of faith hiring someone through a website & email – and you have come through in flying colors."
Jesse, Canada: "Ive currently only been training with Oskar for just over two months and its a decision I do not regret at all. I was skinny fat and thought I would have to be this way for the rest of my life as nothing had worked before."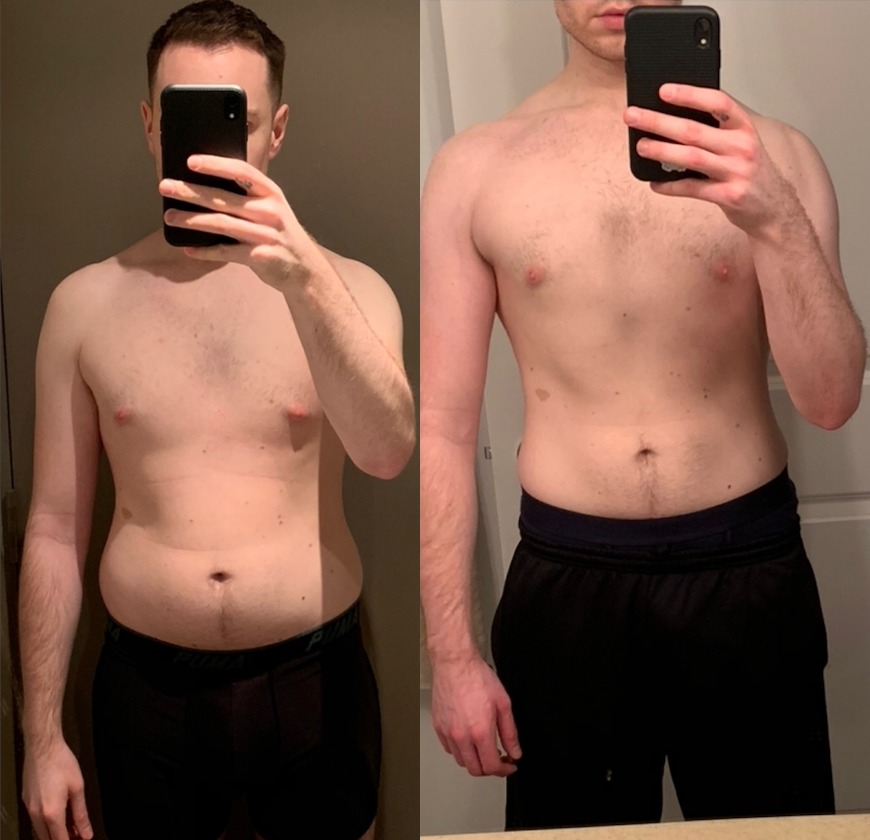 Steve Chavez, Peru: "I never did online coaching before and I didn't thought I would never do it since I've always heard that it was easy to get scammed, but after reading your honest advice and doing the application form for your coaching it was clear to me this risk didn't exist, so that made the decision easier for me, it was the best decision I made for my personal health."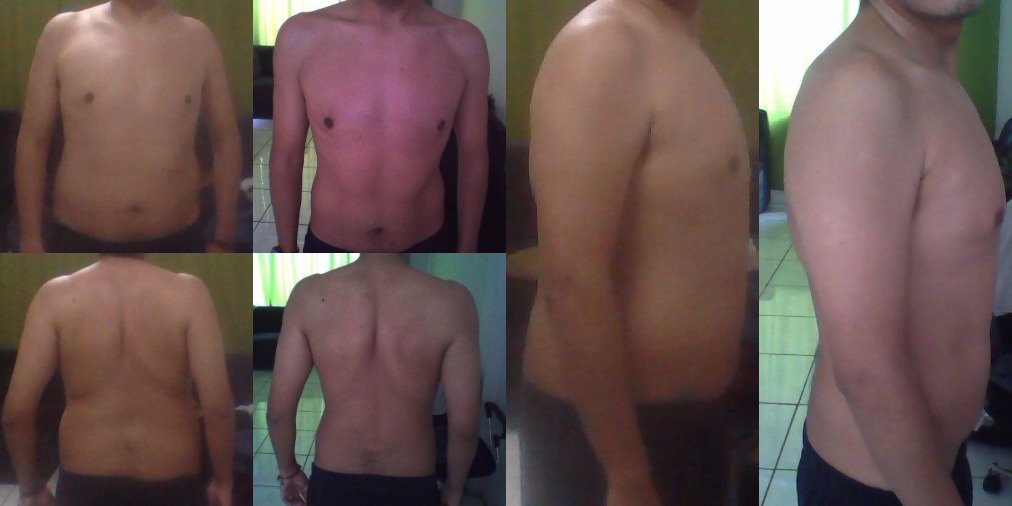 Xavier, US: "We did another Testosterone level check and it came out much higher than before. The level came out to 416 ng/dl. The first reading from about 2 months ago was 280ng/dl and the second (which was done about a month ago) was 316ng/dl!! Looks like we are making some good progress!"
Gordon Martin: "For the first time in 36 years, I am losing fat rather than gaining it! I have never eaten so much on a diet! There were many times I simply felt that I couldn't stuff another bite in my mouth. You are one of the few people on the Internet involved with men's health topics that actually cares and can get results for clients. The money I spent on your coaching services are the best money I ever spent!"
Sean Richardson: "I first came across the SFT website about 4 years ago after trying out StrongLifts 5×5 and putting on 20 lbs. I also appreciate that you tailored the meal plan to my vegetarianism, which I think a lot of coaches would sneer at rather than support."
Rob: "I had previously had two coaches, one online and one at a gym. Both were probably OK coaches, but I found that they didn't quite understand my main problem, which was that I would just gain a lot of weight following their program and would not see the actual results because the fat would hide any muscle i gained. I can finally see my abs! I've gotten wings and more definition plus more stamina and went from 9 pull-ups to 17."
Ludvig Sunstrom, Co-Host at one of the biggest Swedish business podcasts "25 Minuter": "With the advice Oskar gave me, I was able to put together a simple (but effective) upper chest workout routine. In just 5-6 weeks, it made my upper chest striations pop!"
Karim, United Kingdom:
Adam Meredith, Sydney Business Owner.: "I have my sports scientists read his website when they start with me, and many of his findings and advice are given to my clients."
Tim Rowland, USA: "Oskar offered a personalized training system for people with unique fitness challenges that the general public – even professional trainers – don't really understand."
Abdul Malik, Scotland: "There is no comparison. I have had three different personal trainers in the past and followed countless diets and workout plans in 10 years and NONE of them have got me results like Oskar's program has brought me."
Joshua Earl: "I lost 12 lbs. of mostly fat, dropped 4 inches from my waist, and reached a new personal best of 12 pullups on gymnastic rings."