L.R., US: "
After 6 months of doing the beginner body weight routine I found myself 30 pounds lighter, with visible abs and a lean build."
"I began my fitness transformation in December of 2014. I stumbled across Oskar's website while reading through some fitness forums. For several months I had been killing myself in the gym, lifting heavy weights five days a week. My results were lackluster and I constantly felt lethargic and irritable. I was putting in very hard work at the gym yet wasn't gaining the muscle I felt I deserved. Even worse, I felt that I was retaining fat in all the wrong places. I still had a visible belly and very little definition.
When I discovered Oskar's website, SkinnyFatTransformation.com I had a moment of clarity. For the first time in my life, someone was specifically addressing my build and my genetics. The "skinny-fat" physique perfectly described my body type. When I read about Oskar's personal transformation from skinny-fat to ripped, I knew I had to try his body-weight regimen for myself.
After 6 months of doing the beginner body weight routine I found myself 30 pounds lighter, with visible abs and a lean build. I took a vacation to the Dominican Republic and was constantly complimented on my physique. After making the best progress I ever had, I felt amazing but was hungry for more. I knew I was ready to take my fitness to the next level, so it was a no-brainer when I made the decision to work with Oskar in the online coaching program.
After skyping with Oskar he made note of my personal fitness goals and designed an exercise routine and diet plan tailored to my goals and lifestyle. Following the fitness regimen could not have been simpler. Oskar laid out each exercise with the prescribed rep range, number of sets, and rest periods. The diet plan included nutritious foods that I like to eat and was incredibly easy to follow. I was never tempted to fall off the wagon because Oskar built into the plan two cheat meals per week. I constantly looked forward to my meals, felt satiated, and was energized for my intense workouts.
The routine that Oskar designed challenged me to work every muscle group in my body in a timely, effective manner. I always left the gym feeling satisfied that I put in a hard day's work while hitting each muscle groups effectively. Simply put, the return on investment that Oskar's plan yielded far exceeded that of any workout I had previously used. I felt that I received a lot of value and personal attention from the program. Oskar is determined to help you reach your fitness goals and will be along with you every step of the way." – Logan Rando
Rikesh Murali, India: "thanks to you now i am free from that side flab and my body feel more functional now"
your approach is minimalistic and felt easy on the paper.. but when I started out with bodyweight exercises i couldn't do a pullup or chin up .. my pushup capacity was 4 and squat was horrible because of the pain next day.. but when i gradually progressed the results came out slowly and it took more than six months to cut those flabby parts. i was a regular gym goer who dreamt of a physique and your approach was kind of my last resort before giving up completely.. thanks to you now i am free from that side flab and my body feel more functional now . you have been a hell of a motivation for me. thank you for that .
Regarding photos: the one in which i am just skinny fat i weigh 91 kgs. but i am just 80 kg now and look more muscular and feel functional now.. the pump training you wrote about is amazing . my pants size were 38 which is now down to 34 . wouldn't be here if not for your approach.. thank you
Harshit Godha, India: "I started with 0 wide grip pull ups, and progressed to 15. I am quite surprised with my back and shoulder growth."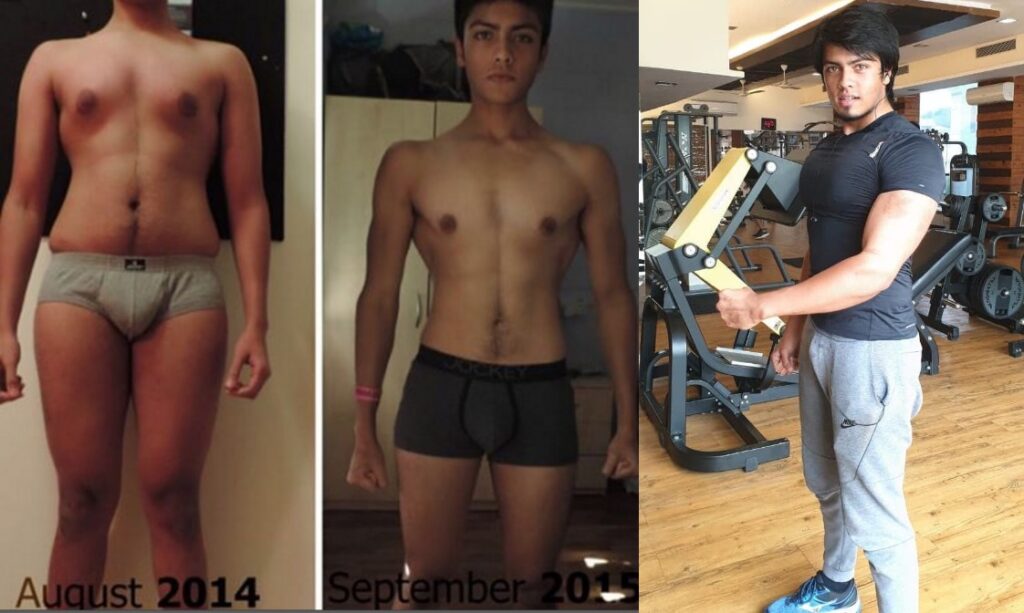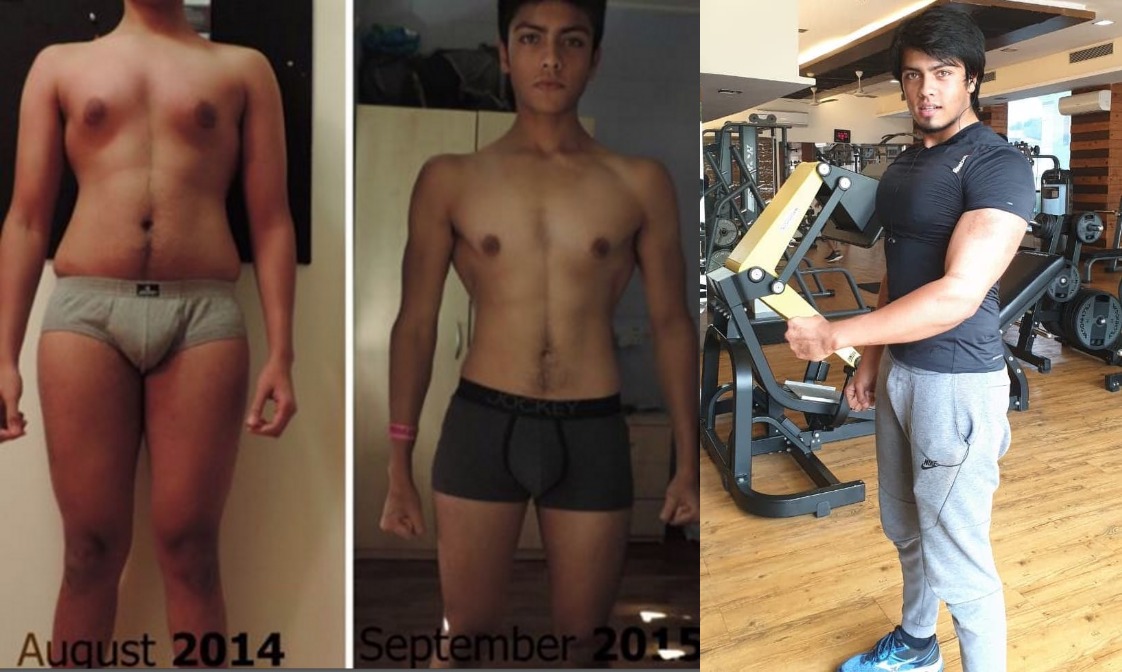 "I faced the same problems of low testosterone and skinny fat body type as you did, and after following you advice i made some real progress, but realised that I needed some personal guidance, and it helps to have someone to motivate you when you hit a plateau. I started with 0 wide grip pull ups, and progressed to 15. I am quite surprised with my back and shoulder growth, it's evident in the progress pictures you asked me to take. The workout also helped my posture, which often is an overlooked aspect. The training routine is tailored specifically to my needs and goals. The diet plan works great, definitely boosted my testosterone levels, and also its flexible and includes 2 cheat days, so it its quite easy to follow. I am happy with the progress I have made so far and am looking forward to work more with you."
Arthur Braz Leal, Brazil: "
At 19 years old, 174cm (5'8.5″) and weighing 54kg (119 LBS), I thought I had been cursed with bad genetics."
To all of you who think you were cursed with bad genetics for bodybuilding: PLEASE, at least give it a try, I guarantee you'll be surprised with how far you can go.
At 19 years old, 174cm (5'8.5″) and weighing 54kg (119 LBS), I thought I had been cursed with bad genetics. I had skinny arms, skinny legs, and for some odd reason, a pot belly at the same time. I found out I had the "skinny-fat" body type (lol). That's when I saw Oskar's transformation on his website, and it was all the motivation I needed.
I thought to myself: "If he was able to go from THAT to THIS, it's possible for everyone to have a strong and muscular body type."
That's when I started training with a high volume workout routine (which I attribute 80% of my progress from), while following a hypercaloric diet that made my family members think that I was obsessed (lol).
2.5 years later, I was weighing 74kg, and became the strongest amongst my friends; my confidence skyrocketed, and decided to never stop bodybuilding.
My progress even inspired some of my friends to work out as well.
I should also note that I never once had to take any kind of supplement: no creatine, no protein powders, just real food along with nothing else.
I have plateaued many times, but I always pushed through and was able to eventually get stronger and stronger. Again, I want this to be an inspiration to all of you who may feel like they lack the genetics to have a great body: keep working, and you'll be surprised, I promise!
Francis, USA (10 week transformation): 
"This is probably the most amazing thing I have done with my body, and it's due to this program. I'm amazed."
Francis, USA: "This is probably the most amazing thing I have done with my body, and it's due to this program. I'm amazed. The fact that I have done no cardio is crazy. I love this program man, thank you Oskar! If it wasn't for you keeping me in check, I would be way off and probably starving myself trying to loose weight. I can't wait to see what I look like in another month."
Janu Rasby, Indonesia (1 year physique result):
Harrison Max, US: "For years I have been lifting heavy and never getting results I wanted, including abs and a nice physique. Since I have been working with him for about 3 months now, I have seen abs for the first time with solely bodyweight exercises."
Jack Wilde, UK: "It's been 2 years since I started working with Oskar and I've lost 30 pounds and increased my pull ups to 20 reps."
Alexander Huang, Taiwan: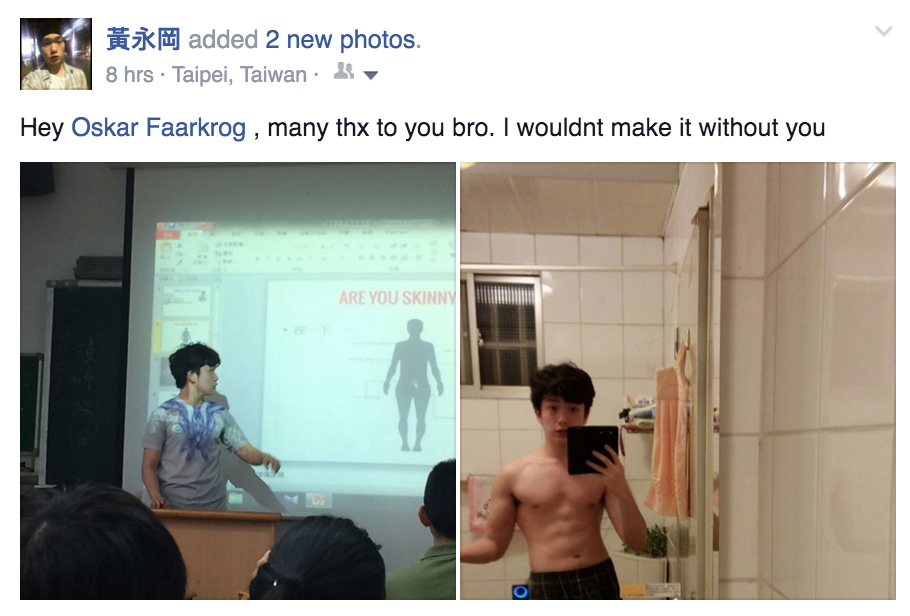 Madhuranga Liyanage, Sri Lanka:
Apostolis Georgodakis, Greece (1 Year Transformation): "Oskar's diet can be kept for a lifetime. Nothing extreme or too restricted."

Apostolis Georgadakis, Greece: "I was skeptical about online coaching at first but I decided to trust Oskar and I was right. I remember when I started the program; my waist was almost around 109cm wide. Nowadays, it is around 94cm and it keeps decreasing. My hips have also decreased substantially and I have got bigger arms and shoulders. So I am packing up muscle while losing fat at the same time. All diets I tried before were not sustainable for a long time. So I was gaining back any fat lost after resuming my diet. Oskar's diet can be kept for a lifetime. Nothing extreme or too restricted."
Roma Teodor, Romania:
Blaine, USA (Progress from 13 to 14 years old):
"Hello Oskar, today marks a little over my 1st year of training. I dropped from 146 lbs to 120lbs. Then I put on fifteen pounds."
Karim, United Kingdom:
Umar Alam: "Working with Oskar is one of the best decisions I've ever made and I'd do it again in a heartbeat."
I've never been an athletic person.
Back in school I never played sports or did remotely fitness related. I preferred to take naps and stuff large amounts of doritos in my face. Fitness just wasnt for me. I'd never have those broad shoulders or nice abs or anything. I just didn't have the "genetics" for it. I had accepted it.
Being out of shape isn't bad but it's the feeling of helpless and low self esteem that really causes issues. Just purely due to the way I looked I got bullied and harassed quite a bit. I looked like a target, so why not. All that changed when I found Oskars website.
For the first time here was someone who understood my pain, who's been through what I have. I related to each and every word. I started training the way he said and yes, I've made mistakes here and there. But calisthenics has absolutely changed my life.
I look good in clothes and better without them. My face is defined and my shoulders are wide. I have that v shape, I always wanted. People automatically treat you better when they see you're fit. It's kind of sad. If it wasnt for Oskar I'd have done some cookie cutter starting strength rip off and likely injured my back. Making no gains and looking worse in the process. Oskar changed my life
My physique is entirely calisthenics aside from some dumbbell work for my chest. Working with Oskar is one of the best decisions I've ever made and I'd do it again in a heartbeat. Take that first step
You won't regret it
Umar Alam (Instagram: @umarrwrites)
Kevin Brown, 5 month progress: "It took me around a year to finally take on your program because of some of the opinions of others online(mainly reddit), who did not actually partake in your program, and said your concept of people being "Skinny-Fat" wasn't true."
One of the main reasons for hiring you as my coach was the fact that I really related to who you were at the beginning stages of your fitness journey. I knew that relatability would be necessary in motivating myself when I felt like giving up. Also, so many of the other programs that I viewed either showed people being skinny or overweight/fat, but not the body type combination that you and I had.
It took me around a year to finally take on your program because of some of the opinions of others online(mainly reddit), who did not actually partake in your program, and said your concept of people being "Skinny-Fat" wasn't true.
My body is much leaner and more toned in comparison to when I tried to do it solely on my on.
It has definitely helped me to be more consistent, and to not give up on myself. I felt so insecure and defective as a person, and really had a 'what's the point of even trying?' attitude about myself. I'm glad that I decided to challenge those personal view and now see myself in a more positive light.
My strength and endurance has definitely gone up, and my overall body composition has changed for the better.
These results are far greater in comparison to other programs. I actually feel balanced and healthy.
The diet plan is better than I expected. I am not left feeling hungry, and the food choices are plenty too, so it makes sticking to the plan much easier. Cooking and meal prep wasn't as hard as I thought it would be, and i end up saving more money by making my own food.
​The training program for me was challenging in the beginning due to the fact that I was out of shape, but it's doable and balanced. I do feel the burn and the pump during and after workouts.
Both are simple to follow, and well explained and the parts that were not as clear, you were able to send me a response a lot faster than I expected. The video links also helped me out with making sure that I was performing each exercise correctly.
A typical day for me is quite simple. I wake up around 6am, I get ready for work and prep my deals for the day. I work as an office manager for 7.5 hrs, which has it's stressful moments at times. I do try to walk as much as possible throughout the day since my job can be quite sedentary. So, I usually take a walk during my lunch break, take the stairs instead of the elevator, or walk home after work. I have my three meals throughout the day, and work out if it's my work out day. I go to sleep around 10:30-11p.
FJ: "Well, it's the first time I've been lean since my early 20s… so there is no comparison!!!"
I was researching different exercises and diets for guys with "dad bods". I was very impressed with your articles on skinny-fat transformation, because that is me!
I was equally impressed that you had gone through – and documented – your own skinny-fat transformation. I hired you because I was confident that you knew what you were talking about, and could help.
I have fully leaned out, and am just beginning the bulk phase. You have monitored and advised on my progress all the way through. I have much better eating habits, and feel good with my physique
It's the first time I've been lean since my early 20s… so there is no comparison!!! I did not get results with any other workouts I tried.
The program structure is great. It is easy to follow and meal preparation isn't overly taxing. I definitely feel healthier and more energized on the diet plan.
The training time per workout is not too long, and it is not overly demanding in terms of complicated exercises.
I had never been on a formal plan before. What I can say is that your program is easy to follow – and works!
My days are crazy. I have my kids half the time, and obviously all of the responsibility that comes with being a single dad. I have a full time job, and a busy social life. I also travel a lot. My typical days are generally a rushing combination of all of these things!
I'd like to say thank you. I took a leap of faith hiring someone through a website & email – and you have come through in flying colors. I am very happy with the results so far and am looking forward to completing the bulk phase. I am excited to see where my physique is at in another few months.
Jesse, Canada: "Ive currently only been training with Oskar for just over two months and its a decision I do not regret at all."
Over the last 2-3 year I have visited the SFT website for tips on building a better body. During this time I had different personal trainers who all had different approaches that left me hurt and extremely sore. The website featured men with the same body type as me and after my final session with my trainer I decided that I would take a chance on Oskar.
Ive currently only been training with Oskar for just over two months and its a decision I do not regret at all. Within this short time my hips and 'man-boobs' have basically disappeared. Ive developed a more manly physique which only made me more confident and less embarrassed to be seen with my shirt off.
The training program at a glance appears to be very simple. With my other trainers I was doing more advanced workouts with very little results , so to go back to the basics was hard. What I didn't realize was that these "simple" exercises were very hard and I could notdo what was required. But with the Help of Oskar I'm now able to do all the exercises and enjoy going to the gym. Oskar had been awesome with keeping me motivated and answering every question I've had. His communication has been key with keeping me on track and avoiding injury.
The diet plan is very easy to follow and adapt into everyday life. Even if your out and cant eat exactly whats on the plan , the food options are real and can be ordered anywhere. Unlike most diets this plan leaves you with energy and not hungry. Its all real food that you can prepare on your own even as a beginner.
I would highly recommend Oskar and his program to anyone who thinks that there body is impossible. I was skinny fat and thought I would have to be this way for the rest of my life as nothing had worked before. The results are real! I feel like I'm on my way to having the body I've always wanted and people have noticed.
Thanks again,
Jesse
Dennidick Durian: "From the bottom of my heart thank you so much brother"
Emilio: "Having been a skinny fat for 15 years (I'm almost 30 now), I'm still surprised and enjoying not being it anymore."
Hi Oskar, my name is Emilio, I´m 29 years old and I'm from Argentina. I came across your site and felt identified with you almost instantly. As a skinny fat guy, I have been struggling for a long time to improve my appearance with a lot of effort and poor results, following the same bad advices as you in your beginning. It's been 7 weeks since I started applying your ideas and so far I've had the best progress in my life after years of intermittent weight training. Having been a skinny fat for 15 years (I'm almost 30 now), I'm still surprised and enjoying not being it anymore. From being about 1m85 / 87 kg with 20-25% BF, right now I'm about 77 kg, with about 12-14% bodyfat, and I love the way I look. I still sometimes look at me in the mirror and I can't believe I am now between slim and toned, having been flaccid all my life, ashamed of taking off my t-shirt. I really appreciate having found your website and I want to thank you for sharing all your experiences!
Naveen Viswa: "A
fter joining your program my testosterone levels have increased from 372 Ng/DL to 745 Ng/DL and my free testosterone levels have increased too !"
Steve Chavez, Peru (1 year transformation):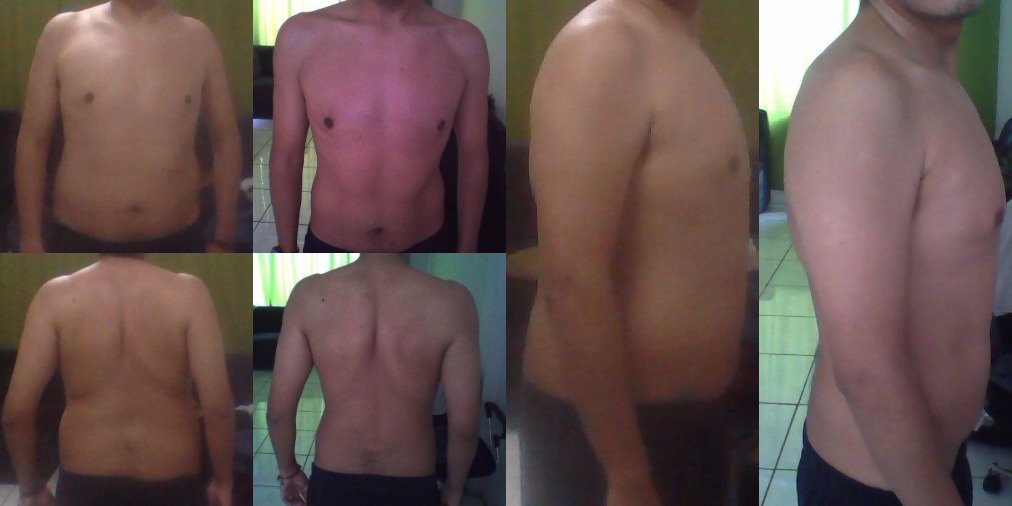 "I watched your transformation pictures and video and it amazed me, I didn't think anyone that was skinny fat could be in that shape and I could relate to all the problems you had been through.
Also I read all your blog articles and they all made sense to me. They were to the point and filled with your experience, they were exempt of any motivational bullshit and completely logical.
I never did online coaching before and I didn't thought I would never do it since I've always heard that it was easy to get scammed, but after reading your honest advice and doing the application form for your coaching it was clear to me this risk didn't exist, so that made the decision easier for me, it was the best decision I made for my personal health. Without your coaching I wouldn't been able to improve my physique.
Many, the clothes now fit me better, I haven't just improved my physical health but also my mental health. Also there's another perhaps not planned consequence of the body transformation. It used to be impossible for me to go out of my house after eating lunch or any other significant meal, I felt bloated and overall irritable and also avoided eating on the street. This caused me a lot of social issues. Thanks to the constant exercise and the customized diet plan, nowadays I can go out after lunch and eat on the street normally.
Results have being the best I've got in my entire life. I'm in the best shape I've been. I think the pictures say all of this. Before I followed intermittent fasting, HIIT and a routine that was designed for me in a gym, I didn't get any noticeable results.Yours were the best results by far.
Diet: It is the best diet I've followed. Since you customized according to my needs it was simple and easy to maintain and I never felt it was hard to follow it. The pinneaple does magic to my stomach, I never feel bloated now and I feel energized over the day. I'm planning to stick with this diet for the rest of my life.
Training: Is the best workout I've had, I've never did a single pull up, managing to do pull up reps was a breakthrough for me. I really like the bodyweight exercises, I feel accomplished when I progress on them and also I feel stronger and more agile after doing them. With weights exercises I feel I somehow get clumsier. It's really fulfilling seen I'm getting closer to that v-taper form.
Your program has improved my physical and and mental health. It was the best investment I've ever made. Also a life lesson I got by reading your blog that can be applied to accomplish other long term goals as well was that one must not rely on motivation but on habit. I'm going to maintain your training program and diet as a lifestyle." – Steve Chavez, Peru
Damian S, Poland:
Olivier: "The transformation pictures attached below represents 3 month of good nutrition recommended in your Ebook! But I didn't do any real exercices that you recommended in your plan during this period of time."
I have been following you for two years now, and your articles changed my perception of nutrition and fitness. Even thought your weight loss techniques and advices are straight forward and quite simple to follow, it took me awhile to get it right haha.
But when I bought your Ebook (like right when it got out in January 2017) all of the info i needed was in this one book and it became super clear in my head. From this point on I had not only the motivation but the step by step guide to make my transformation happen. No more excuses.
Now, being a Law student and travelling a lot every week, I couldn't manage changing my food habits plus working out. And even thought people usually say that working out is the fun part, it is not the case for me: I much prefer have to restrain myself from doing something ( like eating a lot or eating junk) then having to actively do something that I am not passionate about (i.e working out). Also, I remembered from your articles that not only nutrition is the biggest part of the transformation, but you do want to get lean before starting to pack on some real muscles.
Therefore, the transformation pictures attached below represents 3 month of good nutrition recommended in your Ebook! But I didn't do any real exercices that you recommended in your plan during this period of time. (the time frame is from February 1 to April 28). But this 3 month of clean eating gave me discipline and allowed me to build a routine around good food. Because of that, I was able to start your recommended exercices last week!
As you often say: building up a physique is a marathon and not a sprint, I know this is not the fastest transformation ever , but I can keep up with it and I am happy with the results!
Just for the specs: I measure 180 cm (6 feet) tall and I went from 187 Lbs to 167.5 Lbs within those 3 months.
So I just wanted to thank you for all of your work and dedication, you are really changing the lives of skinny fat men and that is quite amazing!
I'll keep you posted on my progress,
take care Oskar!
Olivier"
Adam Meredith, Sydney Business Owner.: "I have my sports scientists read his website when they start with me, and many of his findings and advice are given to my clients."
I hired Oskar as my coach because I don't like BS and I don't like putting effort into things without clear and observable results, whether that be in my business or my personal life.
Regardless of your genetics building a muscular body takes time. I was not willing to start such an endeavour without guidance and most importantly results.
I am saying all of this from my knowledge as a chiropractor and a DEXA scan business owner. I believe Oskar has perfectly matched the physiology of Skinny Fat body types with the most appropriate exercise and diet protocols to build the best physiques that skinny fat people can have.
Oskar has cut through all the rubbish out there, and gives you the core of what you need to get outstanding results in the quickest time possible.
I have my sports scientists read his website when they start with me, and many of his findings and advice are given to my clients.
Joining the coaching was a no brainer, it's a the cost of a coffee a day to get access to all his information, his coaching experience of others, and his own personal success in transforming his body. Why would you not access that ?
The coaching has taught me that there is a lot of of rubbish and BS out there. That working out when done under the right guidance can transform your body, and that it doesn't have to be complicated.
The two main things I got was confidence and certainty that I could actually change my body. Confidence, came at the beginning, because he has transformed his physique, and other clients phsyiques, and then certainty, came later, as my body responded as he predicted it would. Confidence and certainty are very powerful drivers
My body-transformation has taught me that working out can be a fun, routine aspect of your life. I used to see working out as a chore. Now I look forward to them.
Im 48 years old and I had a real dad body. Now I have a really fit body. I have a "V" now, and for the first time actually have muscular arms. I also found out that I can build upper pecs! People comment on it.
For me it always comes back to confidence and certainty – when I worked out in the past, I would put in a lot of effort and see no results. Then I would lose confidence and certainty. This loss wasn't in the program I was doing, but rather in my ability to change my body. So I would stop. With Oskars program and coaching I got results, and I realized for the first time, that I really can have a good physique.
Jordan Valentin: "These results far exceed any results I have gotten up until this point. My strength has increased more than ever before, all while being able to reduce inches from my waist, and gain inches on my shoulders."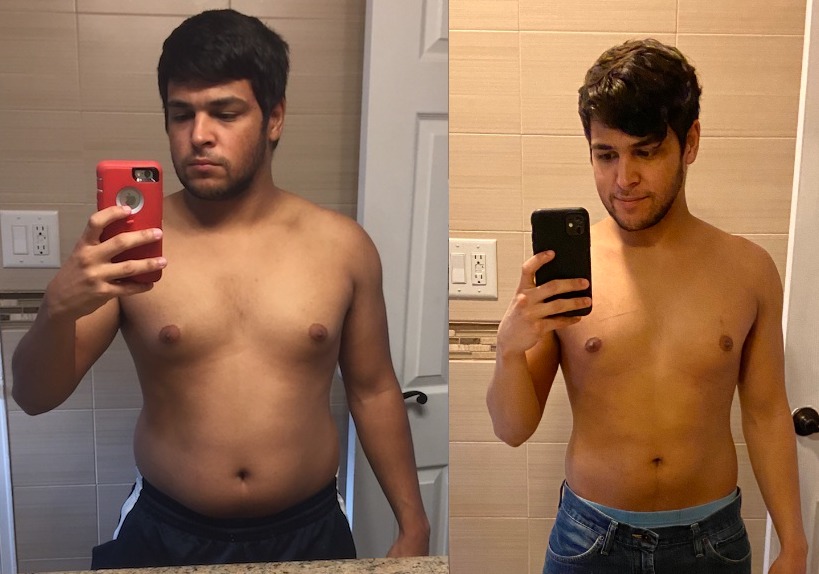 I hired Oskar as my body transformation coach because I have been trying for the past 6 years by myself, and I have never been able to sustain the results. It is something I should've done 6 years ago, and right now it was the easy decision because I was done wasting my time and I wanted to achieve real long-lasting results. So far, in just a few months, working with Oskar has allowed me to lost 25 pounds, while maintaining my strength. It has given me an extreme boost in confidence, my body looks the best it ever has and I feel a lot more confident in my body and just overall. During these months, I have been able to increase my chin-ups from 3 to 15 without any added weight, and 7 with 30 pounds added. These results far exceed any results I have gotten up until this point. My strength has increased more than ever before, all while being able to reduce inches from my waist, and gain inches on my shoulders. The structure of the diet and training are very easy to stick to. Oskar makes it so that all you have to do is follow the process. If you just follow what Oskar says then it seems effortless. The diet is better than any other one I have done before because it focuses on balance and digestion, it does not exclude any food groups and it still allows for 1 meal a week where you can eat whatever you want. I love the weekly check-ins and progress photos, it allows me to see the progress I am making and the photos allow me to put a picture to the measurements that I type in. I was looking at my monthly photos recently and it is incredible to actually see the progress from these photos, whereas on a daily basis I don't really notice the changes in my body. Oskar has been extremely helpful and is always there to answer questions I have. He always responds in a timely fashion and I can tell that he truly cares about my results and progress. I work from home and also go to school so a typical day in my life looks like. I wake up at 9, eat breakfast then I do work until 10:30 am, workout from 10:30 am to 11:30 am, then after getting ready for the rest of the day, I eat my lunch at noon, and I work and study until 6 pm. Then I will have my last meal of the day around 6:30 or 7 pm. and relax the rest of the night, making sure I focus on getting good sleep. I would highly recommend working with Oskar for anyone that is serious about transforming their body and really transforming their lives.
Andreas: "There's only 1 kg difference, but my body composition is changing and for the first time in my life, I know I'm going to succeed with changing my body."
I actually came across Oskar's website in December 2018, but made the decision to contact him a year later. I was approaching my 30s and had always hated my body composition, which gave me periods of depression and beating myself up over how I couldn't fix it. I lacked motivation to interact with people, buy clothes or generally take care of myself, because I despised what I saw in the mirror.
I saw in Oskar's «before» photo that he had the exact same body composition as me, and that he wrote about how difficult it was to transform out of it. I had tried multiple times in my life to transform on my own, for example via Starting Strength, doing excessive cardio and heavy lifting with progressive overload. It always came down to the question of cutting or bulking, and I ended up eating very little and training hard with almost no results. This made me even more depressed, and since I couldn't get out of being skinny-fat anyway, I might as well binge-eat and hate myself some more.

The thought of turning 30 and this all-consuming self-hatred made me more desperate for change than ever before, so I contacted Oskar in late December 2019 and he immediately responded. After evaluating my assess form and deciding I was a match for his programme, I signed up for a year of coaching and I haven't regretted once. He gave me a diet plan with multiple options for each meal, and I could mix and match as much as I wanted. It most importantly didn't feel like a diet, since I could customize it to my liking. After starting the diet I realized I had eaten way too little before, and it made me feel energized going into every workout, lose all my cravings and the bonus cheat meal every week was the cherry on top.


He also sent me a workout plan, where he recommended between 4 to 6 workouts a week. I thought that might be difficult with a busy job like mine and given I've struggled with 3 weekly workouts in the past, but the diet actually gave me the energy to do so. I've worked out 4 times a week for 3 months now and seen amazing results. I've had continuous progression almost every week, and I've lost 9 cm around my waist, 6,5 cm around my hips and added 5 cm around my shoulders. Also added 2,5 cm around my biceps. I went from 0 to 3 chin ups, which for me is such an achievement, given how heavy and tall I am. All while only losing 1 kg, which means you actually can lose fat and build muscles at the same time. There's only 1 kg difference, but my body composition is changing and for the first time in my life, I know I'm going to succeed with changing my body. This gives me immense joy and I'm eternally grateful to Oskar for helping me achieve my ultimate goal. I'm definitely going to continue the programme and I'm aiming for a V-taper.

For the first 3 weeks of the programme I filled out a BioFeedback tracking form and sent to Oskar at the weekly check-in. If I had any concerns or things I wanted to discuss, he responded within a few days and was always constructive and helpful. There generally is some tracking to do, but it's very helpful and numbers don't lie. Even if I didn't see a difference in the mirror every week, the weekly measurements didn't lie, so I was always certain that I was going in the right direction, just by looking at the numbers. This also helped me stay focused and motivated.

All in all I would definitely recommend Oskar and his programme, as he is dedicated and very helpful in transforming my body. I will continue at least through the year, and maybe even longer if I need to, to achieve my goal.
Tim Rowland, USA: "
Oskar offered a personalized training system for people with unique fitness challenges that the general public – even professional trainers – don't really understand.
Oskar offered a personalized training system for people with unique fitness challenges that the general public – even professional trainers – don't really understand. There's a group of us who have an extremely hard time getting our body fat low, 
Once I read everything Oskar had to offer, it was an easy decision, and well worth doing. 
Oskar's coaching has helped me make strides toward my fitness goals like no other personal trainer has. He's also changed my understanding of how to train, eat, and think about my body, after spending years following advice that worked for 99% of guys – but not me.  
My body issues have contributed to years of frustration and anxiety, and Oskar's training helped me change my sense of what was possible. 
I've made significant strength gains, and lost body fat in all the areas that bother me the most. 
No other training program has been for my body type – extreme difficulty losing fat, small bone structure, and a past that included gynecomastia. 
Oskar's diet plan provides a lot more flexibility than I expected. Carbs are okay, and a "re-feed" meal makes the weeks a lot easier to get through. Unlike other diet plans, it didn't leave me feeling drained and going into training feeling like I had no energy. 
Oskar's training program is well structured for someone who wants to make consistent gains in the different muscle groups, without spending two hours in the gym every day. 
Previous training programs left me feeling drained of all energy, and often frustrated, because for all the energy I expended, I was still carrying fifteen pounds of excess fat. The effort-reward balance was way off. Oskar's program reset the balance, and helped me move toward the type of body that showed the hard work you put into it.  
The weekly check-ins and progress photos were a much better way of tracking development than just standing on a scale every day and looking in the mirror to see if you've made any progress. 
Oskar was very responsive and specific in his trouble shooting. I felt like I had direct access to him as a coach. 
Oskar's training program is ideal for a group of men who not understood by the fitness community at large. Very few people understand what it's to train bodies like ours, and how to get them into the shape that we yearn to be in. 
Abdul Malik, Scotland: "There is no comparison. I have had three different personal trainers in the past and followed countless diets and workout plans in 10 years and NONE of them have got me results like Oskar's program has brought me."
I hired you as a coach because when I came across your website and started reading through it, I could relate to everything that was on it. Everything made sense to me. I finally understood my body type and why I did not see any results from my training in the past.
It was an easy decision after reading people's stories, testimonials and results and seeing how far Oskar has come in his own training and exercise. His knowledge and expertise is very apparent on the website
It has literally turned my life around. It is the first time in my life where I feel good physically and mentally and even emotionally. I am 29 but feel like I'm 20. No exaggeration.
Apart from the physical transformation, the coaching has helped me overcome anxiety, mind fog, lack of concentration and I can get through a full day of work without having to take a nap. I can do more physically and mentally.
The results are mind boggling. I have lost about 20kg of fat and have gained a lot of strength. Before beginning with Oskar, I couldn't do any chin ups and only a few pushups. That has totally changed and i can manage over 20 pushups in one set and i can do weighted chin ups.
There is no comparison. I have had three different personal trainers in the past and followed countless diets and workout plans in 10 years and NONE of them have got me results like Oskar's program has brought me.
The structure couldn't be better. I always feel energized and motivated to beat my maximum and progress in the main exercises during workouts. The diet is easy to stick to and meals are straightforward to prepare. There are plenty of food options to choose from.
I always feel like my muscles are well worked
Compared with the programs I tried in the past, I would feel my muscles being worked but they never brought me results like this. The combination of consistent progressive training and a testosterone boosting diet has worked wonders.
The weekly check ins feel like a checkpoint to me where I can look back at my progress but also look ahead to how I can push myself further and set new targets.
Oskar has always given in depth and timely replies. I have learnt a lot from all the information I have been given so far.
I have struggled to put into words what Oskar has done for me and my quality of life. Words alone can't justify what his knowledge and expertise has done for me. I only wish I came across his website 10 years ago. Only God knows what kind of results and shape I would be in now.
Old success stories page
Joshua Earl: "I lost 12 lbs. of mostly fat, dropped 4 inches from my waist, and reached a new personal best of 12 pullups on gymnastic rings."
The reason I hired you is that you're one of the few coaches out there who are upfront about what us "skinny fat" guys have to deal with. The way you described a typical skinny fat guy matched my body and my experience exactly. Most trainers just give you the same diet plan they give all their clients, then tell you that you're not working hard enough when the muscle melts away and the fat just sits there. You came out and said, "Yes, this is a real problem, yes, it sucks, and yes if you work hard and have realistic expectations, you can see improvements." 
It was actually kind of a tough decision. I really liked your blog, and everything you were saying about the experience of being "skinny fat" directly mirrored my experience. However I've hired coaches before, and tried multiple programs without getting any results. So it was more a decision of, "Do I really want to go down this road again and risk being disappointed?"
The most helpful thing for me was the accountability actually. You helped me make small changes and stick with them long enough to see whether they worked. For example, we fine-tuned my diet. I was already eating fairly close to your recommended diet, but you helped me see that I could still lose fat on a *very* small calorie deficit. This is something that takes 2-3 months to show up. Previously I would panic and cut calories drastically. You also helped me confirm that for fat loss I need to keep carbs in the 100-150 gr/day range.
You also helped me to see how much training volume I can handle, so I have really stepped up the amount of work I'm doing in my training sessions.
My digestion has improved a *lot* due the diet changes you helped me with. 
I lost 12 lbs. of mostly fat, dropped 4 inches from my waist, and reached a new personal best of 12 pullups on gymnastic rings.
I've retained more muscle and gained a lot of strength. On previous fat loss efforts my strength typically plateaued and declined due to the heavy calorie deficits. 
At first I was pretty surprised at how much you wanted me to eat—I didn't think there was any way I could possibly lose fat eating that much. Your recommend intake was above what most of the calculators say my maintenance intake is!
However I did lose fat, slowly but very steadily. I was only ever moderately hungry, and I always had energy to hit my training hard.
One benefit I got from eating like this is I now have a good sense for the moderate hunger level I should feel in order to lose weight. I rarely have to track calories now. 
The training sessions were challenging but I felt like I was able to recover adequately. I definitely have seen major strength improvements, and got some muscular development in my chest. 
This diet approach is very sustainable. Previously I found I had to keep my calories very low (1500 calories per day or less) in order to continue to lose fat. And as soon as I started increasing calories to a reasonable level, the fat came right back. With your plan I'm losing fat a bit more slowly. It'll probably take me another 6 months to hit the level of leanness that I want to maintain. But since I'm not starving myself to get there, I won't have the same rebound that I did previously when I ended my diets. 
The weekly check-ins were critical. The biggest thing was the accountability—I wanted to show progress every week. It also helped with keeping me from veering off track or into extreme measures. There were a lot of times where I'd go through the week sure that you were going to tell me to make some drastic changes, and you just said, "No, let's give it another week before we make changes." So you forced me to take time to see the effects of more gradual changes.
(Side note: I found the weight, waist and arm measurements helpful, but the other measurements were more frustrating than anything. I am pretty good at taking measurements, but it seemed like my hips and chest would swing plus or minus 1″ some weeks, so I pretty much ignored them.)
I was on the "one email per week" plan. You always got back to me within 2 days or so, and your answers were clear and helpful.
The diet and training programs were extensive, clear and easy to follow. I hardly had any questions once I went through them.
I work from home, so I'm able to be flexible with my diet and training and keep my stress levels low. Typically I start my day around 6 a.m. I get up, shower, and have a good protein/fat breakfast (usually scrambled eggs in coconut oil, plus coffee.) I write and work on client projects for the morning, have a solid lunch (salad with lean protein, rice or potatoes, and some fruit), then finish out my work day. I train from 4:30-5:30 in my basement, 3-4 days per week. Dinner is protein, a small helping of carbs and some fruit. I do yard work and spend time with my family in the evening, and get to bed by 10 p.m. I aim for 7-8 hours of sleep per night. 
Eamon, 5 month progress:
Xavier, US: "We did another Testosterone level check and it came out much higher than before. The level came out to 416 ng/dl. The first reading from about 2 months ago was 280ng/dl and the second (which was done about a month ago) was 316ng/dl!! Looks like we are making some good progress!"
"I had my appointment with the Endocrinologist a couple days ago. We did another Testosterone level check and it came out much higher than before. The level came out to 416 ng/dl. The first reading from about 2 months ago was 280ng/dl and the second (which was done about a month ago) was 316ng/dl!! Looks like we are making some good progress!"
Andy, USA (8 week transformation):
MN, Ireland, 12 Week Progress "Was trying on a few shirts at the fitting room and notice how massive my back and lats are":
You were spot on about the circuit training. I feel so pumped after it and after every single training day it feels like I'm getting bigger.
I was out shopping for clothes. Was trying on a few shirts at the fitting room and notice how massive my back and lats are. Also, I've noticed how my chest has changed, especially after circuit training. My man boobs are almost gone, my chest looks a lot better. Can't wait to see more results. My weight is still 77.7kg, but I can see my waist getting narrower and narrower. This especially feels when I try my older clothes. Now all I want is finish the initial cut by the end of May and start bulking.
Loko: Combining bodyweight and resistance training by only one source i referred to; skinnyfattransformation.com
Starting weight – 96kg
Current weight – 75kg
Total loss – 21kg
Waist measurement – 109cm to 83-84cm
Thigh measurement – 75cm to 56cm
Hips – 115cm to 92cm
Shoulder -117cm
Arms – 38.5 cm (left) 38cm (right). A bit imbalance there.
Chest – A but tricky here, initially about 3 months into lifting i gained chest from 95cm to 105cm while losing weight, until i i was plateauing from gaining, and losing a lot of fat, my chest measurement now sitting at 98cm. It's hard to gain while at deficit
Combining bodyweight and resistance training by only one source i referred to; skinnyfattransformation.com
Training 3 times full body per week with moderate to high volume with one days i lift a bit heavy but not too much. I cant feel any muscle soreness if i lift too heavy. Lift heavy also makes me cant contract or feel the muscles i want to work. If I feel demotivated to train, i will browse your website and look up into those success stories to regain my motivation. Motivation is crucial in fitness. If your website can detect which viewers viewed yours the most, i think i will be sitting in the top 10 range. Haha
Justin Crutchfield: Since starting the program I've lost over 3 inches off my waist and I'm starting to see muscle definition for the first time in my life. I haven't been at this weight for over 20 years.
I discovered Oskar's website while searching Google for answers about why I was making so little progress in changing my body through lifting heavy weights. After months of hard work heavy lifting, I was not losing weight or gaining definition in my body. Actually the opposite was happening. When I found Oskar's blog about how he had a similar experience, and how he overcame that problem and even devoted his life to coaching others to do the same, I was hooked. I was starting to believe I could never change my body because of my genetics, but after I read some of Oskar's blogs I started to believe that maybe there was hope after all.
I was hesitant of paying someone to coach me remotely. I've tried many programs and diets in the past that made me too hungry or with such slow progress that I gave up, so I thought "is this just another gimmick?" I felt I needed outside help from a certified trainer and a program that mixed diet and exercise, and I thought "why not give it a try for a month?".
Oskar's plan has been invaluable to me. The customized diet he prescribes was a key component to my success in the program. I've never been on a diet that has kept me so full that I cannot even eat all the calories I'm allowed to. The foods make me feel energized throughout the day, and I feel no lethargy like I did in the past. The food even ended up being cheaper to buy and easier to prepare that what I normally eat. I'm shedding fat consistently on a weekly basis while being completely satiated all day. Another great thing about the program is that I don't even need to go to a gym. Oskar's documentation for the whole plan is very organized, thorough and easy to follow.
When I feel pain after an exercise, Oskar's advice on either on how to adjust the exercise or how much to rest allowed me to continue the program without getting discouraged. In the past, pain would make me stop altogether for a long period of time. But with his advice I feel confident in continuing on without seriously hurting myself. Oskar is quick to respond, very encouraging, and his advice works. The weekly check-ins help me stay focused on my progress and it becomes more like a fun game rather than work, as I'm always trying to beat my previous week's record.
After so much successful progress, I feel so much more confident following his program rather than following the advice of bits and pieces of information I find in forums and blogs on the internet.
Since starting the program I've lost over 3 inches off my waist and I'm starting to see muscle definition for the first time in my life. I haven't been at this weight for over 20 years. In such a short time my body transformation has given me a huge boost in confidence. It's great to hear from my wife, family and friends about how good I look recently. The best feeling was being able to fit comfortably in smaller sized shirts. I'm already shopping for smaller sized clothing and it's awesome to look great in something I knew would look terrible on me in the past.
I'm only about 3.5 months into the program and I'm really looking forward to my progress over the next several months.
Sean Richardson: "It's hard to miss a workout when all you need is a pull-up bar."
I first came across the SFT website about 4 years ago after trying out StrongLifts 5×5 and putting on 20 lbs.
Unfortunately, most of that was fat and lower body mass, causing me to mess up my proportions.
I implemented bits and pieces of information from the SFT website in order to remedy this horrible bulk, but I was always very inconsistent with my training and never disciplined enough with my diet to really get the results I wanted.
Finally, just this last year, I was fed up with my lack of progress and knew that getting guidance directly from Oskar was the way to go.
It was definitely an easy decision for me, as transforming my body has always been one of my primary dreams.
Oskar's coaching has taught me how to track macros and training progression properly, and these are the two keys to success. Oskar has been very receptive to any individuals concerns of mine.
It definitely has helped me feel more confident in other areas of my life, as I was never proud of my body before. To change your body you have to learn discipline and patience, and these traits are important no matter what you do.
I have worked my way up from 3 sets of 3 sloppy and jerky chin-ups to 5 sets of 7 strict and controlled chin-ups.
Although this may not seem like a big difference in reps, body-weight exercises can really become much harder once you use strict form and a slower tempo — especially at my height of 6'4.
Likewise, I have greatly increased the number of strict and controlled diamond push-ups that I can do. But the most noticeable results have come from the mirror.
My upper-body strength and muscle gains have been much much better on your program.
And for people who start off skinny-fat, it really makes sense to focus on the upper body (especially the lats) first to create ideal proportions.
I like that you encourage the consumption of whole foods, including lots of fruits and veggies. I also appreciate that you tailored the meal plan to my vegetarianism, which I think a lot of coaches would sneer at rather than support.
I love the program, and I feel that I am able to complete each training session relatively quickly. The focus on compound movements makes it really efficient.
My favorite thing about your body-weight training plan is how simple it is.
It's hard to miss a workout when all you need is a pull-up bar.
As a result of this simplicity, I have never missed a workout unless injured, and this consistency has translated into greater strength and muscle gains than I've ever had before.
I also like that you emphasize pre-workout warm-ups and post-workout stretching to avoid injury. Simplicity and sustainability are so important.
The exercises were very easy to follow, and I especially appreciated your feedback concerning my form. I'd send you videos and you'd note any issues that might lead to injury or imbalance.
I workout 3~4x per week, usually first thing in the morning, eat some food, go to class, and then come home to eat some more food. Life is good.
Gordon Martin: "For the first time in 36 years, I am losing fat rather than gaining it!"
For the first time in 36 years, I am losing fat rather than gaining it! I already look better than most of my friends who are out of shape and overweight.
I have never eaten so much on a diet! There were many times I simply felt that I couldn't stuff another bite in my mouth.
I shop and cook once a week. Right now, my fridge is stocked for the week… salmon, chicken breast, ground turkey meat, grilled vegetables, rice, sweet potatoes… I have the most delicious meals that only require 3 minutes in the microwave. No more endless snacking on garbage that never fills me up.
The food always makes me feel full and happy and never bloated or slowed down or gassy.
I loved the customized bodyweight workouts. For those of us who travel a lot, there are no more problems with finding a gym. Also, the workouts are short and to the point. I like working out now, but I still want to be done in an hour or less. Your workouts were perfectly timed and easy for an out-of-shape beginner to follow and work on.
The training program and meal plan are clear and easy to follow. I would tell future clients to turn off their brains, listen to Oskar, and get ready to lose some weight.
You are one of the few people on the Internet involved with men's health topics that actually cares and can get results for clients. The money I spent on your coaching services are the best money I ever spent! – Gordon Martin, New Jersey
Vamsi, USA: 9 week progress
Rob: "

I can finally see my abs! I've gotten wings and more definition plus more stamina and went from 9 pull-ups to 17."
I had previously had two coaches, one online and one at a gym. Both were probably OK coaches, but I found that they didn't quite understand my main problem, which was that I would just gain a lot of weight following their program and would not see the actual results because the fat would hide any muscle i gained. When I saw your before picture and read your story, something ringed a bell and I could identify with the struggle.
After having followed your online blog and read all articles and testimonials, I got really excited when I saw you were taking new clients and was elated when it was a reality that I was in the program.
Once I joined the program I felt a responsibility to get results since for one, I paid for the service and secondly, because you were there asking me for results and giving advice when I needed them. The program helped me understand that it takes dedication, not just going to the gym, but also following the nutrition plan.
The program has certainly made me more proud of myself and more self confident. I now go to the beach and have way less issues with showing myself without a shirt than I did before.
I can finally see my abs! I've gotten wings and more definition plus more stamina and went from 9 pull-ups to 17. I lost much of the fat around my waist
The other programs advocated eating a lot and lifting heavy. While I did get stronger and did gain muscle, I also got more fat in unwanted places, which is not what I wanted. I wanted definition and a lean look
The workouts were extremely well planned and focused on developing the muscles that mattered for the type of body I have and for the muscles I wanted to develop.
It was interresting to see the numbers change, which also was motivating. But the biggest motivator, for me, was the pictures when I started being able to see the changes, which meant that other people around me would also see it.
Joe, US: "With Oskar, I was eating more food, gaining strength/muscle, and losing inches on my waist."
I chose Oskar because his plan focused on my particular body type, and included both a real food diet plan (not dependent on buying a slew of supplements) and a workout routine focusing on the muscle groups that will make my waist appear smaller.
I never hired a personal trainer before, and was a bit hesitant hiring an online coach, especially one overseas. One thing that helped was that Oskar was willing to do my first month thru PayPal which reduced my risk by quite a bit, and I was able to work with him for a month and confirm he was the real deal before subscribing thru normal means.
Aside from risk, I was debating over the cost. In the end though, I figured the things I'd learn would stick with me the rest of my life, and I could easily blow that money on a new computer that only lasts a few years. I also figured I had the money and the time, so let's see if I can really change my body to look like I've wanted it to look.
Actually paying for the service helped keep me motivated to stick with the plan; but more than that, Oskar's feedback on my workout videos has always been helpful. Most importantly though, he fixed my broken metabolism. Until I started this plan, I was eating < 2000 calories a day and going on an exercise bike multiple days a week to lose weight and I always plateaued. With Oskar, I was eating more food, gaining strength/muscle, and losing inches on my waist. Granted this took almost 6 months.
To note, I'm age 38, 5'11" and started at about163 lbs.
During Phase I (lasted 6 months):
Waist: from 90.5 cm down to 81.9 cm (at the lowest, of course this changes week to week).
Hips: from 92.7 cm down to 88 cm
Weight: from 163 lbs down to 150.3 lbs.
Chin-ups: from 1 up to 25
Diamond Pushups: from 8 up to 30
Squats: from 45 up to 100
My arms, shoulders, and chest all increased when I started the plan but then went back to starting numbers as I neared the end of Phase I and my metabolism was really revving up.
During Phase II (lasted 6 months):
Arms: from 33.7 cm up to 36.2 cm
Shoulders: from 112.7 cm up to 118.5 cm
Chest: from 95.3 cm up to 100.5 cm
Weight: from 150.3 lbs to 166.4 lbs.
My waist also went back up to about 88 cm at this point, but working with Oskar, we made some changes and after cutting back down I'll be starting to bulk again with what we've learned.
This was an easy diet to stick to, especially since (at first), I was eating way more than I used to. I was more than satisfied and will probably stick with peanut butter toast and pineapple for breakfast for years to come. A banana with peanut butter on it also makes a satisfying and diet friendly desert. Basically, if you like peanut butter, you'll be good to go ????.
The structure was good, I wanted to finish my workouts in 45 minutes or less and Oskar helped adjust things to get me in that time frame (stretching included).
I hadn't tried any official training programs or diet plans before.
The weekly check-ins on Sunday (rather than Friday) also helped. By having the check-ins on Sunday it was much easier to stay motivated not to 'cheat' on the diet on the weekend when it can be easy to fall into that trap.
I did the weekly coaching plan to save on money, so I would ask my questions on Sunday and usually received a response by Tuesday. If I encountered any pain or had a more urgent question, he'd get back to me by next day (since he's on the other side of the world).
A typical day: I get up, eat peanut butter toast, pineapple, 2 egg white protein shakes & coffee for breakfast. Then I bring the kids to school, I come home and work from home at a desk all day. During my lunch break, I'll do my workout (35-45 min). After my workout, I'll eat a turkey, spinach, & mayo sandwich with a little baked chicken and extra spinach on the side for lunch. I'll follow that up with a banana covered in peanut butter. I pick up the kids from school then for dinner it could be a variety of things. Some meals I might have include a Mexican dish (white rice, chicken, spinach, salsa, guacamole), another one might be a Chinese dish (white rice, chicken, stir fry veggies, and general tso sauce), and you can't go wrong with a steak, mashed potatoes and veggies. I usually always leave room for some dark chocolate or a banana w/ peanut butter for my desert as well.
I'd just like to add that there can be lulls in progress. The important thing is that by keeping note of your measurements, calorie intake and days working out, you have what you need to be able to tweak things to improve results. Personally, I know that I was able to break thru some plateaus in a significant way by following Oskar's program, so even though results come and go (usually based on life throwing a wrench in things), I know what results look like if you dedicate yourself to sticking with the plan.
Param D: "I am seeing changes I didn't expect"
I was your typical skinny-fat guy; love handles, wide hips, narrow shoulders, looked thin in clothes but a whole different story once the shirt came off.I used to do workouts such as Stronglifts/Starting Strength and eat as much protein as possible while being in a great surplus. For years I had no results and began to lose motivation but always managed to keep working out. One day, I decided that enough was enough and I had to find a different way to make changes. I went on Google and typed in "Skinny fat transformation" and I was very pleasantly surprised to learn that there was a website dedicated for helping people like me.
I read through the articles and really liked what I read. Oskar had even provided pictures of when he used to be skinny-fat which is something most "skinny-fat experts" had never shown me. After signing up for Oskar's diet plan I was surprised by the flexibility and simplicity. There were no complex calculations or guess work at all. His diet plan is very well balanced, to the point where I am seeing changes I didn't expect. I used to get massive headaches throughout the day, but now there are completely gone. Due to my now eating a balance of protein, carbs, and fats, my body is able to function MUCH better than before. Currently I am 170 lbs which is amazing since I haven't weighed this for over 7 years now! I still have lots of progress to make but with Oskar helping me I am confident I can do it!
Going into this diet plan I knew it would be well worth the effort. Oskar had proven himself to be an incredible coach and a great guy. I think everyone should have a friend like him. He was always very patient with me and always answered any question I had in great detail, despite me constantly asking him something every other hour haha. I've since come to see Oskar not just as my coach or mentor, but as a friend as well. He cares about my progress and that means a lot to me, and I know he will care about yours as well.
BD: "
Having Oskar to ask questions is invaluable."
I found your website when searching for programs for skinny-fat people. I instantly connected with your experience being unsatisfied with the results of strength programs like 5×5 starting strength.
I was able to drop 16lbs of body fat—while building 7 lbs of muscle at the same time. For the first time in my life, I was able to lose weight without having to meticulously count calories. I'm happy with the exercises Oskar sets me up with, and I love being able to get feedback on my form by sending videos.
My body transformation journey so far has definitely helped boost my confidence and increased my discipline to stick to a program for many months.
On previous programs, I didn't change up my routine because I didn't have clear goals in my head. With Oskar's program, I don't have to worry about how to progress on the exercises.
The plan is flexible for all lifestyles. My work provides lunch and dinner, so I only prepare meals on the weekend, but the plan gives me a guideline of what to eat and what not to eat.
On previous plans I was only training ~3 times a week because the exercises were so intense. But on Oskar's plan, I can train 5 or 6 days a week.
It's really convenient to be able to ask Oskar questions at the end of the week and have them answered.
Before, I was "on my own" to research advice on nutrition, exercises, and form, but this is difficult given the myriad of opinions on the internet. Having Oskar to ask questions is invaluable.
Also, the video links on each exercise were great.
My daily routine looks like this: Wake up around 8:30, head to work. Work until 1pm when I have lunch, my first meal of the day. After lunch, head to the gym. Then back to work until 6 or so. Head home, fix dinner, then free time until I go to sleep (around 11-12).
NJ Golla: "Wow! I've never been this lean before."
Wow! I've never been this lean before. All my life I was full of bulk. Then I read on your website on the importance of getting lean. I was tired of not having confidence of taking my shirt off so I decided to diet hard and stop my bulking sessions as I could see myself getting fatter and fatter if I bulk more.
I applied what I learned in you such as eating 2 meals a day and doing bodyweight exercises. All I could say is that thank you because I learned a lot from you and I still can't believe that I am 10-12% body fat because I've never been this lean before! Thank you so much Sir Oskar.
Ludvig Sunstrom, Co-Host at one of the biggest Swedish self-development podcasts "25 Minuter"
With the advice Oskar gave me, I was able to put together a simple (but effective) upper chest workout routine. In just 5-6 weeks, it made my upper chest striations pop!
Ash S. "I couldn't have done this without you"
Oskar! Just wanted to write in and thank you for all the help this past year. I couldn't have done this without you. I'm so glad I came across your website end of 2013 and didn't end up making the same mistakes as you did in your early years. I know I annoy you with the most basic questions, but you answer them all patiently and that's what makes you more of a friend than a mentor. Thank you again for all the help and I'll be seeing you soon!
Sairaj Patil: "It's almost been a month but I can see various changes in my body, such as in my digestion, I do not feel hungry anymore."
It's almost been a month but I can see various changes in my body, such as in my digestion, I do not feel hungry anymore. All these years I've wasted following improper diets and training for a waste. I'll work harder to make you proud of me and so I can show the world how extraordinary my training guru is, you. Thank you for leading me on the right path, now I hope you can walk by it, side by side , guide me on this help me accomplish my goal, so I can finally be proud to see myself in the mirror.
Regards Sairaj
Tjrejo Wuluhan: "I am so amazed to see the result"
Hi Oskar, thanks so much for your advice. You know, I'm not skinny fat actually. I'm ectomorph. I have been in this kind of state for about 35 years. I'm tired of this. Just 2 months ago I came across your website after hundreds of browsing body building website. Now, I apply your basic body weight exercise: squat, diamond push ups, and chin ups. I am so amazed to see the result. I can see my chest separation lines for the first time!!!. I don't eat clean because I'm very low paid worker here. I just eat anything in sight. I weight 52 kg before, and now 62 kg with 175 cm height. I know, my real transformation is still very long to go. But I just don't care about it. my hardest adversary is me myself!.
Fabio: "I feel like I have endless possibilities and I'm not afraid to fail anymore."
Prior to finding Oskar's website I was doing strength training 3x times a week with little to no results. When I started following his advice, things started to happen. I became leaner and put on a lot of muscle (mainly on my back), giving me a "big guy" look. His advice REALLY WORKS. I'm working out 4-6 times a week using mainly bodyweight excercises and can now easily perform 15-20 pull-ups. When I started, I could barely hang on the bar. When you start changing your body, your mind start changing too. Now I feel like I have endless possibilities and I'm not afraid to fail anymore. Thank you Oskar, if it wasn't for your experience I would have lost a lot of time!
Tommy Nguyen: Lost 37 Pounds!
Before: 176 pounds
After: 139 pounds
Lassi: "I love you man, keep doing what you doing!"
I love you man, keep doing what you doing!
Your fan from Finland,
Lassi
Luke Loizou Makaveli: "Everything in my body gets stronger thank to your advice from the web page skinny fat transformation."
Hi sir. My name is luke and i am 16 years old. I started training 7 months ago because was skinny fat overweight guy. I decided to make a change and I am on the half way there. Everything in my body gets stronger thank to your advice from the web page skinnyfat transformation. I want to say thank you because you have provided me with all the info i needed to know
Daniel: From 4 to 14 pull ups in 3 months
Man my strength increases a ton! Went from 4 pullups to 14 and 15 crappy form diamond pushups to 30 good form diamond pushups. It's only been 3 months so I have a long way to go but. The first pic was after going to my local gym for a full year and seeing no little to no results. I'm glad I ran into your video on youtube. Thanks for everything man I'll definitely keep you updated for my 6 month and 1 year transformation!
Joshua Cash: Complete 1 year body transformation
My name is Joshua Cash, I am 33 years old, I recently went under total hip replacement surgery. I lost a bit of weight before surgery to help aid in recovery after the surgery. After gaining back some weight from being inactive after surgery I decided I wanted to start getting into shape. I initially convinced myself that I wanted to start doing stronglifts 5×5 and I even set up all my weights that a friend had given me, but I could not get over the concern of hurting myself especially so soon after major surgery.
So I started searching body weight exercises and came across the Skinny-Fat Transformation blog. That was in early September of 2013. After reading through several articles I realized that I was not far enough in my fitness journey to worry about heavy lifting especially since I still have some bodyfat that I need to get rid of. I did not take measurements at my fattest but but I know that I was borderline obese.
I was able to achieve this by eating good foods at a small deficit everyday, I have also incorporated intermittent fasting since I have found that I feel much more satisfied using that as an eating schedule. I am doing a pushup challenge that I modified in order to challenge me more. I am also doing a pull up challenge that I try to add onto every time I work out. I have only been working out 3 to 4 times a week but plan to increase that very soon. I have done very little cardio, I usually only do about 30 minutes a week or so. I have played around with ab workouts as well but have not done them regularly. I feel like I am still a work in progress but am happy to say that I am making this into a lifestyle instead of a crash diet like we have in the past.
Cole St: "I have managed to go from 5 chin ups to 10 in 3 weeks with a huge mass gain."
Rob: "The diet is going great!"
Online Coaching Client
Hey Oskar ,
Just wanted to let you know the diet Is going great! I am down 3 pounds already ! At this rate I'll be cut in no time! Thanks again!
(Quick update just wanted to let you know I lost 2 lbs last week (185) an 2 more lbs (183). Total loss 7 lbs an all while eating a ton of awesome food ! Thanks again !)
Rody Bothe: Ready for the beach in 3 months
I started reading your website like 3 months ago just after I was really annoyed of not getting the results I should have made. Earlier when I was under supervision of an ex bodybuilder who told me to do pullups and deadlifts for 3 times a week I saw good results in my back and arms. Then when I read your website and remembered this sort of overtraining working my body and getting results that I wanted.
Pablo Torres: "I like your simplified approach"
Dude I don't really have any questions at all, I just wanted to shoot you a big big THANK YOU for all the info you put out there. I like your simplified approach to fitness and beating skinny-fatness. It's awesome! I can currently do 10-12 chinups in one go or 5 sets of 5, and around 15 diamond push ups distributed in 3 sets. I attached one picture that shows how happy I am with my progress. For the first time in maybe 5 years, I like my body! Not a huge midsection and also not skinny, small and weak. Next goal: lose inches from my belly without getting (too) small. Today is deadlift day! Best day. And then we feast on chicken, spinach and a cup of oats. Thank you again! Cheers.
Lassi: "After 5 months of training I've never looked or felt better. All thanks to you."
Holy shit Oskar, this latest email you sent is by far the most motivational thing I've come across the whole internet. There is not many bloggers out there who really open themselves up and talk about these benefits aswell. I love your approach on fitness and you are the only blogger whos advice I follow without questioning. Hell, you are like a big brother to me.
I found your site last September and it took me 3 months to get shit started.
Now after 5 months of training I've never looked or felt better. All thanks to you. Next year is going to be very interesting, can't wait to see the results.
Have a great summer Oskar, keep doing what you do. I'm sure you inspire a lot of people including me.
Sincerely,
Lassi, Finland
Kuba Bielecki: From 1 to 8 Pull Ups In 3 Weeks
Hello again, finally I've got some free time. So, I started to following your advices, because I was depressed about my look, I felt different. At the beginning i could only do 1 pull up. After three weeks i can do 8 pull ups and 10 diamond push ups. For the first two weeks i used three basic bodyweight exercises: push ups, squats, pull ups three times a week. After these two weeks i felt much stronger and lighter. In the 3rd week i've been using a little harder routine which consisted: pull ups, chin ups, squats, lying leg raises, pike push ups. For now, I've been training for about one month and i feel like a different person. Thank You very much!
Mikael H.: Body recomposition
"Here are my humble gains from the past 4.5 months. When I took the first picture I had done body weight exercises consistently for maybe 2 months. Now I'm 79kg or 175lbs with the height of 186cm. I must admit that I am more to the skinny side on the skinnyfat spectrum so losing fat (more like weight including all hard worked muscle) has never been a problem for me. But I do have ridiculously long and thin arms and a tendency to get muscle on my ass and thighs.
When the first picture was taken, I was able to do maybe two diamond pushups, now I do sets of 8-12. I just finished a pushing workout with a circuit of hindu, diamond, spiderman, broad and clapping pushups. I hadn't done any other pushing or pulling exercises except pushups and pullups but recently I started to do some dips and deadlift aswell.
Arms are still skinny as hell but atleast I got some definition on my stomach and back. Also my shoulders and traps have grown which is good since my neck doesn't look that giraffish anymore."
Reece: "I have been doing chin ups daily with extremely high volume and my back has blown up"
Mohammad: "I couldn't have done this without your website"
"Greetings Oskar!
I was fortunate to come across your website and I want to thank you so much because of your great advice I am becoming successful enough to becoming fit.
These photos are taken precisely 11 months apart, and I'm in the best shape I've ever been.
I looked at my training as a lifestyle choice and made it a habit. I try to eat healthy most of the time but I do cheat here and there. I've stumbled a lot throughout this journey however I got to know my strengths and weaknesses and how my body reacts to different foods. Without your guidance I wouldn't have known how to start my fitness journey. Thank you so much Oskar, you're an inspiration.
All i want to say is THANK YOU
I couldnt have done this without your website.
Thank you and God bless,
Mohammad"
Nick: "The best part about his approach was that I saw real results."
I found SFT in late March after another unsuccessful bulk. I was around 158 pounds and looked pathetic. All my friends told me to keep bulking but I was tired of looking like a blob. SFT gave me the advice to get lean before doing any bulking and build strength using bodyweight. I was skeptical until I read Oskar's story. It gave me hope because I made a lot the same mistakes as he did. Seeing him rise up from being skinny-fat into his current physique was downright inspiring. The best part about his approach was that I saw real results. I got stronger on body weight exercises. I went from doing only 6 chin ups to 15 and from 8 diamond pushups to 25. I now weigh around 152 and I can finally say I'm not ashamed of my body. What I liked the most about the dieting approach is its dedication to the fundamentals. No counting calories, no multiple meals or meal timing. I also like bodyweight exercises because I feel more tired in the end and get a great pump in my arms. Oskar's approach has had some big effects on my life. I no longer obsess about every calorie, or gram of protein. I don't freak out when I gain a pound after a day. The biggest thing though, is I'm not stuck in the skinny-fat cycle. I am never going to allow myself to balloon up so bad that I have to do extreme cuts and look like a skeleton. I can now steadily increase strength and muscle mass and see my own progress. In fact, for the 2nd time in my life, I have abs! The last time I had abs was in high school when I was 130 pounds.
Seamus: "The coaching was awesome!"
David Rodriguez: "My back is wider"
Thanks, thanks, thanks. You have saved me months of training. For the last three months I have focused on pull-ups/bar dips/chin ups/push ups (in different varieties). Always increasing reps. It was hard at the beginning, but man… That coca cola shape that my body used to have has completely disappeared. My back is wider and makes it look like I have a narrow hip.
Always grateful,
D/
David Navarro: Adding 200 pounds to my deadlift
Hello Greetings from Southern California. My name is David. I have been following your book "How to Create the Ilusion of Wide Shoulders" and I have improved my chin ups and deadlift. The beginning of January 2014 I was only about to do 4 chin ups in a row and only deadlift 60 kg. Now i can deadlift 150 kg and I am now on good sets able to do 8 to 10 chin ups. Really happy I found your website on "Bold and Determined" by Victor Pride. Keep up the great work.
Robert: "I stumbled upon your website and decided to take your advice on training. After a couple of months, I definitely see results."
"Hi Oskar!
Thank you for this blog. I have tried various things for decades. Nothing worked. I couldn't get lean and toned. I tried hitting the gym and endless (aimless) weight lifting, I tried running for miles, etc. After not seeing much progress, I would quit. And so the vicious circle would continue. I've spent years researching anatomy, exercises, nutrition and expert advice. Once I became aware of different body types, I began moving in the right direction. Finally, I stumbled upon your website and decided to take your advice on training. After a couple of months, I definitely see results. I'm far from looking great, but unmistakably, I am on the right path.
Robert, 37"
Soumick: "Your Diamond pushups, pull-ups are really helping me gaining muscle."
Nathan: From 0 Push Ups to 14 Diamond Push Ups
Hi Oskar
Just writing to say thanks again and to tell you how im doing.
I started your body-weight training back when you e-mailed the original version about 4 months ago, back then I could not do a single push up or pull up. since following your training I can now do 14 diamond push ups and 5 chin ups. From when I started reading your website back in may I've gone from a 37 inch waist to 30. I've still got along way to go and other ways to progress, such as getting rid of most of the milk products and other foods for substitutes (I would have done but I'm at college and live with my mum still) but I'm hoping to get a job in the very near future so I can change that. I am now at the skinny side of skinny fat rather than the fat side of skinny fat. Also today I was told by my mum "you look so skinny now its pathetic" from which i just smiled and just ignored the negativity, I think she said that cos shes been so used to me being fatter all my life, but as you said in one of your articles its better to be skinny than skinny fat. And thank you for the new body-weight training book, it was even more helpful and the instructional videos helped with making sure I'm keeping the right posture and that. I look forward to doing 20 pull ups and 20 raised diamond push ups and onward.
This e-mail has gone on for too long so thank you again.
Many thanks from Nate.
Andrew B., Software Company Owner
September 2014: 185 pounds, 0 diamond push ups, 0 chin ups
January 2015: 174 pounds, 20 diamond push ups, 6-8 chin ups
Hey Oskar, I can testify myself after 18 years of going to the gym (from age 16 to 35), including doing the most intense HIITs cardio, compound weights etc… my persistent 'man boobs' didn't shift, I was fit but I could not get lean without starving myself and losing muscle. Then suddenly, after reading your blog, I got results.
I incorporated diamond push ups into my training (daily), added coconut oil and saturated fats, and started chin ups (negatives) and body weight rows.
In Sept 2014 I could not do one diamond push up or one chin up and I weighed 84kgs. Now by Jan 2015 – just 4 months – I weigh 79kgs and can do 20 good form diamonds and 6-8 chin-ups. I have not weighed 79kgs since I was 23!
I believe your focus on getting your hormones right, healthy fats (coconut oil) and body weight training that you can do every day is what makes it so successful. I look forward to 2015!
Yours is a great blog and tackles head-on some of the problems guys with less-than-brilliant genetics face. Keep doing what you do!
James O Toole: "At 41 years old I'm in better shape than I was at 20."
Jeremy: "My physique is skyrocketing"
Thanks for all the advice. I've used it and have dropped from 170 15.5% bf with only 3 chin-ups to 167 12.2% bf with 15 chin-ups unjust the past 10 weeks. I've also never been able to do a diamond push-up and now I can do 20 in a row. Strong lifts was just making me fat before and now that I have implemented MAINLY bodyweight training my physique is skyrocketing to where I'd like it to be. I don't know when I should start bulking though. Ha, maybe in like two or three months when I get to 9-10% bf. :) And I love intermittent fasting and no tiny meals I have to prepare every two hours.
Chris J. Douglas: "In my fist 4 weeks I've dropped 8lbs and feel far better than I have in recent times."
Oskar's simple plan of 2-3 core exercises to improve strength and 3 solid meals a day have been a god send. I struggled to get my head around all the dietary requirements and training plans till I found SFT and gave it a go. In my first 4 weeks I've dropped 8lbs and feel far better than I have in recent times. Now the eating clean and training regularly doesn't feel like a chore and I'm enjoying it, which makes losing weight and staying fit far easier. Thanks Oskar"
Abdul: "I lost 10 pounds since we saw each other that day."
Joshua: "Your guide really works and is easy"
Hey Oskar ,
Been follow ur guide since July and I lost 10KG as of today, your guide really works and is easy , I still allow cheat meals during weekend yet I still can lost my fat. Besides that I also go to check out my T level and it's really really low when the result is out, my T level is around someone who are above 60s. I hope my T level can back to normal after I lost necessary fat and build some muscle. But until now I still hard to sleep and will wake up at middle of night too, I will try out ZMA soon n hope it will aid my sleep since you mention before it can aid sleep. I can wait to get enough lean and start to follow your guide to build muscle. You are really my savior….! Thank you so much for having this site!!!
Jun: "I have transformed because of your articles and tips."

Nathan: "It's crazy to think how much stronger I've gotten in such a short period…"
Oskar, you're right about these diamond push-ups… They're incredible!
I've been doing them for about 4 weeks at this point, have gone 14reps to 19reps and… here's the best part… CAN NOW DO FREAKIN' ONE-ARMED PUSHUPS! It's crazy to think how much stronger I've gotten in such a short period whilst still in a caloric deficit.
I've never been able to do these before now and I can attribute it to the diamond push-ups. They're the perfect set-up for this movement. Thanks, mate!
Joseph: "I am looking leaner"
You have so much knowledge, it's actually crazy! You're a walking encyclopaedia! I am looking leaner and leaner following your advice with diet and bodyweight training, that hopefully I will look "normal" while on the beach this summer.
Jay Michaels: "I've had more success from your philosophy than anything else I've tried"
You couldn't have explained this any better! I love the simplicity and straightforwardness in what you teach. I've had more success from your philosophy than anything else I've tried. Keeping it real and simple is where it's at, no doubt! Thanks Oskar!
Frank: "Your tips are actually helping me and I can see the progress already"
Hey oskar !
Im here to share my progress ! Ur article has been super helpful ! I cant explain how hapy i am. I stoped flat benchin and startin concentrating on incline bench press and dumbell press and my chest looks much beter than before. The niples are puffy but look beter. ur article has motivated me alot ! Keep up the work bro ! Ur tips are actualy helping me and i can see the progress already. Thanks for helpin me out :))
KTS: Making progress after a year of stagnation
Thanks for this article; my lifts had gotten pretty stagnant over the last year or so of doing heavy lifts, and after just a month of using this set\rep scheme I'm seeing gains. It's also a lot less grueling than my previous routine, and my CNS and joints are appreciating me giving them a break for once.
Prabh: From 0 to 10 chin ups in 20 days
Oskar,today first of all,i want to tell that i have progressed from 0 to 10 perfect form chinups in 20 days thanks to u and your ebook.
Lutty Moreira: "I feel more confident and with more energy"
When did you find SFT?
In january, 2015.
Why did you like my website/approach?
I'm a skinny-skinny guy, and though I'm not as concerned about gaining (muscle) weight anymore, I would like to look leaner, and I liked your approach because it's the only one I've found that is not for the usual guy who has been hitting the gym for years, who's already developed the base for muscle building, but for guys like me, who need a good base to start with, without losing motivation and actually seeing improvement, be that in numbers or physique. Though I'm not skinny-fat, I assume the principles are essentially the same.
What kind of progress have you made so far?
I started late january doing 3 sets of 10 standard push ups and 3 sets of 5 chin ups. Four months later I'm up to 22 controlled diamond push ups and 16 controlled chin ups on my first sets (a little less on the remaining sets).
How you feel about the overall progress and the diet/training approach?
I like how I can see the numbers increase. That's my biggest motivation!
How has my strategy changed your life so far?
I feel more confident and with more energy. Of course, some days I feel like watching tv and eating crap, but then I feel guilty and more motivated to train the next day, which takes me to the next level.
Zenh: "This is the first fat loss I have seen in maybe 7 years"
hi there, i have been doing the basic bodyweight routine since 1.5 months , intermittent fasting, hiit. And I went from 34 inch waist to 31 inches. and 20 % body fat to 16.2%.Aiming for 9 to 10 % bf. Strangely i am the same weight of 139 pounds. Donno maybe my muscle increased. Also I want to say this is the first fatloss i have seen in maybe 7 years. This did not happen in gym earlier. im 23/m.
Peter: "I wish I knew all this stuff when I was 20"
Thank you for putting everything together for us skinny fat blokes, Oskar. I keep coming back to your site for information. I started doing basic calisthenics 5 months ago–pushups, squats, and chinups/pullups. Sometimes I do lunges, planks, and mountain climbers. Progress is really slow for me. I started from from zero pushups and chinups to 15 pushups and 4 chinups/1 pullup. But I went back to 8-10 pushups because of sore rhomboid muscles. Chinups and pullups are a real challenge, especially for someone like me who never had any sport or fitness training. I started doing negatives and then incomplete chinups. Only last month was I able to do a full chinup. Someone told me it'll take time to wake my body up from years of laziness. LOL. That was spot on.
I wish I knew all this stuff when I was 20. It sucks to be skinny fat when you're 30. I should know. I'm seeing small changes now. I still have belly fat and love handles, but I'll see where this attempt at transformation will take me in a year. Nonetheless, these bodyweight exercises are fun and addictive.
Matias Page: "In the last 2-3 months I've seen more progress than ever before"
I've been applying your concepts and in the last two/three months I've seen more progress than ever before. I'm naturally prone to gaining fat and losing muscle like lightning. I eat in a slight caloric deficit on weekdays and I do controlled cheat meals on the weekends. This has allowed me, just like you said, to keep on training and burning fat while keeping the muscle. I'm doing it very slowly, because I've got a tendency to hypothyroidism and low T. (I've had blood tests confirming this, and I'm trying to fix this with proper training and nutrition). And it is my hypothesis that next month when I test my Testosterone levels and Thyroid, they will be both better. I'd bet on it, because I feel great, not drained. Thanks a lot for your work, man. Cheers!
Ollie: "I will be forever grateful"
Been following your site for a while now and its currently just over six months since I started on the road to transforming my body and I'm delighted with the results so far. Just want to say thank you again, you're making a real difference in people's lives and I for one will be forever grateful for finding this site!
Mat: "Your advice seems to be the most genuine and well-written"
Been following your posts and newsletters a lot. Mostly a lurker here and even on other forums. From all that I've read, your advice seems to be the most genuine and well-written. Unlike other sites or people seeking to profit by providing their routines/advice, yours seems to be the most honest and appropriate.
You seriously inspire me and a lot of others, I'm sure. I hope to show you my progress one day and give you a sincere thanks.
MAJMONE94: "I'm making really good progress gaining strength in pull ups and pushups and getting leaner"
Josh: "I've lost around 33 pounds by following your guide"
Thanks for the great article! I'm still in the phase of losing my body fat, so far I have lost around 15kg by following your guide, I hope I can be lean enough soon so that I can go into next phase! I feel very hopeful everytime i read your article. Thank you Oskar!!!
Zarrar: "My friends used to bully me about my chest"
Comment #1 excerpt (November 2, 2014): BEFORE following my advice
Hello dude ….. i am 23 years old now , and the reason i just found you here is that my friends still bully me over my chest …. today they made so much fun of me i almost cried in front of em ….
i go to gym on regular basis from the last two years and i can say i have improved a lot with both physically and mentally …
but even after all these years my chest was the same bcz of this puffy nipples …. read your article with interest and i promise i m goint o follow each nd every instruction you just gave for the next couple of months to see if it goes away even for some hours ……. whenever i talked about this to some trustworthy people all they had to say was " go eat some medicine , ask some surgeon to get a surgery " hell i dont even have fees to complete my education , my parents are giving it to me , i dont want to drop another bomb of surgery on them …. today i was feeling so depressed …. i m just glad that i found your article here…. please share some email i.d or facebook link to keep in touch with you to get further info/tips/instructions ……………
and p.s its a promise i'll try my best to eat clean from now on….
feeling quite relaxed now ……
thank you ………
Comment #2 excerpt (December 16, 2014): AFTER following my advice for 44 days
HELLO DUDE …….i posted in the comments above , a couple of months ago … started doing chest rigorously, actually i am noticing a bit difference
actually the nipples are like that , but my upper pecs are going rapidly nd they've kinda started to hide them ..
i mean no one is able to tell i have puffy nipples now unless i take my shirt offffffffffffffffffff ………………
thank you for that
Allen: Lost 25 pounds in 40 days
Hello man… l want to say thank you for your advices… l lose 25 pounds in 40 days + diet and biofreeze…. l see great changes and the most important of them is HOT FLASHE'S…. Temperature inbalance…. Mentaly, am not nervos, am so quiet and l have a lot of focus… My nipples size are reduce with a half of size…. Testosterone levels are incrased and a see a great changes of body line's like legs , abs, chest, showlders…. Let's hope for a invisible before summer time ;) … Thank you bro…
Alex: "Your Advice Have Helped Me Start Making Real Change"
Oskar,
My name is Alex and I've been skinny-fat for as long as I can remember. I've been trying for years to become lean and muscular but most of my attempts have been fairly misguided. This has included weight training, running long distance (8+ miles regularly), cycling, swimming, and changes in diet and even though I have always been able to lose weight I have never been lean and muscular.
Now, my story is pretty similar to that of many others that have struggled with being skinny-fat so I won't bore you with details. Since completing my undergraduate degree about 3 years ago my weight has gone up and down and I've spent a lot of effort just to be discouraged with my results. However, your site and advice have helped me start making real change.
I don't have a complete transformation to detail, but I did want to take the time to thank you for all of the work that you put into this site. I'm currently following your advice by leaning down to ~10% body fat before starting bulk/cut cycles. I'm about 6'3″ (190cm) and in the past 6 weeks or so I've gone from ~185lbs to ~175lbs and lost a fair amount from my waist circumference. I'm doing bodyweight training along with weight training and walking, which really seems to be
helping me preserve the small amount of muscle that I do have. It's great to see muscle definition instead of the 'soft' look I've always had, even if I'm still not 'muscular' by most standards.
I will be sure to keep you updated on my progress if you're interested but I mostly just wanted to say thank you for this site and for all of the work that you put into it. You are an inspiration and it's really great to see the transformation that you've made.
Many thanks,
Alex
Andre:"I honestly feel more normal doing it like this."
After struggling to cut with calorie counting for the first time in years I'm gonna attempt your method and just eat 2 big meals a day. Been about 3 days already and it's a lot easier this way. I honestly feel more normal doing it like this. I just base my diet on certain foods and that makes it easier. The frequent calorie counting led me to binge on weekends and I have been in that vicious circle of yo-yo dieting since last summer. Hopefully I can keep this up and can cut 20-30 pounds by summer before the bulk/recomp!
To anyone just starting out or is sick and tired of counting calories just follow oskars fat loss guide. It will be mentally easier on you while dropping fat. The last thing u want is fat loss causing unnecessary stress on ur mental health. Focus on 2-3 good meals a day.
Anyways Oskar looking forward to more articles and tips. Best site ever! Only site I'm browsing now for nutrition and training tips. Keep it up
Dan: Lost 18 pounds and built a stronger chest
Maledetto: From 25% body-fat to 14% in 3 months
Blog/YouTube Praise
Steven S.: "It took me 8 years to come to the conclusions you have in your blog"
John: "I wish these articles were around 20 years back"
Just read a load of the articles on your site and have to say that I think you have it absolutely right for that type of body structure and also what a pleasure it is read someone writing it so clearly. I'm 6″5 and before I trained was over 100kg with no visible muscle. That was 25 years ago before I started training, since then I spent about 20 years trying every programme and diet out there with varying degrees of success. About 3 or 4 years back by trial and error I worked out that doing between 100 and 300 chin-ups and dips 3 times a week combined with 3 short 20 rep progress squat/Heavy Deadlift/Row/Press/Bench and 2 or 3 tabata conditioning sessions is by far the best way for me to progress. I have to say what a delight it was to read your article on overtraining. There are loads of articles out there on the dangers of overtraining for ecto/hardgainers which give bad advice to most people in this category. I think that many SF/ecto/hardgainers genetically have a high capacity to tolerate and recover from high rep bodyweight training (chins, dips push-ups), which they should use to their advantage to stay lean and build muscle. And as you point out numbers are king, they tell that you you're progressing and let you know when it's time to back off. Absolutely no need to reply, I have never before written a comment to an article etc ( and I've probably read most books and articles) but because training is my passion in life and I get annoyed by all the bad advice out there I felt compelled to say keep up the good work. Everyone's different but if all SF people take your advice most will get their best results. I wish these articles were around 20 years back.
David Kirby: "I'm starting to tighten up"
Tate
Joan
Pedro
Ron Mercado: Doing 17 chin ups at age 62
Thanks Oskar, I find your info to be a great help! I'm skinny fat and 62 years old. I'm up to 15 chins and about 12 pullups. (17 chin ups today). I'm really glad to have met you! Your site is the best I've found. You are very straight forward about what works for you and how you got results and what didn't work. That is EXTREMELY helpful! I was inspired reading how you tried to do what the building strength book prescribed and how you found that it did not work for a skinny fat guy. I have a similar experience. You give other guys the confidence to see what works and makes sense to them.
DT
Mohammad
Micheal
Oscar
Ann
Hands down the best fitness website on the entire internet. Thank you for this brilliant website :)
cmml, forum.BodyBuilding.com
Asim Kazi
Best website I have ever seen …….thanks for motivating us .
PokerHero, forum.BodyBuilding.com
Rich Martin
Mandeep Dhami: Lost 22 pounds in 3 months
Dean R. Lomax
Andrew Eddie
Anonymous
Anonymous
Mike
Harun Taflan
Joe
Hashem Amer
Rod Freeman
Stace Jeka
Anonymous
Matej Remias
Anonymous
Robin De Valk
BodyBuilding.com Praise
Read more: forum.bodybuilding.com