This month marks almost 8 years of training for me.
Below you can see a picture of one of my worst physical conditions vs. my peak condition in 2017:
Those 8 years of training have consisted of mixed feelings, mixed results and countless times where I was about to give up.
Just like most of you reading this, I started out very hopeful.
I thought that as long as I work hard I will build the body of my dreams in 1-2 years.
I wanted a great physique more than anything else and made fitness the number 1 goal in my life.
I wanted to attract the respect of other men and the desire of women.
And, I worked hard to achieve these very "superficial" goals.
Despite my hard work things didn't turn out the way I had hoped for.
After 2 years of hard training, dieting and missing no more than a handful of workouts I had barely made any progress: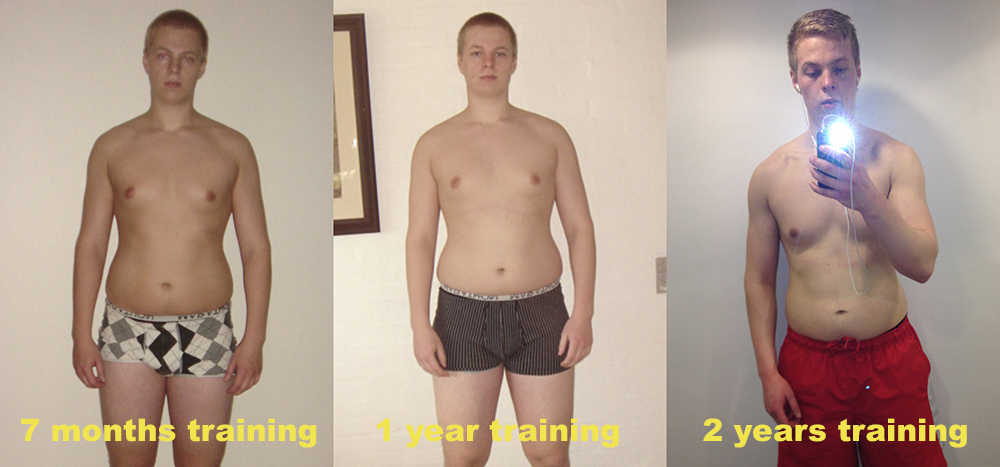 Unfortunately, this lack of results is common in skinny-fat men because half of the advice you find online for skinny-fat guys is written by guys who have never been skinny-fat and the other half is written by skinny-fat guys who have a lot of theoretical knowledge from reading books and articles but no physique or real life experience.
In this article, I will show that by following the right advice, you can go from skinny-fat to ripped in just 365 days or 1 YEAR.
My 1 Year Skinny-Fat Transformation
Each year I analyse the progress I've made that year.
In terms of physique progress, the most successful year in my training was the period from April 2012 to April 2013.
In that 1 year, I completely transformed my physique from a skinny-fat 200 pounds to a ripped 190 pounds at 6'2:
The reason to why I made such immense progress in 2012-2013 is because I
Applied the right training and eating strategy at the right time.
Combined the right training program and diet plan together.
You see, the training and diet advice that worked for me from 2012-2013 worked well for me back then, but it wouldn't work at all now.
The timing has to be right because your training program must fit:
Your height: A short, light and flexible skinny-fat guy should train differently than a tall, heavy and inflexible skinny-fat guy.
Your bone-structure: The thicker your bone-structure, the heavier loads you can do without risking injury.
Your mobility levels: A mobile and flexible skinny-fat guy can use a much bigger exercise selection and do more compound exercises.
Your lifestyle: The busy college kid studying law and working a student job should train differently than the financially independent entrepreneur who works 2 hours a day. Training is an added stressor, therefore a high stress lifestyle should not be combined with a high stress training program.
Your starting strength levels and recovery: The skinny-fat guy who starts out squatting 60 pounds most likely has much slower recovery and a lower response to training compared to a similar skinny-fat guy who starts with 120 pounds.
Your current strength and conditioning levels: If you have trained for 1 year and you can do 20 perfect form chin ups, you will need a different training program than the skinny-fat beginner who can barely hang on the chin up bar.
These are just some of the things that have to be taken into consideration when creating the ideal training program for you.
Once you have an ideal training program, you have to consider at least as many things when creating a diet plan and then make sure that the diet plan and training program fit together.
In other words, as a skinny-fat guy you will need a unique combination of training and diet to get results.
To get optimal results, you need to follow a diet and training plan that is customized to your situation, goals and current lifestyle.
When I finally dialled in my plan, I started seeing results and in 12 months I achieved 10 times more than in the previous 26 months.
Can YOU Transform In 1 Year With A Good Program?

Prior to writing this post, I never put my 1 year skinny-fat transformation picture on my blog before because I didn't want to give you unrealistic expectations.
The truth is that while it's possible to transform in ONE YEAR, I don't know if I could have done it without professional guidance.
During this year of my training I had the opportunity to be coached by the world champion in partner stunts and I regularly went to some of the best endocrinologists in my country to discuss the endocrine system (testosterone, estrogen, stress and the thyroid).
The world champion in partner stunts didn't tell me exactly how to eat and train, but by observing how he trained I learned what hard training meant.
Some of the workouts we did with him were brutal.
The endocrinologists didn't teach me how to increase my testosterone naturally since most of them rely on outdated books they studied back in the 80s, but they did make me do a ton of bloodwork, and discussed the basics of endocrinology with me.
I later applied this knowledge about the endocrine system to my own training and eating, and eventually managed to increase my testosterone levels with 180%.
Most skinny-fat men have a messed up endocrine system with low testosterone levels, high estrogen levels and elevated cortisol levels – much of my advice is indirectly geared towards fixing these issues.
Here's an example of my Italian fan Maledetto who almost cut his body-fat percentage in half in 3 months and improved his endocrine system:
3 months progress:
25% body-fat (overfat) to 14% (healthy)
531 ng/dl testosterone (below average) to 704 ng/dl (optimal value)
33% reduction in E2/estradiol (female hormone)
As much as I want to say that you can transform alone, I have to admit that even I used professional guidance during my transformation to get to where I am today.
This doesn't mean you can't transform without guidance.
It just means that guidance increases your chances of transforming a lot and speeds up the process.
By getting guidance, you take YEARS off the learning curve.
Furthermore, it removes a lot of doubts, headaches and clears up a lot of time you would have spent studying fitness.
Fitness was pretty much a full time job for me when I didn't know what I was inexperienced,
I constantly read fitness forums about different things such as optimal protein intake, heavy weights vs. high volume and low carb diets.
I was confused and had no idea what advice to follow because there was so much contradicting advice out there (and there still is).
I wish I had someone who knew how to transform the skinny-fat physique tell me: "Hey Oskar, I've been skinny-fat before. I know exactly what you need to do: Eat this and that at this time and train 5 days a week, performing the exercises listed below with exactly 30 seconds rest between sets. If you have any doubts, just shoot me an email and I'll clear them up."
This would have cleared so many doubts in my head so I could focus on other things and taken YEARS off the learning curve.
If you want that type of guidance for 2018 and make 2018 the year where you permanently get rid of the skinny-fat look, the best way I can help you is through my Online Transformation Program For Skinny-Fat Guys where I create a custom training program and diet plan for you based on a 6-page Client Assessment Form.
You can apply for the Online Transformation Program by clicking here.
Overall, my clients stay on the program for an average of 7 months and the program has an almost 100% success rate.
You can see detailed videos and articles about myself and 4 of my client success stories in the links below:
Be proud but stay hungry!
Oskar Faarkrog, ISSA Certified Trainer