I followed the strength program "starting strength" for around 9 months followed by the intermediate program "MadCow 5×5" for around 6 months.
Back when I did these programs, they were promoted heavily on bodybuilding forums as the best way to build a solid base of strength and muscle mass.
I followed the instructions to the letter on both programs and never skipped any workouts but I got 0 results in terms of physique development.
Here are the strength gains I made on these programs:
Bench press: 66 LBS > 220 LBS
Squat: 66 LBS > 315 LBS
Deadlift: 105 LBS > 400 LBS
Overhead Press: 33 LBS > 154 LBS
And here's how I looked after 2 years of doing them: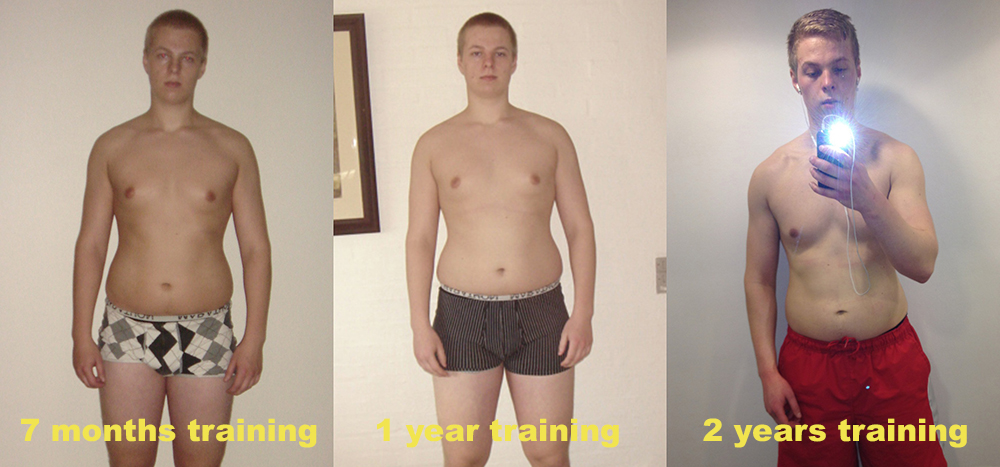 In this article, I will teach you why based on my 10 years of experience training hard and gaining over 40 pounds of muscle mass, heavy barbell training is suboptimal for physique development (especially for those of you with skinny-fat genetics).
I made incredible strength gains and learned the technique on all the basic compound movements on Starting Strength, however I barely made any muscle gains on this program.
I remember that the first time I did the program I was unable to do a single push up or even overhead press an empty olympic 45 LBS barbell.
That was at a height of 6'2″ (190 CM) and a weight of 200 LBS (90 KG).
Despite being a relatively big guy and having played sports actively since I was a kid, I had the strength levels of a girl.
I was always the slowest and weakest at all sports as a kid and when I went to the weight room with my cousins at age 14-15 I was far weaker on all lifts.
My body was skinny-fat, I had man boobs and 1 year into doing these programs I was also diagnosed with primary hypogonadism which means that I have a naturally low testosterone production.
Despite my shortcomings I managed to build up a lot of strength on these programs.
In my roughly 1 year of following these 2 heavy barbell programs I built my squat, bench press, overhead press and deadlift to fairly respectable numbers:
Bench press: 66 LBS > 220 LBS
Squat: 66 LBS > 315 LBS
Deadlift: 105 LBS > 400 LBS
Overhead Press: 33 LBS > 154 LBS
These strength gains may look impressive, however here are some things to consider.
First and foremost, despite making these strength gains I barely gained any visible muscle mass in the areas I wanted to build up.
My arms, lats, shoulders and chest looked no better after getting strong on the heavy barbell exercises.
I only gained mass in the center of my body: The lower chest, thighs, glutes, abs and lower back.
This made my proportions look even worse than before I started.
Second, I barely made any gains on starting strength. 
Despite being in a slight Caloric surplus and keeping protein levels high, I found it impossible to recover between the Starting Strength sessions.
I always went into workouts fatigued and failed before I reached a new PR.
Then I'd end up doing a reset and the same thing would happen again.
After doing starting strength for 9 months, I looked pretty much the same as when I started and my strength was far from intermediate level.
Here are the photos of how I looked 7 months into starting strength:
There was barely any difference compared to how I looked when I started training.
Pretty much all of the strength gains were on the intermediate program MadCow 5×5 while eating a huge Caloric surplus.
I found MadCow 5×5 manageable because on this program you cycle between hard and easy workouts.
So you have a longer time to recover between sessions.
When I later added more Calories to my diet, my strength blew up and I reached a max deadlift of 400 LBS, max squat (ass to grass) of 315 LBS and max bench press of 220 LBS.
However, this was at the expense of looking fat:
I had to gain 35 LBS of bodyweight over 3 months to make those strength gains happen and as mentioned earlier, most of my mass went to all the wrong places.
I went from being skinny-fat and at least looking decent in a t-shirt to looking almost obese.
I remember around the time this photo was taken I went on a beach trip to Miami with my high school class and when I took my shirt off, the other kids called me "Snorlax" which is the fat pokemon.
This tanked my confidence further and made me go on a fat loss phase.
I had to spend over a year cutting off all the body-fat I had gained while maintaining my strength.
I did everything correctly and kept my Caloric deficit moderate, protein intake was high, I trained hard and heavy 3 times per week and I periodically included diet breaks to prevent muscle loss.
After cutting off the body-fat, I looked exactly the same as when I started training 2 years prior to that!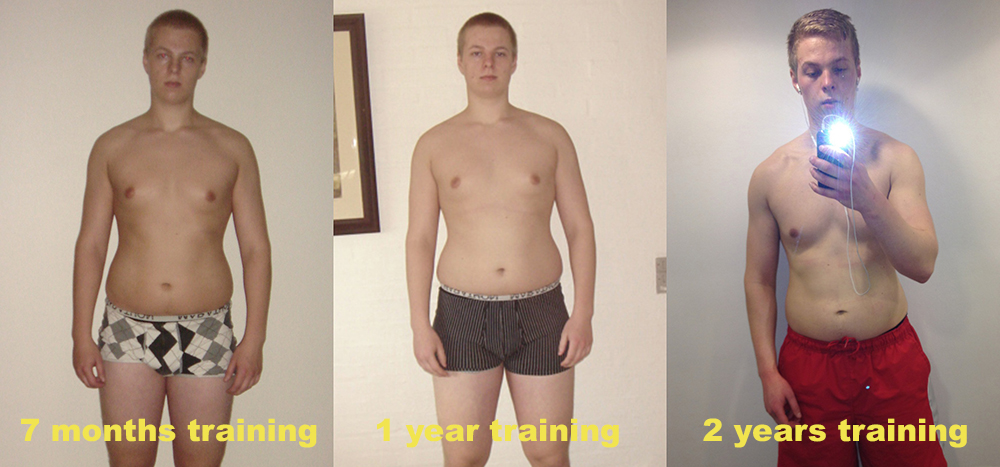 In other words, getting strong on the heavy barbell exercises didn't translate into muscle gains for me.
I can now say after training for over 10 years and getting to near my genetic muscle building potential and training over 300 skinny-fat clients in my Online Transformation Program, heavy barbell training is not optimal for building muscle in the right places.
Why Heavy Barbell Training Is Terrible for Physique Development
There's a simple reason to why heavy barbell training doesn't work well for physique development and I'll explain it below.
When you want to gain maximum muscle size, you want to select exercises that provide maximum muscle stimulation in the right places while keeping fatigue to a minimum.
A good example here is the pull up.
The pull up is incredible for building up wide lats and biceps but it doesn't create a high level of fatigue.
You can do pull ups daily and continuously stimulate the muscles you want to grow.
In contrast, you can take an exercise like the barbell deadlift and squat.
Both of these exercises are very taxing on the body while providing no muscle gains in the areas most people want to build up: Shoulders, lats, chest and arms.
When you continuously perform exercises that are very taxing for the muscles you don't want to prioritize, you leave less energy for the muscles you truly want to work.
These are the most important muscle groups you want to develop for better proportions:
Lats and shoulders:

The lats are the biggest muscle group in the upper body and they are responsible for your shoulder width. Together with the shoulders they create that wide V-tapered swimmer's look.

Upper chest:

This is the hardest part of the chest to develop but it makes your chest looks masculine and squared.

Biceps and Triceps:

Big biceps and triceps complete the upper body.
Now let's break down how the exercises in heavy barbell programs don't target these areas:
Bench press:

The bench press trains the lower chest which is the part of the chest that develops the easiest. By developing mostly the lower chest your chest get's a triangled and feminine look from the side rather than a squared, masculine look. To build a squared looking chest, you need to emphasize the upper chest which is much harder to develop. The upper chest is better targeted with shoulder presses, incline presses, low cable flyes and incline dumbbell pullovers.

Rows and deadlifts:

The row and deadlift train mostly lower and upper back thickness rather than the width of your lats. The lats are best trained with chin ups, weighted chin ups, dumbbell pullovers and lat pulldowns.

Shoulder press:

This is the only good exercise in starting strength because it trains part of the shoulder, triceps and upper chest.

Squat:

The squat is good for shorter guys who want to develop their thighs and glutes, however tall lank guys with long legs in relation to the torso usually don't do well with squats because it forces us to bend our torso too much forwards.
In other words by doing programs such as Starting Strength you're spending most of your energy doing 4/5 exercises that don't target any of the muscle groups that most of us want to develop for aesthetics.
You have a limited amount of energy to train and recover, therefore you want to spend that energy on exercises that contribute to building the muscles you want to build.
Another reason is rep ranges.
Training with low reps is very draining and doesn't provide much muscle stimulus.
The whole idea that you have to get stronger with low reps to build mass is wrong.
I've trained with reps all the way up to 30 for over 7 years now and I've built much more muscle mass doing this compared to low reps.
Since 2013 I've been preaching higher rep training with bodyweight or lighter weights for maximum muscle gains while staying injury free.
I emphasize injury free because the key is to transform your physique without getting debilitating injuries that bother you for life.
When you look at the Starting Strength forums you will constantly see that people are getting knee, hip and lower back injuries from all the heavy weights.
Anyways, back in 2013 when I promoted that people switch to higher reps, there was no research supporting this, and people said I'm crazy for training with so high reps.
However I still had my clients train with up to 30 reps per set on upper body exercises and 100 reps on lower body exercises.
In 2016 a well designed 2 year study came out, supporting what I've been saying for years.
Here's the link to the study: https://www.ncbi.nlm.nih.gov/pmc/articles/PMC4967245/
Study method:
49 men who trained consistently for over 2 years performed 4 full body training sessions per week.
Each training session consisted of 5 exercises performed for 3 sets to muscular failure.
Subjects were randomly allocated into a a higher rep group that did 20-25 reps to muscular failure and a lower rep group that did 8-12 reps to muscular failure.
DEXA body-composition scans and 1 rep max strength tests were performed after 12 weeks of training.
The study showed that there was no significant difference in the strength and muscle gains in the subjects who trained with lower and higher reps.
This means that going all the way up to 25 reps is proven to be just as effective as training with low reps as long as you hit muscular failure.
The side benefit of training with higher reps is that risk of injury is greatly decreased.
Maybe You're Just An Outlier?
In the beginning I thought that perhaps I was an outlier case, however after looking up Starting Strength progress stories online I learned that most people do not respond well to heavy barbell training and a Caloric surplus.
When you look at most of the people on the Starting Strength forums you'll see that they don't really look like they workout.
Most of them have slightly above average levels of muscle mass with lots of body-fat covering it.
They can squat, bench press and deadlift a decent amount and think that this is the peak of athletic performance, however the truth is that most of them are not that athletic.
The majority of them can't do a set of 20 pull ups with good form or muscle ups.
They preach that even skinny-fat guys who can't do a set of 10 pull ups with good form or +40 year old sedentary men should load up a heavy barbell and do squats and deadlifts.
It's irresponsible and leads to injury.
Most of the guys who get results on Starting Strength are either:
Naturally ripped ectomorphs

who have never had an ounce of fat on their body. These guys can get away with eating lots of food to fuel their training and gains without putting on any fat.

Fat guys with very thick bone-structures

who find it easy to put on mass (both fat and muscle). Total bone-mass is one of the best indicators of a person's starting strength levels and response to training. This is why you will notice that most strength athletes and club bouncers have thick wrists and necks.

The naturally athletic guys

with a fast metabolism and lots of muscle mass.
In other words, it's guys with above average genetics.
These guys would respond to any decent training program you give them.
If you have average or below average genetics (i.e. skinny-fat) you will not get any noticeable muscle gains on starting strength and other heavy barbell programs.
Starting Strength has never produced a single skinny-fat to fit success story.
You can google around all day long and you won't find it.
I know because after I got my shitty results I did.
I've had hundreds of clients who still looked the same years after starting heavy barbell training.
You can even go to the Starting Strength forums where hundreds of Starting Strength fanatics criticized this article, and they won't be able to show you one skinny-fat success story on the program.
It's only guys with good genetics who succeed on Starting Strength, therefore my conclusion is that Starting Strength is not a good program for skinny-fat guys who are looking for physique development.
What's The Correct Way to Train for Physique Development Then If You're Skinny-Fat?
I'm the guy that popularized the term "skinny-fat" back in early 2013 when almost no one talked about it.
Being skinny-fat essentially means that you are under muscled on the upper body while carrying excess body-fat around the estrogenic areas of your body (lower chest and lower waist):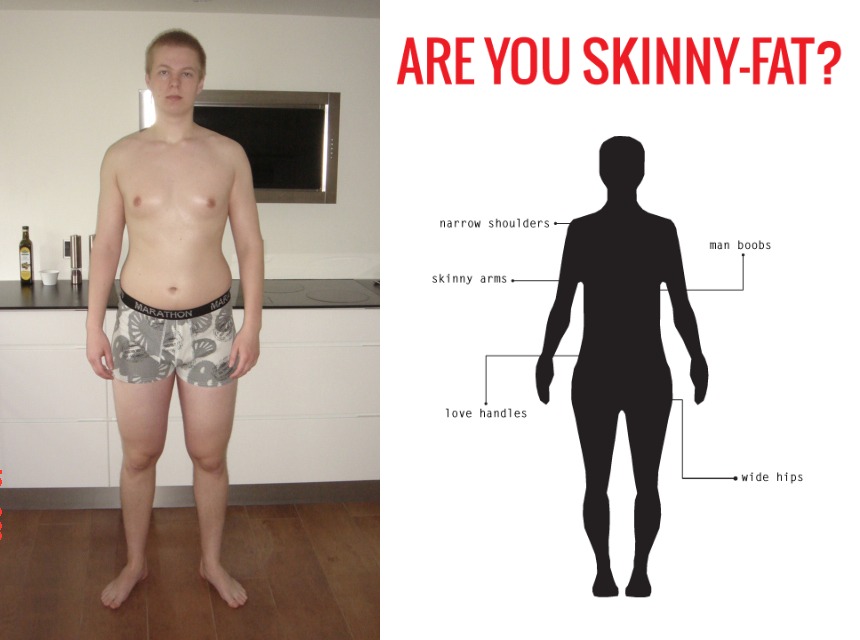 Typically a skinny-fat guy has the following physical characteristics:
Man boobs or puffy nipples.
Love handles.
Minimal upper body muscle mass (especially on the shoulders, arms, upper chest and lats).
No definition on the body.
Wide waist or wide hips.
Low strength levels compared to other people your age.
Lots of fat cells in the lower waist, lower chest and hips which makes it easy to gain fat there.
When you try to bulk up with heavy weights and gain muscle mass you end up fatter or in worst case, get injured.
When you try to cut down and lose body-fat you end up feeling fatigued and lose the small amount of muscle mass you have.
If you've managed to lose fat before, you've most likely regained it all after a while.
If you've gained muscle mass before, it was mostly accompanied with a lot of excess fat gain.
The truth is that skinny-fat guys have the hardest time transforming their physique when compared to the 3 traditional body types: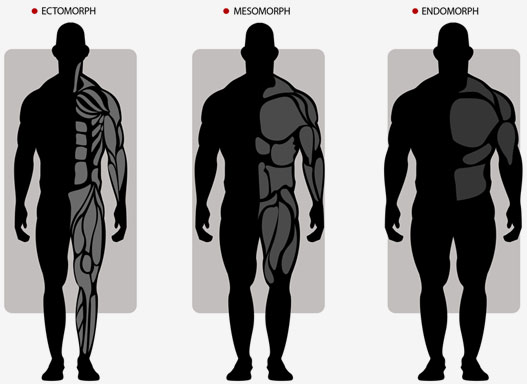 I achieved most of my results by first mastering basic bodyweight exercises (chin ups, diamond push ups and bodyweight squats) and then later I moved to a hybrid approach where I used weighted pull ups, weighted dips, weighted squats and some key isolation exercises for weak points.
The truth is that you can achieve amazing results in your physique with minimal equipment and while training at home.
I believe bodyweight exercises are key to transform out of being a skinny-fat hardgainer because of the 5 reasons listed below:
Skinny-fat guys have a small bone-structure and naturally low testosterone production therefore we need to perform low impact exercises that are easy to recover from. Bodyweight exercises are perfect for that. (I'll cover testosterone more in-depth later in this guide).
As a skinny-fat, you need a constant sustained stimulus to get results. This means that you have to train the entire body at least 4 days per week but ideally 6! With high volume bodybuilding workouts or heavy barbell training you won't be able to recover for your daily sessions.
Being a master of moving your own bodyweight through space locks you into being lean and muscular. You can be a fat powerlifter and bench press 400 pounds, but there's no way you'll be doing 20 chin ups with perfect form while being fat.
Bodyweight exercises target all the most important muscle groups for skinny-fat guys: Upper chest, lats, triceps, biceps and shoulders.
When choosing exercises for a muscle building program, it's important to choose exercises that produce the highest ratio of muscle stimulation vs. fatigue. Bodyweight exercises provide a high amount of stimulation for all the target muscles with minimal fatigue!
Just imagine adding 1 rep to your chin up max for 20 weeks straight.
When you go from 0 to 20 chin ups, there's no way your body will remain the same.
It has to adapt by adding muscle size and shedding fat:
One of the keys to transform out of skinny-fat is to first start with mastering the basic bodyweight exercises: Chin Ups, Diamond Push Ups and Bodyweight Squats.
Initially, I have all my online transformation program clients go from 0 chin ups and push ups to 15 chin ups, 30 diamond push ups and 100 bodyweight squats.
All done with perfect form, full range of motion and controlled reps without rest.
I've had clients who have been sedentary all their life in their 40s and 50s work their way from wall push ups and just hanging on a pull up bar to doing 20 chin ups with perfect form.
Therefore, no matter what your starting point is, you can become much better than you are today.
I call this Phase 1 of a Skinny-Fat Transformation.
My training philosophy for Phase 1 can be summarized below:
Stimulate all the key muscle groups 4-6 days per week with a few select bodyweight exercises. The target muscles are the shoulders, lats, arms and upper chest.
Train with higher reps and perfect form to gain muscle mass while staying injury free. I recommend 7-30 reps per set.
After setting that foundation in Phase 1, you will have gotten rid of the skinny-fat look and look fairly lean, however you will most likely not have the muscle mass you want to carry.
Here's an example of how I looked when I was on my way to hit the Phase 1 goals:
I lost 60 pounds of body fat during Phase 1 while gaining some muscle mass.
When you lose the excess body-fat and you build a better strength foundation, your body will be in a better state to take advantage of harder training and a higher food intake.
When your body-fat is lower your nutrient partitioning will be better which means that your body will be better at utilizing excess Calories for muscle gains instead of storing them as fat.
This is when you will be ready to benefit from doing a more hybrid approach of higher volume bodyweight training followed by weighted pull ups, weighted dips, weighted squats and some key assistance exercises for the shoulders and arms.
I typically have my Online Transformation Program clients work their way up to 50 KG on weighted pull ups and weighted dips.
This results in a classic V-tapered upper body with wide lats, broad shoulders, a squared chest, big arms and a small waist.
Here are a few examples of my clients who used the same techniques to get into the best shape of their life.
Here's an example of my client Logan from the US:
And here is Rikesh Murali from India:
And Harshit Godha from India: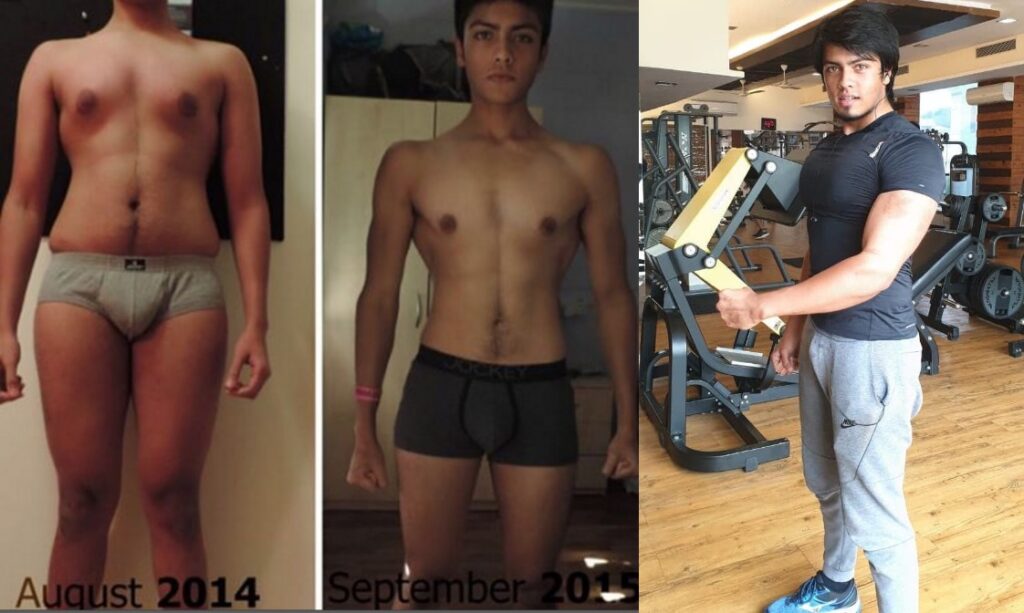 They all followed the strategies from my Online Transformation Program which revolves around bodyweight training and hormonal optimization.
Be proud but stay hungry!
Oskar Faarkrog, ISSA Certified Trainer