Being skinny-fat means that you lack upper body muscle mass while having excess body-fat in the lower waist, chest and hips.
Compared to other guys, skinny-fat guys gain muscle mass at a much slower rate and we gain fat just by "looking at food".
It's not uncommon for skinny-fat guys to train for months or even YEARS without anything to show for it.
In my experience training over 300 men in my online coaching program, the skinny-fat body-type is BY FAR the hardest to transform and there's a huge lack of quality training programs for our unique body-type.
I personally started out training skinny-fat.
At 6'2″ (190 CM) and 200 pounds bodyweight (90 KG), I couldn't do a single push up and I couldn't overhead press an empty olympic 45 pound barbell.
I had narrow shoulders, puffy nipples and my physique was soft all over.
At age 17, I had never had a girlfriend and that's what ultimately lead me to get into bodybuilding.
I wanted to improve my life and I knew that in order to do that, I need to build a better body so I can become comfortable in my own skin.
As a result, I started training on a program called Starting Strength where I did heavy squats, bench presses, deadlifts, rows and presses 3 times per week.
I showed up to the gym every single time and put my 100% into each set.
In my first year of training I added a total of 500 pounds (227 KG) to my bench press, squat and deadlift max and I was proud of myself.
There was just one problem… I didn't gain any visible muscle mass on my upper body!
The photo below shows my first 2 years of "training progress":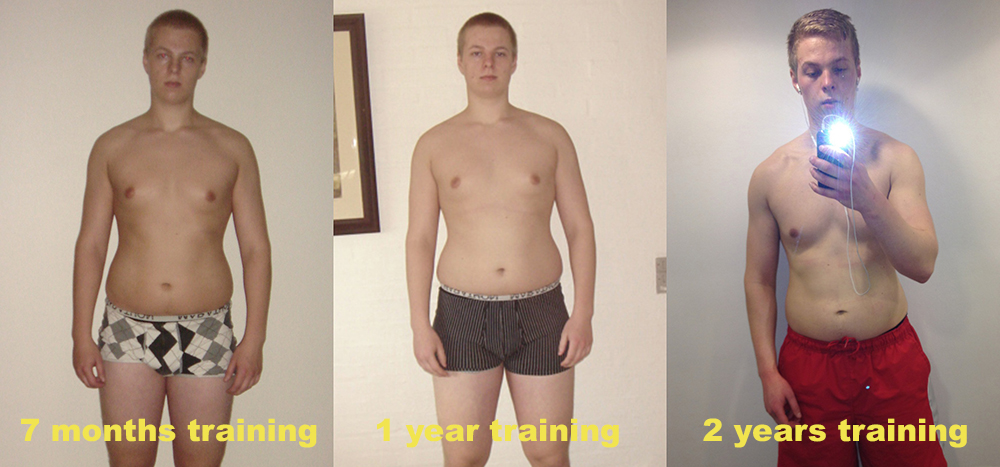 In the photo above you can see that I first bulked up and gained a lot of strength and body-weight.
After my bulk, I cut off the excess body-fat I had gained… Only to find out that I had gained almost no muscle mass.
So here I was on a high protein diet for 2 years and with a deadlift, squat and bench press total that was 500 pounds more than before, but my body still looked exactly the same!
At the time I thought that I'm a total non-responder to training and almost gave up on my physique goals.
But I decided to give training one more shot.
I switched my focus to doing a basic bodyweight training program that I could do for just 30 minutes per day at home, and to my surprise, I got better results.
My muscles started filling out in all the right places (the shoulders, upper chest, arms and lats) and I got visible abs for the first time in my life.
I'll let the photos speak for themselves.
Here's a photo of how I looked before focusing on bodyweight training (when I could do 0 chin ups and 0 diamond push ups):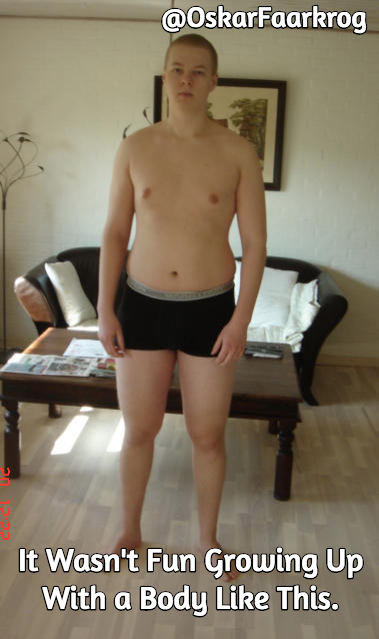 And here's a photo of how I looked when I could do 15 chin ups and 30 diamond push ups with perfect form: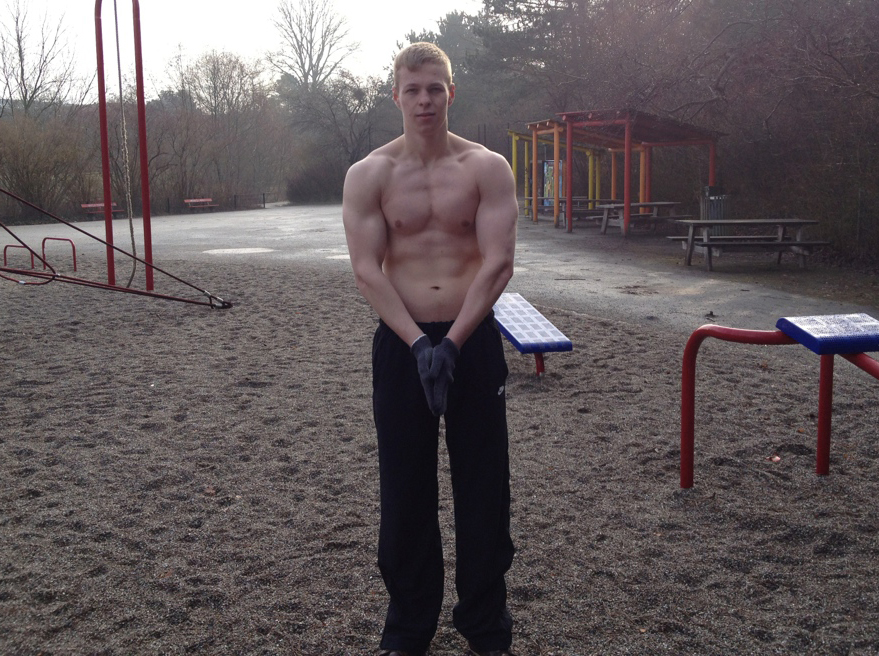 Bodyweight training gave me much better results than heavy weight training ever did and I didn't have any of the nagging joint pain that I always got when doing heavy deadlifts and squats.
At the time the after photo was taken, I was a lean 190-195 pounds at 6'2″ and I could do more than 15 chin ups with perfect form.
This was truly the first time in my life where I felt like I was in shape.
I felt strong, fast, light, energised and I always went into my training sessions fully recovered.
So, why does bodyweight training work so well for us skinny-fat guys?
The short answer is: SIGNALING.
When you become better at moving your body through space, you SIGNAL to the body it has to change.
Just imagine adding 1 rep to your chin up max for 15 weeks straight.
When you go from 0 to 15 chin ups, there's no way your body will remain the same.
It has to adapt by adding muscle size and shedding fat:

Overall, bodyweight exercises represent the opposite of being skinny-fat.
The skinny-fat guy is soft, weak and under-muscled however to master bodyweight exercises you have to become the exact opposite: strong, lean and muscular.
The truth is that you can achieve amazing results in your physique with minimal equipment and while training at home.
In addition to the signalling effect, I believe bodyweight exercises are key to transform out of being a skinny-fat hardgainer because of the 5 reasons listed below:
Skinny-fat guys have a small bone-structure and naturally low testosterone production therefore we need to perform low impact exercises that are easy to recover from. Bodyweight exercises are perfect for that. (I'll cover testosterone more in-depth later in this guide).
As a skinny-fat, you need a constant sustained stimulus to get results. This means that you have to train the entire body at least 4 days per week but ideally 6! With high volume bodybuilding workouts or heavy barbell training you won't be able to recover for your daily sessions.
Being a master of moving your own bodyweight through space locks you into being lean and muscular. You can be a fat powerlifter and bench press 400 pounds, but there's no way you'll be doing 20 chin ups with perfect form while being fat.
Bodyweight exercises target all the most important muscle groups for skinny-fat guys: Upper chest, lats, triceps, biceps and shoulders.
When choosing exercises for a muscle building program, it's important to choose exercises that produce the highest ratio of muscle stimulation vs. fatigue. Bodyweight exercises provide a high amount of stimulation for all the target muscles with minimal fatigue!
Start With Chin Ups, Diamond Push Ups and Squats
The 3 most important bodyweight exercises I have my Online Transformation Program clients work on are:
Chin Up
Diamond Push Up
Squat
These 3 exercises together hit all the most important muscles in your body.
The chin up targets the lats, upper back and biceps.
It's one of the best upper body mass builders and I consider it to be the most important bodyweight exercise for skinny-fat guys.
The diamond push up targets the upper chest, triceps and shoulders.
It's great for reducing the appearance of puffy nipples or man boobs since it sculpts the upper part of the chest.
Finally, the bodyweight squat is done for high reps to build mobility, conditioning and proportion on your lower body.
Together, these exercises hit roughly 80% of the muscles on your body.
I usually have my clients build up from 0 chin ups and diamond push ups to doing sets of 15 chin ups, 30 diamond push ups and 100 bodyweight squats.
All without break and with perfect form.
These are the Phase 1 goals that I set for my clients.
Phase 1 ensures that you have a good balance of full body strength in different rep ranges, conditioning and mobility.
When you reach these numbers you will no longer appear skinny-fat and you'll have better fitness levels than +95% of the population.
Depending on your starting point, these goals are usually reached within 3-12 months of good training.
While going through Phase 1 we also focus on optimizing testosterone levels since most skinny-fat guys have low testosterone levels. (Read more about that in this post: 2 phases of a Skinny-Fat Transformation).
By mastering these bodyweight exercises, you will build a solid foundation of strength and muscle mass that sets you up to make bigger gains in the future.
Your strength and muscle foundation is important because training is just like building a house: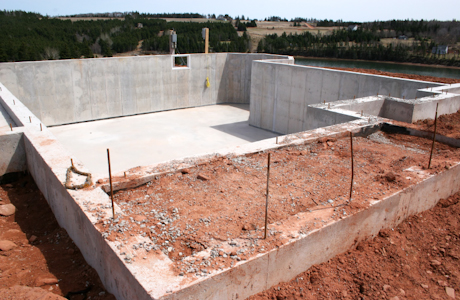 When you have a strong foundation, everything else becomes so much easier.
You progress faster, muscle gains are easier to come by and you prevent serious injuries that can put you out of training.
Most guys at the gym lack a foundation on bodyweight exercises.
Either they lack the joint strength and mobility to do high volume bodybuilding workouts or heavy barbell training, or they may lift hundreds of pounds on the squat, bench press and deadlift but they can't do a set of 20 clean chin ups or 100 bodyweight squats.
As a result, they end up paying for it later by getting a shoulder, back or knee injury that puts them completely out of the gym.
This is why I always have my clients start with bodyweight movements.
These are natural movements that put a minimal stress on your body and hormonal production.
After Phase 1 we move on to harder training where we start working weighted pull ups, weighted dips and weighted squats.
The goal here is to build up to doing 50 extra KG attached on weighted pull ups and dips.
We work these consistently while also isolating key muscles with resistance bands, light dumbbells or the cable pulley station (all exercise methods that create max muscle stimulation while creating a low level of fatigue).
This leads to you getting a powerful V-taper, big arms and wide shoulders.
You can see a few examples of clients who used my methods below.
Here's an example of my client Logan from the US:
And here is Rikesh Murali from India:
And Harshit Godha from India: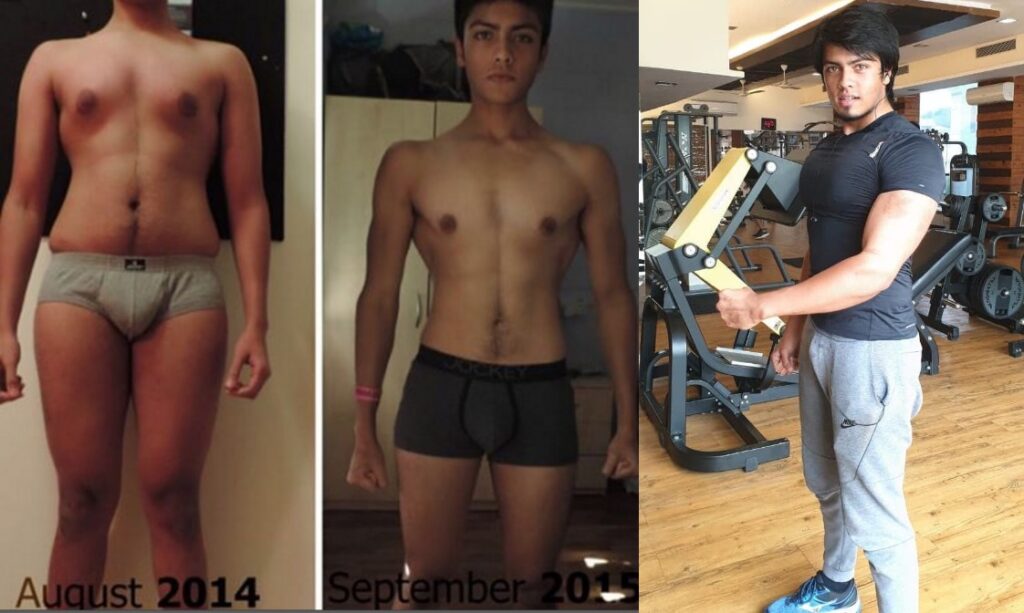 They all followed the strategies from my Online Transformation Program which revolves around bodyweight training and hormonal optimization.
Be proud but stay hungry!
Oskar Faarkrog, ISSA Certified Trainer