If you want any chance at building a physique, you must do your heavy squats, bench presses and deadlifts.
There simply is no other way to transform your body, so if you don't like lifting heavy or you don't have access to a squat rack, barbells and enough plates to give you a hernia, don't even bother training.
OK, that was just a joke, although that joke is not far from most peoples' reality.
I can't believe the amount of times I've had skinny-fat guys tell me they did training routines similar to Starting Strength and StrongLifts 5×5, gained a ton of strength, yet made no visual changes to their physiques.
Or the amount of times I had keyboard warriors on reddit and barbell training forums tell me that lifting heavy weights is the only way you can build a great amount of muscle mass.
I was one of these guys not too long ago.
I trained hard for 2 years with heavy weights and added almost 800 pounds to my 4 main exercises: the deadlift, squat, bench press and overhead press.
I was a big believer in the big compound lifts and I thought that because I had read extensively about strength training online and in books, I was also qualified to give my friends training advice.
However, strength training clearly didn't work for me.
Here's a photo showing how I looked after adding 800 pounds to my 4 main lifts: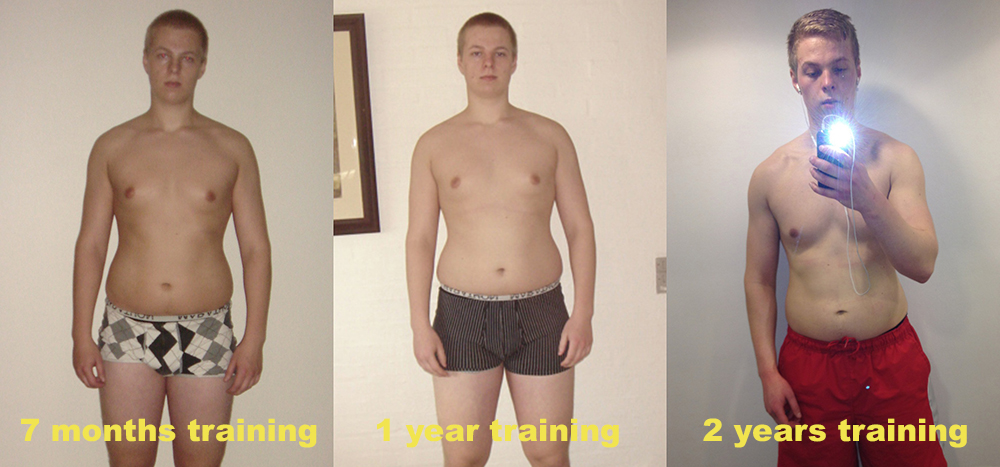 You can clearly see that I didn't gain much muscle mass on my body.
Let me tell you this: If you're a skinny-fat guy doing heavy barbell lifts with any other reason than simply getting stronger on these lifts or competing in powerlifting, you will get disappointed.
In 5 years of running this website I've coached hundreds of people and emailed with thousands.
Most of them had previously used heavy barbell training, but similarly to me they never got results with it.
To this day, I still haven't seen a single skinny-fat success story on a program that focuses on the squat, bench press and deadlift. (I didn't include the press here because I believe this is one of the best lifts skinny-fat guys can do).
In my case, getting stronger on the deadlift, squat and bench press mostly helped me build up the posterior chain muscles: Thighs, glutes, spinal erectors and traps.
These muscles are important for building an overall functional and strong looking physique.
However, these are not the muscles that transform your upper body proportions.
With the big compound exercises, you get most of the development in the quads, lower chest and posterior chain.
This results in you just becoming a bigger and bulkier version of your current self. Your proportions don't change.
In the meanwhile, the muscles that make the biggest difference are neglected.
I'm talking about the lats, upper back, biceps, triceps, shoulders and upper chest.
These are the 6 most important muscle groups for skinny-fat guys because they change the proportions of your upper body.
When you develop the upper chest, your chest goes from having a triangle, feminine shape to a squared masculine shape.
When you maximise the size of your lats and shoulders, you get that upper body V-taper going.
When you maximise the size of your biceps and triceps, you complete the upper body look with powerful arms.
And finally, you do 2 important things to get your physique right:
Use bodyweight exercises for your lower body to keep the lower body in proportion. Weighted leg exercises will most likely overdevelop your lower body and thereby make your upper body appear smaller.
Avoid excessive ab work because ab muscles grow just like any other muscles. By doing too much ab work, you will thicken your waist with an extra 1-2 inches and that will make your shoulders appear smaller.
Here's what your physique proportions will look like when you get this right:
(I know I don't have the perfect physique and that I lack 6-pack abs, but I've gotten the best out of the genetics I was dealt).
To grow these target muscles to their maximum potential, you have to perform exercises where you can really feel those target muscles working.
And this is where the 3 most important bodyweight exercises for skinny-fat guys come into play: 1) The Chin Up, 2) The Diamond Push Up and 3) The Bodyweight Squat.
The chin up is known as one of the most effect exercises for building up both the lats, upper back and biceps and the diamond push up is one of the most effective exercises for building up the upper chest, shoulders and triceps.
The bodyweight squat is ideal because it will build up your strength, conditioning and mobility without overdeveloping your lower body or putting you at a high risk of injury.
After prescribing these three exercises to countless skinny-fat guys over the last 5 years, the conclusion is that these exercises produce much better result than popular weight training exercises such as bench presses, barbell rows, deadlifts and squats. (See success stories here)
Logically, this doesn't make sense to some people, but now I'll explain why bodyweight exercises produce superior results to weight exercises:
Chin ups vs. barbell rows: Both exercises work similar muscle groups but the chin up uses a lot more lats and biceps whereas the rows use more upper back. The lats and biceps are a higher priority for changing your proportions than the upper back. The lats are the #1 most important muscle group for adding width to your shoulders and creating a V-tapered upper body.
Diamond push ups vs. bench presses: Both exercises work similar muscle groups but the diamond push up uses a lot more triceps, shoulders, inner and upper chest whereas the bench presses uses mostly the lower chest. The triceps, upper and inner chest are higher priority for aesthetics than the lower chest.
Bodyweight squats vs. barbell squats: Both exercises work the same muscle groups, but the bodyweight squats will naturally be done with higher reps and thereby provide the additional benefit of improving your conditioning. In addition, most skinny-fat guys lack the hip, hamstring and shoulder mobility to perform barbell squats safely, therefore the bodyweight squats are much safer to start off with.
So the key take away here is that: The 3 bodyweight exercises overall aren't much better than the popular weight training exercises.
They're just different tools used for a different purpose.
They just happen to be ideal for targeting all the weak points on a skinny-fat guy's physique: The lats, biceps, triceps, upper chest, shoulders.
You could insert nearly any weight training exercise and compare them to the chin ups, diamond push ups and bodyweight squat but they wouldn't produce the same result.
In general, to replace the 3 key bodyweight exercises, you would need 2-3 weight training exercises to replace each of them.
For example, with the chin up you may need to do barbell rows, lat pulldowns and dumbbell biceps curls to get a similar effect. (And no, lat pulldowns will not be a good replacement since it's a much easier exercise).
Similarly, with the diamond push up you may need to do overhead presses, dumbbell incline flyes and triceps extensions to get a similar effect. (And again, close grip bench presses will not be a good replacement since it's a much easier exercise).
So you would need to spend at least twice as long time training and be more intelligent about the way you program your training to get the same result.
This is why I recommend every skinny-fat guy starts off with those 3 exercises, with the only exception being those who have debilitating injuries.
If you have injuries that prevent you from doing chin ups and diamond push ups and bodyweight squats then by all means find other exercises that work better for you.
But if you can do those exercises pain free, I don't see a reason to not do them.
In addition to targeting all the right muscles, the bodyweight exercises have several other benefits that I mentioned in my post Why Bodyweight Training is the Best Way to Transform the Skinny-Fat Physique (And Top Skinny-Fat Myths Debunked)
They produce a stronger signalling effect than their weight training equivalents. (See examples of this in the post linked above).
They can be done anywhere at any time. This makes it much easier to train 6 days per week which is one of the most important aspects of transforming your physique.
So what are the downsides of the 3 bodyweight exercises?
There are 3 big downsides:
If your goal is to build big legs and glutes and your lower body doesn't respond quickly to training, the bodyweight exercises simply won't cut it. You can start off with bodyweight squats and lunges, but soon you will have to implement weight training.
Certain muscle groups such as the triceps long head, medial and rear shoulders, upper back and traps will not be developed to their maximum size with bodyweight training. This is why I implement weight training with most of my Phase 2 clients.
By continuously performing the same exercises everyday for years you can develop overuse injuries. This is again why I implement weight training with most of my Phase 2 clients. Cycling your exercises year around becomes more important as you get into your 2nd and 3rd year of serious training but it's not essential in your 1st year where you will benefit more from having sharp focus on just a few exercises.
So there you have it guys.
Bodyweight training is by far the best way to get started, but it's not the only way to train as you get further into your transformation.
As with most things, training isn't all black and white. It has nuances and even within the skinny-fat body-type, there will be a lot of variation in regards to what program is optimal.
Be proud but stay hungry!
Oskar Faarkrog, ISSA Certified Trainer