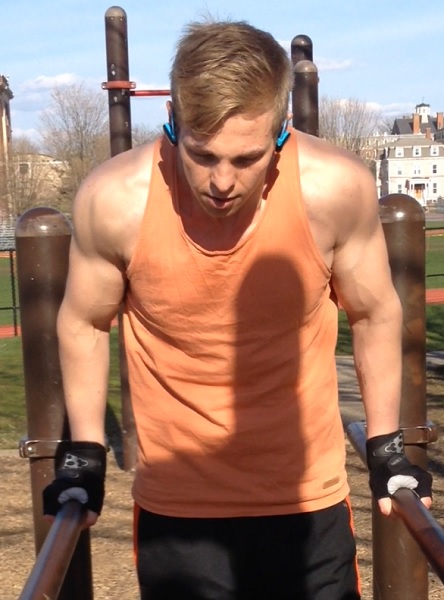 I often see guys at the gym using way more weight than me. Some of them are bigger, but surprisingly, most of them are not.
Last time I trained at the gym, I finished my workout with 35lbs barbell curls. In the meanwhile, there was a guy next to me curling double of my weight.
That guy was significantly smaller than me.
This made me think about the first few years of my training where I believed that you can only grow by lifting heavy.
Back then, I would often be the guy at the gym who was deadlifting the most weight.
When I saw ripped guys train next to me with half of my weight, I thought "he probably has great genetics, since he can train with baby weights and look like that".
Then, one day, I looked at my progress pictures from my first few years of training and I was VERY disappointed.
I had increased my deadlift with over 240lbs and my squat with almost 180lbs, but I didn't look any better.
Therefore, it was time for a change in my training.
During my search for new ways  to train I stumbled upon this fella called Serge Nubret…
Serge Nubret's 3 Training Principles
Serge Nubret was one of the top 3 bodybuilders in the world in 1972-1975. He had very wide shoulders and a narrow waist, weighing a shredded 200lbs at 6 feet of height.
In 2006, Serge shared all his bodybuilding advice on the BodyBuilding.com forums. The topic got almost 12,000 responses, and it's a very interesting read.
After reading through many of his comments, I found that he relied on 3 interesting training principles, which went completely against my beliefs at that time:
Overtraining is overrated – your body can adapt to a lot more than you think. Serge trained for +2 hours a day, 6 days a week and did abs every morning for cardio.
The amount of weight you lift doesn't matter. What matters is how you lift the weight. Serge always used light weights and focused on contracting his muscles.
Your muscles grow better from doing a lot of sets and reps with low rest between sets, because that enables you to keep a great pump throughout your whole training session. Serge would do 42-72 sets per training session with 30-60 seconds rest between sets.
In other words, he was an advocate of pump training done until your muscles are completely trashed, which was the exact opposite of what I was doing.
His arm routine consisted of 32 sets and 384 reps!
I have tried his arm routine several times, and I was forced to use 15 lbs dumbbells for biceps to complete it.
In the first few sets you think that his workout is a joke, but once you reach the end of the supersets, your arms will have such an intense burn, that you will want to quit.
The only question is: will you give up, or keep going?
Serge Nubret's Old School Workout Routine
Serge Nubret's popular Old School Workout Routine looked like this:
Monday + Thursday: Quads (20 sets), Chest (32 sets)
Squats – 8 sets of 12 reps
Leg Press – 6 sets of 12 reps
Leg Extension – 6 sets of 12 reps
Bench Press – 8 sets of 12 reps
Flat Bench DB Flyes – 6 sets of 12 reps
Incline Bench Press – 6 sets of 12 reps
Incline DB Flyes – 6 sets of 12 reps
Incline DB Pullovers – 6 sets of 12 reps
Tuesday + Friday: Back (26 sets), Hamstrings (16 sets)
Chin Ups – 6 sets of 12 reps
Behind the Neck Lat Pull Downs – 8 sets of 12 reps
Lat Pulldowns to the Front – 6 sets of 12 reps
Barbell Bent-Over Rows – 6 sets of 12 reps
Lying Leg Curls – 8 sets of 15 reps
Standing Leg Curls – 8 sets of 15 reps
Wednesday + Saturday: Shoulders (24 sets), Arms (2 x 8 supersets), Calves (16 sets)
Behind the Neck Barbell Press – 6 sets of 12 reps
Alternate DB Front Raise – 6 sets of 12 reps
Barbell Upright Row – 6 sets of 12 reps
Cable Lateral Raise – 6 sets of 12 reps
Barbell Curls superset with Triceps Pushdowns – 8 sets of 12 reps
DB Curls superset with Triceps Dips – 8 sets of 12 reps
Standing Calf Raises – 8 sets of 12 reps
Seated Calf Raises – 8 sets of 12 reps
Sunday: Rest or abs training
In addition to his routine, he would do 1 hours of situps every morning for cardio, working his way up to +2000 sit ups a day.
Recommended Beginner Pump Routine
Serge Nubret's program is too much for the vast majority of natural lifters therefore I've modified his program for you.
The routine I recommend to beginners, is similar to the routine I use when I train at the gym:
Workout A: Chest, Shoulders, Triceps, Biceps
DB, Pec Deck or Cable Flyes – 4 sets of 12 reps
Barbell or Machine Incline Bench Press – 4 sets of 12 reps
DB or Cable Lat Raises – 4 sets of 12 reps
Barbell Overhead Press – 4 sets of 12 reps
DB Curls supersetted with Triceps Pushdowns – 4 supersets of 12 reps without a break
Workout B: Legs, Back, Rear Shoulders, Calves
Leg Press or Barbell Squat – 4 sets of 12 reps
Lying or Seated Hamstring Curls – 4 sets of 12 reps
Lat Pulldowns – 4 sets of 12 reps
DB, Barbell, Cable or Machine Rows – 4 sets of 12 reps
DB Rear Lat Raise or Lever Seated Reverse Fly on Pec Deck – 4 sets of 12 reps
Seated or Standing Calf Raises – 4 sets of 12 reps
Workout Frequency:
Perform the workouts 3-6 times a week, alternating between A and B. If you have a shitty week, go for 3-4 workouts. If you feel great, go for 5-6.
Rest Time Between Sets:
30-60 seconds.
Reps and Weight:
Pick a weight that you can do for 20 reps, and do it for 12 reps per set.
Progression:
In the beginning, you should focus on the following:
Learn to contract your muscle fibers and working your muscles like a bodybuilder.
Instead of thinking about adding weight, think about making light weights harder.
The first few weeks or months should be spent on doing the two things above.
Once you know how to "work your muscles", you can make your workouts harder by finishing each muscle group with a dropset.
A dropset is basically doing a weight until failure, then reducing the weight immediately and going to failure again.
You can reduce the weight as many times as you want. If you're new, reduce it just once. When you get used to it, you can dropset it all the way.
"Your Arms Have Gotten Bigger"
I did a part of Serge's Old School Workout for a month, and got great results.
I remember people finally commenting on the size of my arms!
That never happened during my first few years of training where I lifted heavy.
I got great results because I did part of it and not the full routine.
The full routine does not work for the average natural bodybuilder.
Serge had elite genetics and took illegal drugs to attain his physique.
Most of us have average genetics and do not take steroids/hormones/drugs, therefore we cannot do as much training as Serge and recover from it.
Does that mean that his training principles do not work? No, his principles still work:
You can train much more than most bodybuilding magazines would have you believe.
You can gain more muscle mass in the 8-12 rep range compared to lifting heavy weights.
Mind muscle connection is much more important than the weight on the bar.
However, you need to scale his workouts to fit your needs.
This generally means doing less sets, train certain muscle groups less frequently and replacing some of the exercises.
With my private coaching clients, I always follow this procedure:
I have them master basic bodyweight exercises to build a solid strength foundation. (You need this before doing pump training).
I scale their pump training program to fit their individual body-type, genetics, training history, lifestyle and goals.
My Results After Applying Serge's Training Principles
My workouts in the past 17 or so months have all had the following characteristics:
90% of my training consists of light-moderate weights and bodyweight exercises.
I keep my workouts brief by using lower rest times and doing more sets.
I leave my ego at home and use no momentum during exercises.
And here are the results so far:
I have gained size on my arms, chest, shoulders and upper back.
I was able to add "detail" to my muscles and get those muscle separation lines.
I can eat more since my workouts burn more calories.
My lower back and hips are completely pain free.
But most importantly, I enjoy my training, since I don't have to carry a notebook around and record the weights I lift.
I just go to the gym, and make sure that I hit the desired muscle groups with about 8 sets and reach muscular failure.
I'm bigger and more defined all over, while having a smaller waist and hip measurement.
Are You Saying That Lifting Heavy is a Waste of Time?
Once you have built that strength base, I see no reason to continue lifting heavy, unless you want to compete in powerlifting.
Serge Nubret was 72 when he passed away, and at that age he was still fit and most importantly: injury free.
In contrast, go to any forum where heavy lifting is advocated, and take a close look at the amount of injuries that people have. When people get injuries from lifting heavy, it's usually because they:
"Use bad form"
"Don't eat enough"
"Need to improve mobility"
Those things are all true to some degree. By improving form, optimizing nutrition and improving mobility you can reduce the risk of injury by a lot, but the risk still remains high if you keep lifting heavy for years.
I rarely hear about someone getting injured from basic bodyweight exercises or light-moderate weights. But, how about chasing a PR on the bench press or deadlift? That's a completely different story.
So, if you're in it for the long haul, then I believe that bodyweight training and light-moderate weights are the way to go.
Should it happen that you found this article useful, be sure to follow my daily updates on my facebook page and instagram.
Be proud but stay hungry,
Oskar Faarkrog
Image Credit (Serge Nubret): Carlos Newsome