Throughout all my teenage years I had that pear-shaped look with wide hips and narrow shoulders.
My proportions resembled those of my female class mates and my physique made me embarrassed about taking my shirt off.
In the meanwhile, most of the guys in my class came from athletic backgrounds and had natural V-taper upper bodies with wide shoulders and small waists.
I wanted to build a V-taper too because I didn't want to be the only skinny-fat guy in my class.
In my first attempt of building a V-taper, I would lift heavy weights but the gains I made all went to my waist and lower body so my proportions didn't improve at all.
Like most natural lifters with skinny-fat genetics, my upper body was small to begin with and it didn't respond well to training.
After my failed attempt, I was about to give up on building a V-taper.
I had worked hard for over a year, and I had nothing to show for it.
Then I came across a photo of the classic bodybuilder Steve Reeves who had a big shoulder-to-waist ratio.
In Steve's photo, I saw that most of his shoulder width came from his lats and not the shoulders themselves.
The lats were by far the most important part of Steve's physique and they made him look powerful.
Inspired by the lats of Steve Reeves, I decided that I wanted to build wide lats too.
And I did build wide lats:
I added so much size to my lats that my friends and family would comment that I had the back of a cobra snake.
It felt great to have people tell me I was getting "too muscular" after starting out my training career not being able to shoulder press an empty bar at 6'3" height and 200 pounds of bodyweight.
To be specific, my lats program worked so well for packing on size that I had to stop training the lats because I couldn't keep my arms straight to the side and the lats made all my other muscles look too small.
In this article, I will explain exactly how I packed a massive amount of size on my lats and give you my full 12 week Cobra Lats Training Program which I used with great success for myself.
Let's get started:
I Added 500 Pounds To My Total But I Didn't Have Anything to Show for It
When I started bodybuilding in early 2010, I was sold on the idea of "adding weight to the bar to gain muscle mass".
Each workout, I would go in with the goal of beating my previous max.
This strategy worked for getting strong. In fact, it worked too well because it got me hooked on lifting heavy weights.
In my first year of training I was 100% dedicated to my training and I added over 500 pounds to my deadlift, squat and bench press total.
I also cycled my calories and gained 35 pounds of bodyweight throughout the year.
To my surprise, I didn't have much to show for all these gains.
The only muscles that got bigger were my thighs, glutes and I got slight definition on certain parts of my upper body but that difference was negligible.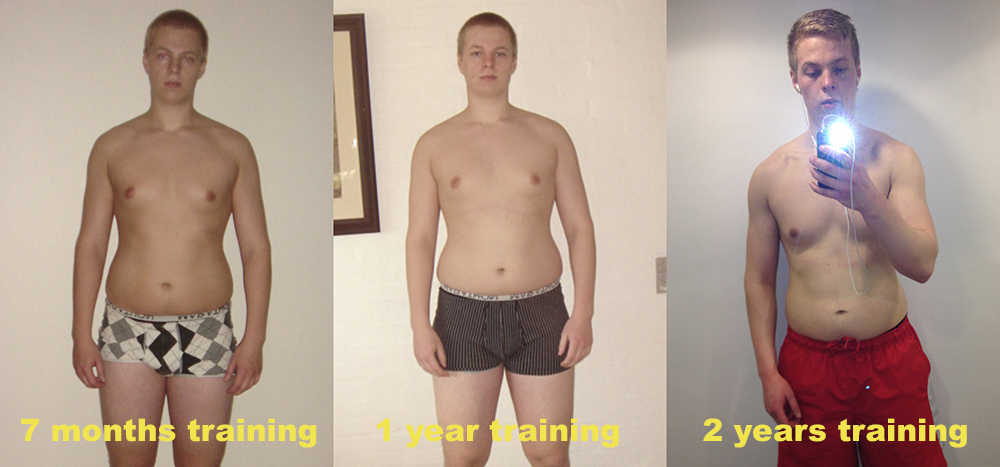 The photo above shows my first 2 years of "training progress". (Or lack of it).
I'm exactly the same bodyweight and height (200 pounds at 6'2"), but I can lift 500 pounds more on my total and I don't have anything to show for it.
My lack of physical development was a result of my training.
I was training to gain strength because I believed that strength gains would lead to muscle gains.
I was wrong.
Strength gains don't equate to muscle gains because the training done to gain max strength differs greatly from the proven principles of bodybuilding.
When you do a popular strength program like Starting Strength, MadCow 5×5 or StrongLifts, most of your strength gains are a result of an improvement in neuromuscular function, not actual hypertrophy.
Neuromuscular function: Strength training improves communication between your brain and muscle fibers, causing great improvements in strength and exercise performance.
In other words, you're getting stronger because your brain becomes better at communicating with your muscle fibers and not because your muscles are growing.
If You're Strong But Your Lats Are Small, It's Time to Make a Change
To achieve muscle growth you need to stimulate your muscles to such a degree that your body is forced to adapt by growing the muscles. (Hypertrophy).
For most people, hypertrophy requires longer time-under-tension and higher volume training.
This is basically how bodybuilders train. They train to stimulate their muscles, and not to increase their max strength on lifts such as the bench press, squat or deadlift.
The reasoning for this is that heavy weights, make it hard to focus on increasing time-under-tension and squeezing and stretching the muscles.
When you're doing a heavy set of 3-5 reps on the deadlift, all your focus is on lifting the weight and not on working your lats.
It's also hard to add hypertrophy work at the end of your heavy workouts because your Central Nervous System is fried from all the heavy lifting, and the CNS takes much longer to recover than your muscles.
In other words, lifting close to your max isn't optimal for muscle gains and it puts such a big demand on your recovery that you don't have the energy needed to do hypertrophy training after your heavy training is completed.
…And these are the exact reasons to why I and many of my private coaching clients who lifted heavy weights gained a bunch of strength without having much to show for it.
Now, don't get me wrong. Every beginner needs to develop raw strength by getting stronger on the basic exercises because building a physique is similar to building a house. If you build a strong foundation, everything else will be so much easier.
However, if you can do 20 pull ups and deadlift 2 x BW and you still have small lats, it's not because you're weak or have bad genetics.
It's because you're stuck in the mathematical training mindset of adding more weight to the bar and now is the time make a change.
Albert Einstein's definition of Insanity: doing the same thing over and over again and expecting different results.
So before you start your journey towards building wide lats, you have to forget everything about adding weight to the bar and switch your focus to developing the mind-muscle-connection.
Developing the mind-muscle-connection means that you go into each training session with the goal of making a light weight feel heavy.
Making a light weight feel heavy is the #1 principle of my Cobra Lats Training Program.
There's no linear progression or mathematical formulas determining the weight you use each training session.
The Cobra Lats Training Program
We will use the cable lat pulldown to develop the lats because in most gyms this is the best piece of training equipment for your lats.
Below, I will give you 3 practical reasons to why the cable lat pulldown works better than machines, bodyweight exercises and free weights for lat training:
It enables you to emphasise all the muscle fibers

in your lats by switching up your grip. This is key because the lats are one of the biggest muscle groups in your entire body.
It puts less stress on your Central Nervous System

compared to free weights and bodyweight exercises such as the pull up.This enables you to train the lats hard and often.

Doing all lat exercises from one station enables you to keep your pump.

You don't have to waste time adjusting different back machines or put on plates on a barbell, or wait for equipment. By the time you've done all these things you've lost your pump, and then you have to spend time building it up again.
The Cobra Lats Giant Set and High Volume Accessory Work
The base of my Cobra Lats Training Program is the Cobra Lats Giant Set.
Giant Set: You do all exercises back-to-back without any rest.
The idea behind this set is that you emphasise all muscle fibers in your lats by training your lats with different grips, without any break in between exercises.
The giant set is high in both intensity and volume because it consists of 7 exercises done back-to-back for a total of 56-84 repetitions.
You only do ONE giant set because I want you to give it your all.
Once you've completed your giant set, we move on to doing High Volume Accessory Work to pump up your lats and milk your lat workout for all it's worth.
The 7 exercises for the Cobra Lats Giant Set are listed below:
Light Shoulder-Width Grip Cable Pullovers (8-12 reps)

Behind-The-Neck Lat Pulldowns (8-12 reps)

Wide Grip Lat Pulldowns with an Overhand Grip (8-12 reps)

Shoulder Width Grip Lat Pulldowns with an Overhand Grip (8-12 reps)

Shoulder Width Grip Lat Pulldowns with an Underhand Grip (8-12 reps)

Standing Overhand Cable Rows (8-12 reps)

Light Wide Grip Cable Pullovers (8-12 reps)
During each giant set, you want to visualise that your lats are spreading out towards the sides of the room.
Squeeze your lats when pulling the weight down then stretch them on the way up. Each set is squeeze and stretch. 
You might have to lower the weight throughout the giant set, and that's OK. The weight you use matters less than your ability to achieve 8-12 controlled reps on every set.
As soon as you finish the giant set you will stretch-out your lats for 60 seconds each side by doing the lat stretch shown below:
This stretch is crucial because it will improve your posture and prevent your lats from getting tight.
Once you finish the Cobra Lats Giant Set, you implement the exercises from the giant set into a high volume bodybuilding training workout.
You do all 7 exercises for 4 sets of 10-15 controlled reps with 60 seconds rest between sets.
You also do the lat stretch linked earlier between every set.
How to Find the Right Weight For Your Giant-Set and the Criteria of a "Controlled Rep"
When you walk into the gym to perform my Cobra Lats Giant Set, you need to focus on using a weight that you can control throughout the entire set.
For all exercises (except the light cable pullovers), you will use 40-50% of your 10RM on the overhand grip lat pulldown.
10RM (10 Repetition Maximum) on the lat pulldown: The maximum amount of weight you can use for 10 repetitions on the lat pulldown. In my case, I can do 10 clean reps with 310 pounds, so I will use 155 pounds for my giant set.
Your 10RM is light enough to complete most of the giant-set without having to change weights. 
For the light cable pullovers, you just use a weight that you can do for 8-12 easy reps.
With that said, the form on each set is way more important than the weight you're using.
A perfect set follows the criteria listed below:
On each set, the first and last rep look exactly the same time. 

Each rep "burns" into the next one. 

You eliminate any momentum and swinging.
A perfect bodybuilding set is hard for you but to an outsider it looks smooth and effortless.
You can see an example of a perfect set in my video below where I'm doing light cable pullovers:
Make the muscle burn without SHOWING that it burns.
If you're new to bodybuilding, this might not make much sense RIGHT NOW, but it will make sense soon if you keep practicing the mind-muscle-connection.
The Cobra Lats Training Program Summarised:
First, you do the Cobra Lats Giant Set which consists of the 7 exercises listed below:
Light Shoulder-Width Grip Cable Pullovers (8-12 reps)

Behind-The-Neck Lat Pulldowns (8-12 reps)

Wide Grip Lat Pulldowns with an Overhand Grip (8-12 reps)

Shoulder Width Grip Lat Pulldowns with an Overhand Grip (8-12 reps)

Shoulder Width Grip Lat Pulldowns with an Underhand Grip (8-12 reps)

Standing Overhand Cable Rows (8-12 reps)

Light Wide Grip Cable Pullovers (8-12 reps)
Second, hold the lat stretch linked below for 60 seconds each side to stretch out your lats.
Third, move on to High Volume Accessory Work:
Light Shoulder Width Cable Pullovers (4 x 10-15 reps)

Behind-The-Neck Lat Pulldowns (4 x 10-15 reps)

Wide Grip Lat Pulldowns with an Overhand Grip (4 x 10-15 reps)

Shoulder-Width Grip Lat Pulldowns with an Overhand Grip (4 x 10-15 reps)

Shoulder-Width Grip Lat Pulldowns with an Underhand Grip (4 x 10-15 reps)

Cable Rows (4 x 10-15 reps)

Light Wide Grip Cable Pullovers (4 x 10-15 reps)
Between each set, you hold the lat stretch for 30 seconds each side.
Perform the training program on 2-3 non-consecutive days per week for 8-12 weeks at a time while eating a slight caloric surplus to support muscle gains.
Ideal training frequency: You choose 2-3 training sessions per week depending on how fast you recover between training sessions and how much time you have available to train. I personally go for 2 days per week but guys with fast recovery can go for 3.
You don't want to use this program for more than 12 weeks because your lats will adapt to the training and then there won't be sufficient training stimulus to grow.
Also, I want to point out that this program is an advanced bodybuilding specialisation program which requires a good strength foundation. It's imperative that you can do 20 perfect form pull ups and deadlift twice your bodyweight before you attempt this program.
If you don't have the minimum required strength for the Cobra Lats Training Program, you won't benefit from the high volume because you won't be able to use sufficient resistance to force a muscular adaptation.
Build the foundation first, sculpt later.
If You Want to Build Impressive Lats, Stop Limiting Yourself.
I have all the excuses in the world for having small lats.
I'm 6'3" tall with a long lanky frame to fill out.
My starting strength resembled that of a girl. I couldn't even shoulder press an empty barbell for one rep or do one push up.
I have naturally low testosterone levels (diagnosed with hypogonadism at age 18).
I don't respond well to most types of training.
I have naturally narrow shoulders and lats.
It took me 2 years of hard training to even start seeing muscle gains.
With that said, I never stopped trying and the hard work eventually paid off.
My lats got much wider than I thought was possible for a hardgainer like me. I believe the main reason to my growth was that I didn't limit my back training to a few straight sets of pull ups, barbell rows and deadlifts.
And that's the kind of training I see every time I'm in a commercial gym.
A guy will come into the gym, do a few sets of pull ups and rows with poor technique and that's what he calls his weekly "back day".
Overall, I don't see enough intensity or volume in the lat workouts done by most guys at the gym, and the lats are often trained just once per week.
This is a BIG mistake because the lats are a much bigger muscle group than the shoulders and they have the potential to grow very wide and create that classic V-taper look you saw in old school bodybuilders like Arnold Schwarzenegger, Serge Nubret and Steve Reeves.
To grow the lats to their maximum potential, you need to hit them hard and often and you have to emphasise all muscle fibers.
Sculpting your body comes at a price so it's up to you decide if it's worth it or not. I'm just here to show you the best way possible to build cobra lats and that way isn't easy.
Be proud but stay hungry,
Oskar Faarkrog