I was a young guy with no drive, no ambitions, no athleticism and no girlfriends.
I looked dead in the eyes.
While other guys in my high school were fit and athletic, I was that skinny-fat guy who walked around with his shoulders slouched to hide his manboobs.
Then, one day I decided to transform my lifestyle:
I went to the gym 3 days a week and followed a program called Starting Strength consistently.
I ate a high protein diet as the bodybuilding forums advised a beginner to do.
I was obsessed with training and dieting and wanted to get into the best shape of my life.
I never skipped a training session and nearly always ate clean.
Despite my efforts, 7 months into training I still looked like I had never lifted a weight in my life:
It seemed like my body just didn't respond to training like other guys.
I even had a training partner who did the exact same program as me and his shoulders, chest and arms kept getting bigger each month while I stayed the same.
I was discouraged and close to quit this whole fitness thing, but I didn't because I discovered that I had low testosterone levels.
Testosterone is the male hormone of vitality and it's the master hormone for men.
It controls all functions in your body: Brain function, sexual function, skin, muscularity, strength, organs and bone-structure:
Testosterone is the main anabolic hormone in the body.
With low testosterone levels, there's no chance you'll build a muscular physique or enjoy your life to the fullest
Low testosterone doesn't only impact your body-composition but also your mood and overall health.
Men with low testosterone suffer from much more mental problems such as anxiety, depression and brain fog/ADHD, the risk of cardiovascular diseases is greatly increased and there are other health risks such as erectile dysfunction as well.
Here are some of the symptoms of low testosterone levels:
Hard time gaining strength and muscle mass on the upper body.
Excess body-fat around the lower waist and lower chest.
Man boobs.
Weak skeletal structure (small ankles, wrists and shoulders).
Lack of morning wood.
Brain fog / ADHD.
Depression.
Anxiety.
Sleep problems and low energy levels.
Skin problems such as acne.
When you look at the symptoms of low testosterone, you will see that they are nearly identical to the skinny-fat body type: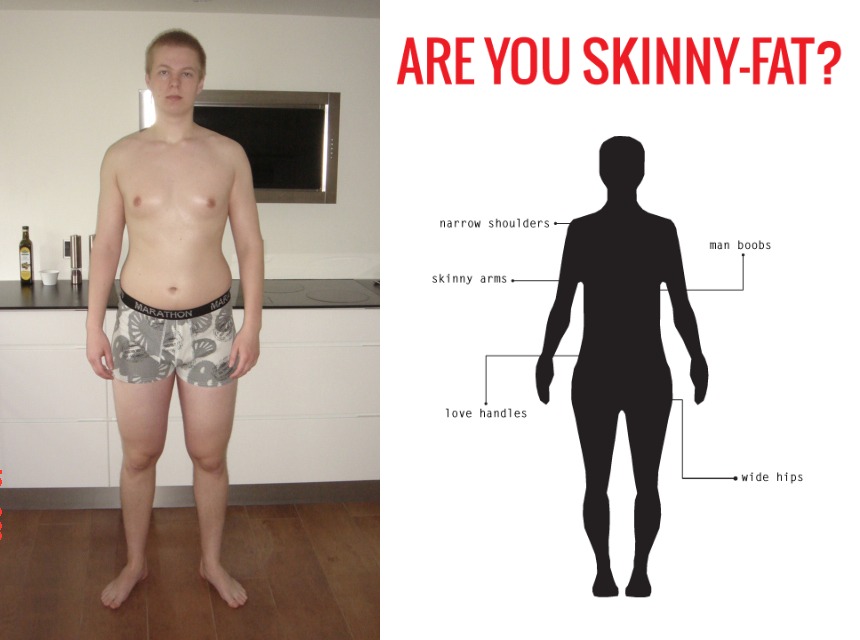 Therefore, if you're a guy who has a lot of the symptoms mentioned above and you're a skinny-fat guy with an undermuscled and soft physique, then this article is definitely for you.
In this article I will teach you how I boosted my testosterone levels with 270%, thereby bringing me from the bottom of the natural range to the complete top.
While going through this process I gained 40 pounds of muscle mass, lost 60 pounds of fat, greatly increased my total body strength and conditioning and saw a massive decrease in symptoms of depression and anxiety: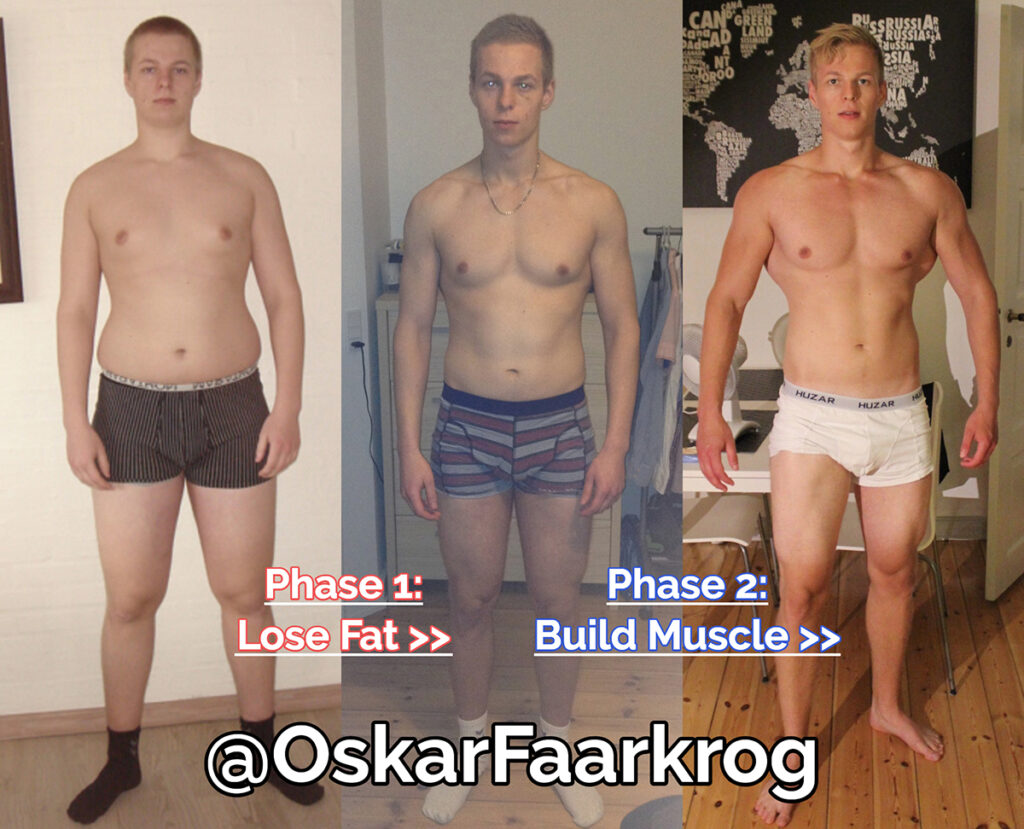 Let's get started:
How to Measure Optimal Testosterone Levels
The way you measure testosterone levels is simple.
You can either do it online through a website like letsgetchecked.com
Or you can go to a doctor and order the test for yourself as part of a yearly health check up.
In September 2010, at age 18, I decided to get my testosterone levels checked for the first time and the test came in at 297 ng/dl.
That was after training very hard for 1 year and gaining a lot of strength on the squat, deadlift and bench press but barely seeing any muscle gains on the upper body.
My general doctor said that everything is good since I'm "in range". 
The range of testosterone levels usually starts from 250-300 ng/dl and goes all the way up to 950-1100 ng/dl.
You can see the range of testosterone levels below:
When I took my first testosterone test, I had a reading of 297 ng/dl.
According to the graph above, a testosterone level of 297 ng/dl puts you in the bottom 5% of all age groups (even age 55-59).
The blood-work explained many of my low testosterone symptoms:
Puffy nipples / manboobs which I developed during my teenage years.
Lack of muscle mass and definition.
Low response to weight training.
Soft physique with high body-fat levels.
Feminine fat distribution. (Hips, thighs, lower chest, lower abs).
Very small bone structure. (Small wrists, kneecaps, ankles, narrow shoulders, narrow neck).
Lack of facial and body hair.
Depression.
Anxiety.
Erectile dysfunction.
Low sperm count and quality. (I checked my levels at age 19 when I tried to become a sperm donor to make some side money for my studies. They came out a at "below WHO's lower limit".
Luckily, at the time I had done my research and I knew that being in range doesn't mean that you have optimal levels.
When you look at the range of testosterone it typically goes from 300 to 1100 NG/DL.
Being in the lower end of the range is NORMAL however it's far from OPTIMAL.
So you could have a testosterone level of 319 NG/DL and your doctor will say you're normal, however the truth is that 319 NG/DL is only normal for an old man.
Being at that level puts you in the bottom 5% for the age range of 55-59.
It's the kind of testosterone level an old man in his 70s and 80s is supposed to walk around with.
You will not have the drive, energy and hormonal environment to feel your best at this level.
Therefore, when you do blood work for testosterone, never take your doctor's word for it.
Get a copy of the results yourself and compare them to the chart above.
When most of my skinny-fat clients start my Online Transformation Program, they are usually somewhere around 200-550 NG/DL.
Our goal is to get to somewhere around 650-1100 NG/DL naturally.
This is what I consider to be optimal.
This is the level that we are supposed to have during our most healthy years.
After extensive experience with this, I found this is where I and my clients feel our best.
And I suggest you do the same.
If You Have Low Testosterone, It's A Good Idea to First Rule Out Secondary Conditions
In the case you get diagnosed with low testosterone, it's a bad idea to just jump on testosterone replacement therapy, testosterone boosters or other junk supplements.
Testosterone replacement therapy doesn't treat the root cause of low testosterone and has a lot of side effects such as increased risk of blood clots, high blood pressure and water retention.
It should only be used as a last resort.
Testosterone boosters and supplements are pretty much all a waste of money.
They will have minimal effects compared to proper nutrition and sleep (think 1-2% difference).
Finally, there's estrogen blocking drugs.
These have a high risk of you developing estrogen deficiency.
Estrogen deficiency is just as serious as low testosterone and hard to treat.
With estrogen deficiency, you will have the same symptoms as with low testosterone: infertility, low sex drive, weak erections, depression and bad sleep.
Therefore, the key is always to look for the root cause of low testosterone.
After going from low to high testosterone levels myself, I can tell you that your testosterone levels are a marker of your overall health.
In the vast majority of cases, our body is able to produce optimal levels of testosterone naturally if we allow it with a healthy lifestyle.
When something is off (nutritional deficiencies, bad sleep, lack of sunlight or illness), our hormone production goes down.
Therefore it's always a good idea to first meet with an endocrinologist to assess whether you should rule out other conditions such as:
Tumors.
Sleep apnea.
Testicle damage.
Varicocele.
Vitamin and mineral deficiencies.
Rare genetic conditions such as Klinefelter syndrome.
I personally did a very thorough check up at age 18 after my low testosterone diagnose.
We ran all the tests above except sleep apnea and varicocele. (I found out 9 years after my diagnosis that I had both of these and that could have contributed to my low testosterone levels).
All the other tests that we ran came out clear therefore at the time I decided to focus exclusively on natural lifestyle changes.
With these natural lifestyle changes, I increased my testosterone levels from 297 ng/dl to 1105 ng/dl (the complete top of the range).
1105 ng/dl is almost unheard of today in our environment filled with junkfood, pollution and hormones in food – especially in white people who tend to have lower testosterone levels than black people.
It's what a pro college athlete would have when their testosterone is at their peak.
Unfortunately, most people who talk about increasing testosterone rarely post their blood work, but I want to show you proof that my results are real, so here you go with my full history of testosterone blood work:
The labs use different ranges because the first 3 were taken in Denmark and the last 2 were taken in Bangkok, Thailand.
But I have converted them for you below to ng/dl (the unit typically used in America) together with my age next to them:
1 October 2010: 10.30 nmol/l > 297 ng/dl (age 18)
21 December 2010: 19.06 nmol/l > 550 ng/dl (age 18)
27 July 2012: 22.59 nmol/l > 652 ng/dl (age 20)
16 June 2017: 8.31 ng/ml > 831 ng/dl. (age 24)
25 September 2018: 11.05 ng/ml > 1105 ng/dl. (age 26)
As you can see on the numbers above, it has been a gradual improvement from having hypogonadism to having supremely optimal testosterone levels.
You can verify the accuracy on this link: testosterone unit converter
This is probably the best natural testosterone increase you will find online with regular bloodwork and photos to show proof. 
The biggest improvement came in the first 3 months when I was 18 and the next big spikes came from age 20-26.
If you're consistent with the strategies on this website, you will likely see your testosterone levels increase to optimal levels.
I emphasize likely because not everyone can achieve high testosterone levels through natural methods.
Some people truly need medical treatment, however this is just a minority.
Most of you can make great improvements to your diet, training, sleep and lifestyle and thereby achieve a much higher natural testosterone production.
Medical treatment should only be a last resort when everything else has failed.
How to Increase Testosterone With 270%
To increase testosterone, you need to start with the basics:
Better nutrition.
Proper exercise.
Better sleep.
I'll deal with each separately, starting with some more info on nutrition:
Nutrition part 1: Dietary fat doesn't make you fat
Back when I had low testosterone levels, my diet mainly consisted of lean protein sources and starches.
I followed the typical high-carb/high-protein/low-fat bodybuilding diet with 6 meals a day.
Not only was I sick and tired of this way of eating, but it didn't improve my life or physique in any way.
Despite eating a low-fat diet and training consistently for the first time in my life, I was fatter than ever.
This type of diet may work for guys with great genetics who have naturally high testosterone levels or a hormone enhanced bodybuilder, however it won't work for a guy with below average genetics, low testosterone and no hormone use. (A typical skinny-fat guy).
In September 2010 I started researching how to increase testosterone naturally, and I found that dietary fat is crucial for optimal testosterone levels.
And dietary fat doesn't make you gain body-fat.
Excess Calories make you gain body-fat – regardless if they come from protein, carbs or fat.
Fats are the main macronutrient in your diet that are directly responsible for producing testosterone.
Testosterone is made from cholesterol and cholesterol is found in foods high in fat.
The main fat sources I used to boost my testosterone:
Eggs.
Red meat.
Coconut oil.
I personally found that it's not about going crazy on these foods, but instead focusing on balance and quality.
Have a few eggs daily and include quality red meat 3-4 times per week.
Don't go all out on a carnivore diet or ketogenic diet since both of these disrupt hormonal production and put you at much higher risk of cardiovascular disease.
A good guideline is to get roughly 30% of your total Calories from healthy fats, then split the rest into carbs and protein.
In my Online Transformation Program clients' plans I focus on getting a big variety of micronutrients instead of just a few.
Nutrition part 2: Stay away from fad diets
Diets that brand themselves as low-carb, low-calorie or low-fat often promise quick results, but those quick results come at a price that isn't worth to pay.
As a guy into fitness you're most likely focusing too much on protein intake, and too little on carbs and fat.
The truth is that carbs and fats are more important for performance, health and well-being than protein!
Once you have met your daily requirements, eating more protein doesn't help your training.
Instead, it will detract from your energy because you will be able to eat less of the energy sources (fat and carbs).
Keep in mind that the main factor for staying lean is to manage your daily Calories.
If you eat a ton of protein, you will have to limit either carbs or fats or both.
So why are carbs important? 
I mentioned that fats are the most important to include because they're the building block of testosterone.
However, this doesn't mean you need to go to the other extreme and cut carbs.
Carbs are the best energy source for your body because they're readily available to be absorbed by your muscles and brain where as fats are a slower energy source that takes a longer time to digest.
For the best result, you need the optimal balance of both.
Generally speaking, the better shape you are in and the more active you are, the more carbs your body needs.
Here's a quick contrast breakdown:
Low body-fat + high muscle mass + high activity levels = high carb intake.
High body-fat + low muscle mass + low activity levels = low-moderate carb intake.
When it comes to choosing carbs, you have to choose those that:
Are healthy whole foods such as rice, potatoes, oatmeal, fruits and vegetables.
You digest well.
Are high in micronutrients.
It's important that you go for carbs that you digest well because indigestion symptoms such as bloating, gas and constipation create inflammation in your body and inflammation lowers your testosterone production.
Furthermore, it's important that you consume a high amount of carbs that are high in micronutrients because micronutrient deficiencies are one of the most common reasons to why we have low testosterone levels.
It can be difficult to find foods that are both high in micronutrients and which do well with your digestion.
For example, beans are very high in micronutrients but they're hard to digest for most people.
Therefore you'll have to do some experimentation with regards to which carbs work well for you and also use various methods such as probiotics to enhance your digestive system.
This is one of the key things I work on with my clients.
Nutrition Part 3: Avoid Aggressive Fat Loss
To optimize testosterone, the main goal you have to achieve is a lean body-fat level of 10-15% depending on your genetics
This usually means having a flat waist or an ab outline in good lighting (no need to get a full 6-pack).
You want to lose excess body-fat because excess body-fat increases aromatase in your body.
This means that your body will convert more of its testosterone into the female hormone estrogen.
Therefore, by losing the estrogenic body-fat around your lower waist, lower chest and hips, you increase your natural testosterone production.
When it comes to fat loss though, a lot of people make the following mistakes:
Reduce Calories too much.

A diet that's too low in Calories and micronutrients will lead to decreased testosterone production because it puts your body into a state of high stress and starvation.

Diet off too much body-fat.

When you go too much below your genetic body-fat set point, your body will increase hunger hormones and decrease testosterone levels. If you're a naturally skinny-fat or fat guy, you want to stay around the healthy 10-15% body-fat range and no lower than. This usually means a flat waist and visible ab outline and in some cases a decent 4-pack in good lighting.

Avoid refeed days.

On a fat loss diet it's important to strategically implement 1-3 days per week where you eat a higher amount of Calories. This is important because a Caloric deficit reduces testosterone production and slows down metabolism. By including higher Calorie days, you reset testosterone and avoid crashes. From a psychological perspective this is also great because it allows you to have some of the higher Calorie foods that you miss on a diet. I have all my Online Transformation Program clients consume at least 1 refeed meal per week when on a diet.
The bottom line is that you want to avoid any type of fast or aggressive fat loss.
Your goal is to follow a balanced approach where you lose the fat slowly at a rate of 2-8 pounds per month depending on how much fat you have to lose.
And keep in mind that if you gain muscle while losing fat your bodyweight may not even change much therefore it's essential that you track body-measurements and take photos on a regular basis.
It's possible that your weight stays the same because you gain muscle mass while losing fat.
You have to focus on improving hormones, metabolism and workout performance while keeping the diet healthy and balanced and avoiding overeating.
When these things are in place, you'll get far better results and FEEL much better compared to when you try to starve off weight.
Frequent bodyweight training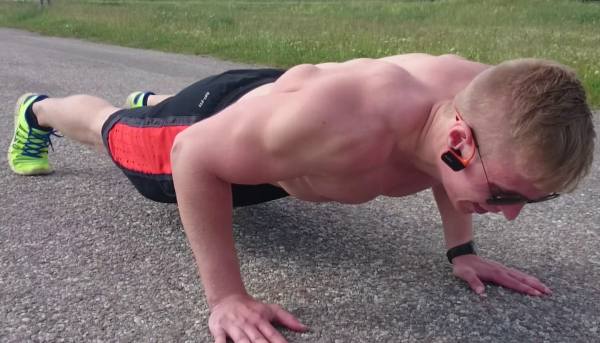 When you have low testosterone levels, one thing you'll read online is to do a lot of heavy compound training with squats and deadlifts because supposedly these lifts increase testosterone production.
I believed that myself, however I can tell you now, after 10 years of training myself and over 800 clients that this is wrong.
The increase in testosterone you see after training is temporarily and lasts just a few hours.
Testosterone already fluctuates throughout the day, therefore this few hour increase is meaningless.
It has no significant effect on your long-term testosterone production.
The reason to why you see this increase from heavy training is simply because your body is so broken down that it compensates by increasing testosterone to speed up recovery.
In my experience, training heavy is not the way to go for a long-term testosterone increase.
After training heavy 3 times a week during my first 9 months of training I had my lowest testosterone reading at age 18.
I always felt tired, exhausted and drained after doing heavy squats and deadlifts and found it hard to recover from the heavy weight training sessions.
When you have a naturally low base line of testosterone, you will struggle to recover from any type of heavy weight training, high volume bodybuilding training or high impact cardio such as running.
When you don't recover well, you don't make gains.
These types of exercise create the biggest spike in the stress hormone Cortisol and that in turn lowers your testosterone levels even further.
So what's the solution?
It's bodyweight training.
Here's the physique I built after I switched from low rep heavy barbell training to high rep barbell training:
Bodyweight exercises are easy to recover from and they stimulate all the right muscles you want to grow to build a V-tapered upper body with big arms and shoulders: The lats, upper chest, biceps and triceps.
I believe bodyweight exercises are the best way to train for high testosterone because of the reasons listed below:
When you have a naturally low testosterone production, your ability to recover from heavy workouts is limited. Heavy training increases the stress hormone Cortisol and long-term sustained increases of Cortisol lower testosterone levels. Bodyweight workouts are much easier to recover from, therefore they're a much safer bet when you're trying to increase testosterone.
As a guy with naturally low testosterone, you need a constant sustained stimulus to get results. This means that you have to train the entire body at least 4 days per week but ideally 6. With high volume bodybuilding workouts or heavy barbell training you won't be able to recover for your daily sessions. With bodyweight workouts, you can go in and stimulate a muscle daily and then recover in time for your next workout.
Being a master of moving your own bodyweight through space locks you into being lean and muscular. You can be a fat powerlifter and bench press 400 pounds, but there's no way you'll be doing 20 chin ups with perfect form while being fat.
Bodyweight exercises target all the most important upper body muscles: Upper chest, lats, triceps, biceps and shoulders.
When choosing exercises for a muscle building program, it's important to choose exercises that produce the highest ratio of muscle stimulation vs. fatigue. Bodyweight exercises provide a high amount of stimulation for all the target muscles with minimal fatigue. This allows you to train hard and often.
The 3 exercises I have my Online Transformation Program clients do to start with are:
Chin Ups
Diamond Push Ups
Bodyweight Squats
Chin ups are the #1 exercise to build up the lats and the lats are the biggest muscle group on the upper body.
By building up the lats, you widen your torso and get that swimmers body. 
Diamond push ups have the highest triceps activation of any exercise out there (as shown in EMG studies) and they're one of the best chest exercises as well.
You will feel your chest working a lot more on diamond push ups compared to regular push ups.
The bodyweight squats are great because you can quickly do them for high reps.
By doing bodyweight squats for high reps, you can practice mobility and conditioning. 
These are the most important beginner goals for creating functional, athletic legs.
The goals you want to aim for on these exercises are:
15-20 chin ups.
20-30 diamond push ups.
100 bodyweight squats.
All done in one set without a break and with perfect form on each rep.
I have my clients go all the way from 0 reps on chin ups and diamond push ups to hitting these targets. (Even those who are in their 50s and 60s with no prior training experience).
These are the Phase 1 goals I set for my skinny-fat clients with low testosterone.
They work because you can do light-moderate weights and bodyweight training everyday without worrying about overtraining.
Once you build a good base on bodyweight exercises you can progress into more weighted training, especially with weighted bodyweight exercises such as weighted pull ups and weighted dips.
I typically have my clients work their way up to 50 KG on weighted pull ups and weighted dips.
This results in a classic V-tapered upper body with wide lats, broad shoulders, a squared chest, big arms and a small waist.
Here's the back I built after I got to 50 KG for 5 reps on weighted pull ups:
High Quality Sleep for High Testosterone
Sleep is one of the most underrated things in the fitness community.
Most of us today are overworked, spend time around toxic people and getting by on artificial energy produced from refined sugar and caffeinated beverages.
It's a recipe for chronic overload on the body and a messed up hormonal profile.
By getting your sleep, you're playing the testosterone game on "easy" rather than "hard".
Sufficient sleep regulates testosterone production, hunger hormones, metabolism, improves your mood and energises you.
It makes you recovered for the next day.
When I had low testosterone levels, I went to extremes to optimise my sleep.
I stopped using an alarm, and skipped early morning lectures to get my sleep.
This is the best way to get the amount of sleep your body naturally needs.
Got trouble sleeping on time? Try the remedies below:
Schedule your "go-to-bed time" everyday on your phone. You can set this as an automated daily reminder. You want to start getting ready for bed 10 hours before you have to wake up. This gives you 1 hour to relax and fall asleep and still get a solid 9 hours of sleep. (If you train your sleep needs are higher — you may need 9-10 hours per day instead of the usual 7-8 because your body needs to recover). If you find yourself consistently going to bed late because of commitments you may want to look into scheduling your time better and saying no to more things.
Sleep and rise around the same time everyday. This greatly improves sleep quality.
Get early morning sun to set your circadian rhythm right and try to hit 1-2 hours of strong sunshine on your body exposed without sunscreen each day. If you can't get sunlight, use red light therapy in the morning and supplement 5000 IU vitamin D3 daily.
Work your mind and body everyday. If you exhaust your mind and body throughout the day, you will be tired after dinner.
2 weekly massages in the evening. Human touch is essential to feel relaxed — if you're single this can be a huge boost for your sleep.
Meditation: Lie down for 10 min in a quiet room and don't move your body at all and stop breathing through the mouth. Only breathe through the nose and focus on breathing through the nose. You can put on rain or beach sounds if it makes you feel more relaxed.
Stretching: Perform a full body stretching routine at night to help you relax.
Write down your thoughts on a piece of paper: Put a pen and notepad next to your bed and write down any thoughts that are stressing you out.
Stop using electronics at least 1 hour before your bed time and use minimal light in the room. The blue light on your smart phone and TV/laptop screen and strong lights in the room trick your body to wake up and think it's the morning time. This disrupts your circadian rhythm.
Use bluelight blocking glasses a few hours before bed time to increase melatonin production and thereby make it easier to fall asleep.
Stop drinking caffeinated drinks (tea, coffee, energy drinks) after 2 PM.
Avoid alcohol as much as you can since it negatively affects sleep quality. Alcohol has no place in your life while you're trying to change your hormonal profile. You can add it back later once you got normal hormones.
Cut out negative people from your life. They drain your energy and mess up your sleep. Make a list of the 30-40 people you spend the most time with and give them a rating from 1 to 10 regarding how much positivity they bring into your life along with a rating from 1 to 10 regarding how much time you spend with them. If they bring lots of negativity and you spend a lot of time with them, cut them out! (Even if they're your spouse or family members, life is too short for that).
Testosterone Boosting Supplements Are Overrated
Ideally you will not need any supplements to raise testosterone levels.
You can get all the vitamins and minerals you need from a healthy balanced diet and sufficient sunlight each day.
However, a lot of people are not able to afford eating quality seafood several times a week and they're unable to go out in the sun for 1-2 hours a day to optimize vitamin D3 levels.
In this case, supplements make sense.
The only 2 supplements I recommend are a high quality Omega-3 and Vitamin D3.
Get 2000 MG of Omega-3 daily and 5000 IU of vitamin D3 daily from supplements if you can't eat seafood regularly and get enough sun daily.
Don't take any testosterone boosters or estrogen blocking drugs.
These are pretty much all scams.
Testosterone boosters have no impact on your testosterone levels when compared to a healthy diet and sleep regimen.
I made pretty much all of my increase while focusing on diet, sleep, exercise, lifestyle and only supplementing vitamin D3 and Omega-3 when needed.
Estrogen blocking drugs are dangerous because when estrogen levels get too low you will have an estrogen deficiency and that creates the same symptoms as low testosterone: Bad sleep quality, depression, erectile dysfunction, low sex drive and anxiety.
Low estrogen is very difficult to correct, therefore don't take these unless prescribed by a skilled endocrinologist who monitors your blood work regularly.
Testosterone Levels and Lifestyle are Interconnected
When it comes to explaining the increase in testosterone levels, it's also crucial to know that testosterone and lifestyle are interconnected.
In other words, when you change your lifestyle, your testosterone levels increase, but the opposite is also true: when your testosterone levels increase, your lifestyle/behaviour also changes.
Therefore, you can "trick" your body into producing more testosterone by leading the life of a stereotypical "high testosterone guy".
A) Lifestyle traits that are associated with
LOW

testosterone levels
Poor sleep.
Excessive stress.
Poor posture.
Diet high in refined carbs such as junkfood/candy and low in solid foods like meat and eggs.
Risk-averse personality, e.g. not approaching that beautiful girl you see smiling at you, despite wanting to.
Under-muscled physique with feminine fat distribution (your typical skinny-fat guy).
B) Lifestyle traits that are associated with
HIGH

 testosterone levels
Good sleep.
Healthy level of stress.
Positive mindset.
Great posture.
Healthy, balanced diet high in micronutrients.
Risk-taking/adventurous personality.
Muscle and strength.
Imagine a scenario with two different guys. One guy is A the other guy is B.
Guy A works a job he hates, which leads to stress. He stays up late playing computer games to escape his life which leads to poor sleep. He doesn't exercise and eats junkfood on a daily basis which results in a skinny-fat physique. He doesn't have a girlfriend, so instead of going out and finding one, he decides to stay home in his "safety" and watches porn.
Guy B studies medicine which he enjoys. After a long day of studying he goes to the gym for a few hours, then goes home to eat and sleep with his girlfriend. He sleeps like a baby around 9-10 PM after a long and productive day and wakes up early excited to learn more about medicine. He doesn't eat that often since he has no time, but when he does eat, he makes sure to fuel his body with proper, solid foods most of the time, and only eats junkfood occasionally.
Which guy do you think will have the most stress?
The guy who studies something he likes or the guy who works a job he hates?
Which do you think is happiest?
The guy who has a girlfriend he loves, or the guys who watches porn everyday?
Which guy do you think is healthiest?
The guy who eats solid meals, exercises daily and sleeps like a baby or the guy who eats a low-carb diet, exercises just 2-3 times a week and stays up late to play computer games?
Now, imagine if Guy A worked towards becoming Guy B:
He

quits the job he hates

and goes to school to learn the skills needed for the job he dreams about.
He

quits porn

and starts approaching real women to get a girlfriend he can spend his nights with.
He

starts exercising

6 times a week for 1-2 hours.
He

limits junkfood

to Friday/Saturday night and eats 3 balanced meals a day.
He

sleeps like a baby

. At the end of the day he's so tired that he has no energy to waste on computer games.
And the results of his lifestyle transformation would be:
Lower stress levels.

More happiness.

More strength and muscle mass.

Better posture.

Less body-fat.

More energy.

More drive to get work done and hit the gym.
In other words: By transforming your life for the better, you will improve your mental and physical health.
Better mental health + Better physical health = Higher testosterone levels
Therefore, over the long-term you want to transform your whole lifestyle, which will lead to better mental and physical health.
Unfortunately, it takes YEARS to go from A to B. It took me years of hard, dedicated work to make that change.
I personally went from being skinny-fat, not having any girlfriends until almost age 20 and not much social life to having a very active social life, a great physique and having model girlfriends.
I believe that in order to get the best result you have to work on both your body and mind at the same time.
Be proud but stay hungry!
Oskar Faarkrog, ISSA Certified Trainer