Most of you can perform sets of 20+ regular push ups with ease and this makes the push up useless for strength and muscle building, since it's too easy.
20+ reps will mostly build endurance since the upper body responds best to 8-20 reps for muscle building.
In contrast, the diamond push up might be a perfect fit for you since it's a lot harder than the regular push up and thereby fits better into the 8-20 rep range for most guys reading this.
Besides that, compared to other push up variations, the diamond push up sculpts your upper body in a very aesthetic way.
It brings up your upper and inner chest, thereby creating a very masculine look on your chest.
Here's a photo of my chest development after doing diamond push ups: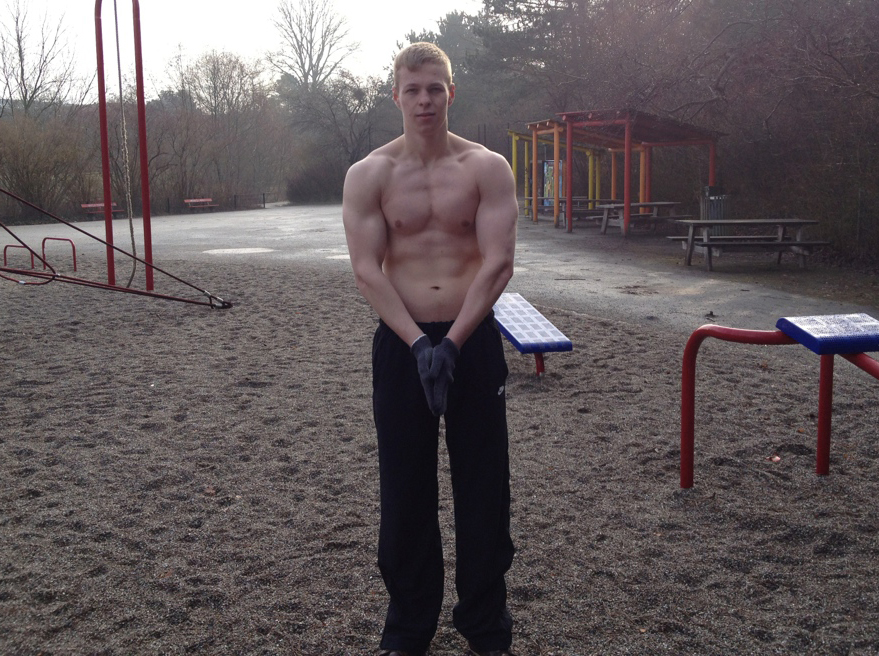 In addition, it's also the best push up variation to grow your triceps and triceps make up 2/3 of your arm size. (So you get the best bang-for-the-buck by doing diamond push ups if you want to build big arms).
To sum it up, diamond push ups are better than regular push ups because they're hard enough to stimulate muscle growth while sculpting your upper body the right way.
How to Do the Perfect Diamond Push Up
EXERCISE INSTRUCTIONS:
From the starting position, your entire body must look like a straight line when viewed from the side.

Place your hands directly under your chest and make sure that your thumbs touch each other or overlap.

Descend slowly while keeping elbows close to your sides.

Pause for 1-2 seconds at the bottom, then push all the way up while keeping elbows in.

At the top, you pause again for 1-2 seconds to feel a nice contraction in your upper and inner chest.

Repeat.
The top and bottom position of the diamond push up should look similar to the pictures below.
EXERCISE COMMENTS:
Before attempting this exercise, make sure that you can do 20 push ups with perfect form (all the way up and down on each rep, 3 seconds on the way down and 2 seconds on the way up).

In the case that you experience any kind of wrist pain, try doing the exercise with wrist wraps until you build sufficient wrist strength for doing it without.

In the case that you experience any kind of shoulder pain, go back to doing regular push ups, and work on strengthening your shoulder with isolation exercises for all 3 shoulder heads.
How to Get Your First Diamond Push Up and Later Progress to 30 Reps
Here's a quick summary of the steps you will have to take, depending on where you're at in your training:
Knee Push Ups:

Work on knee push ups. When you can do 30 perfect reps, move to regular push ups.

Regular Push Ups:

Work on regular push ups. When you can do 30 perfect reps, work on getting your first diamond push up.

Move Hands Closer:

Work on getting your first diamond push up by gradually placing your hands closer and closer.

Diamond Push Ups:

Work on increasing reps on the diamond push up, until you can do 30 perfect reps. When you can do 30 perfect reps, move to diamond push ups with your feet elevated on a bench.

Elevated Diamond Push Ups:

Work on achieving 30 perfect reps with your feet on a bench.

Dips:

Work your way up to 20-30 reps. (Dips work the chest in a similar way to push ups. Read the article Dips vs Push Ups to see the comparison).
Don't Forget Your Diet!
You can do all the diamond push ups in the world, but if your diet isn't on point, you won't gain muscle mass.
Your diet has to be designed to support muscle gains.
If you aren't eating the right foods at the right time and in the right amounts, you won't benefit much from your training because:
Your body won't have the building blocks to support muscle growth.
Your natural testosterone production won't be high enough to support muscle gains.
Your muscles and central nervous system won't be able to recover between training sessions so you will come in weak for your training.
Therefore, make sure to put just as much energy into your diet as your training.
The key to getting your diet right is to focus on boosting testosterone.
Testosterone is the main muscle building hormone in your body and it's the hormone which controls your overall body-composition.
When your levels increase you will find that it's easier to shred body-fat and pack on muscle mass.
I've personally boosted my natural testosterone production with over 150% and they key to do that was to get on a High Testosterone Diet. (Here's my blood work for proof).
You want to follow a High Testosterone Diet that includes testosterone boosting foods while reducing your intake of foods that are estrogenic.
You want to minimise your intake of estrogenic foods such as:
Wheat products: Bread, pasta, pizza, burgers, noodles, beer.
Dairy products: Milk, cheese, yoghurt, milk chocolate.
Refined sugar: Candy, juices that aren't 100% natural fruit.
Soy: Soybeans, soy sauce.
Low quality meats
Alcohol.
Once you've cut out these foods, you want to increase your intake of testosterone boosting foods such as High grade Omega-3 fatty acids, green vegetables, fruits and nuts.
High grade Omega-3 fatty acids and green vegetables are by far the most important for your natural testosterone production because:
Close to 99% of people have a very low Omega-3 Index. When you correct your Omega-3 Index, you will reduce the production of the hormone SHBG which binds to testosterone while boosting the hormone LH which triggers testosterone production. This results in an increase in your free testosterone production.
Green vegetables have a variety of vitamins and minerals that boost testosterone. For example, when you increase your intake of spinach, you will get more magnesium through your diet and magnesium is one of the minerals that boosts your natural testosterone production. And remember, Popeye wouldn't be that strong if he didn't eat his spinach!!
The easiest way to ensure that you get enough Omega-3 fatty acids and green vegetables is to supplement with HIGH GRADE supplements.
You can find my top recommended supplement on this page.
When you combine a testosterone boosting diet with diamond push ups, you will find that your chest, shoulders and arms get sculpted while your waist becomes more trim.
"I Can Do 30 Diamond Push Ups With My Feet Elevated On A Bench, Now What?"
If you can do 30 diamond push ups with perfect form with your feet elevated on a bench, you can do a variety of things to keep progressing:
Want to improve your athleticism? Learn handstands push ups or muscle ups.
Want to sculpt your muscles with gym training? Move to a high volume bodybuilding training program done at the gym.
Want to sculpt your muscles with bodyweight training? Increase your training volume and frequency and reduce rest time between sets with the diamond push ups to keep building muscle with them. (How to Get Muscular With Calisthenics).
I moved on to doing all 3 at separate times in my training career and the diamond push up provided a great strength foundation for all of them.
Be proud but stay hungry,
Oskar Faarkrog