I often talk about getting lean as the first step in your Skinny-Fat Transformation.
Unfortunately, a lot of guys confuse getting lean with getting a fully visible 6-pack without flexing.
There's a huge difference.
When I talk about getting lean, I mean around 12% body-fat.
In my case, I have a pinch on my love handles, and just slightly visible abs at around 12% body-fat:
The picture above represents the look I have throughout most of the year. I'm about 190 pounds.
I put two pictures to show you how much of a difference good posture makes. I usually keep my abs slightly flexed (left pic) to keep good posture.
After years of doing this, it's 2nd nature to me.
Now, when I fully relax my stomach, I don't have visible abs. That's normal, and nothing to worry about.
I'm telling you this, because I get a lot of emails from guys who think that they need to have fully visible abs WITHOUT flexing to be considered lean.
That's not true.
At 12% body-fat you usually have a somewhat flat waist, and 2-4 visible abs in good lighting. 
A pinch on your love handles is okay. That's the kind of leanness I want you to aim for.
I Lost 60 Pounds and Still Had No 6-Pack
I never cared much about abs. I wanted a flat and small waist, but I never cared if it shows a 6-pack or not.
However, after being into fitness for a few years, I had been brain-washed into believing that you need a 6-pack to be considered lean.
So, I lost 60 pounds of bodyweight and ended up at just 177 pounds at a height of 6″2.
Did I have a 6 pack after cutting all that fat? No I didn't. I just looked starved and weak: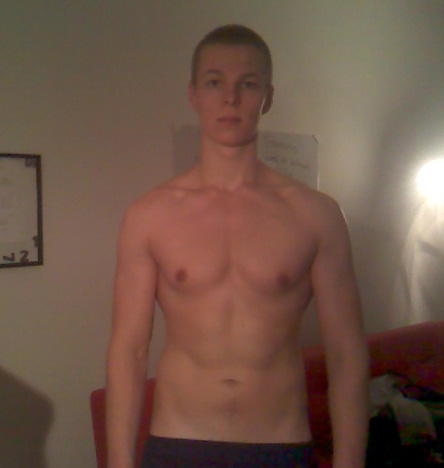 I looked starved and weak, because that was reality. I was starving myself to get so lean, and I could barely complete a workout.
During my fat loss, I discovered that fat loss follows the law of diminishing returns; after a certain point it takes A LOT MORE effort to continue losing fat:
For me, that point is around 10-12% body fat. To get lower than that, I have to eat something like 2000 calories and train 5 times a week!
For me, 2000 calories is NOTHING. I often eat dinners that are over 1500 calories.
Now, to maintain the physique I have now, I can eat as much as I want, and remain lean as long as I train hard 4-6 times a week.
That's a much better way to lead life. If I want to, I can go for a kebab after my training session, and not worry about my abs disappearing.
Does that mean that I'm against getting a 6-pack? Not at all.
It just means that not EVERYONE is meant to have a 6-pack…
The Price of Getting a 6-Pack for a Skinny-Fat Guy
I lost 60 pounds of fat, but decided to stop my fat loss before I achieved a 6-pack.
At that point, I had veins around my waist and no fat to pinch. My body was lean pretty much all over.
I was probably 5 pounds away from having 6-pack abs for the first time in my life.
So, why didn't I continue my fat loss? I didn't continue because I didn't WANT to.
I knew that even if I got a 6-pack, I wouldn't be able to maintain it over the long-term.
It's not worth having great abs at the expense of well-being and health.
During the last month of my fat loss, I felt terrible and couldn't function properly:
I couldn't concentrate since my mind was always thinking about food.
I had no energy to complete a good workout.
My reps on bodyweight exercises decreased despite losing weight.
My mood was VERY bad.
I couldn't get a pump when training, and my muscles looked deflated.
After a month of dealing with this, I decided to start eating like a man again and bulk up. Within a few months I was at 190 pounds and looked better than ever before: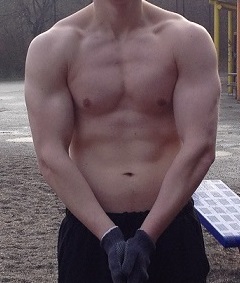 I won't deny, a 6-pack looks great, but so do wide shoulders.
Wide shoulders make your waist look small, even when you carry some body-fat. I can live with that, since it enables me to eat all my favorite foods in unlimited quantities.
Not Everyone Is Meant To Have A 6-Pack
There are people out there who naturally have fully visible 6-packs without flexing or anything. Some of them have always had them, and maintain a ripped physique without any effort put into their diets.
There are also guys out there who can maintain a 6-pack as long as they work out and watch their eating.
Now, on the other hand, there are guys out there who can lose a lot of fat, and still not have a 6-pack. They reach a point where fat loss pretty much stops, and to lose that last bit of fat, they have to starve themselves.
That last group, largely consists of guys who tend to be skinny-fat or just regular fat.
And that's because some people are just meant to carry more body-fat than others. People have different GENETICS!
Starving yourself is not a good long term solution.
When you try to maintain a body-fat which is too low for your body, your testosterone levels will drop, and you may experience the following symptoms:
Brain fog.
Low libido (no morning wood).
Bad mood.
No drive to get things done.
Strength decreasing a lot.
It's fine to experience some of those when losing fat once in a while. That's just part of being in a caloric deficit.
However, you shouldn't feel like that most of the time. That's a sign from your body that something is not working. Listen to your body!
Unfortunately, I didn't test my testosterone levels when I was at my lowest bodyweight of 177 pounds, but I know two things for sure:
At 177 pounds of bodyweight I could max out 15 chin ups. At 190 pounds I have maxed out 25.
At 177 pounds of bodyweight I had no libido, no drive and felt depressed. At 190 pounds my libido, drive and mood are great.
Now, ask yourself if you want to pay that price and be on a strict diet your whole life?
If you're anything like me, you won't pay that price. Why would you if you're not making a living of your body?
Be proud but stay hungry,
– Oskar Faarkrog