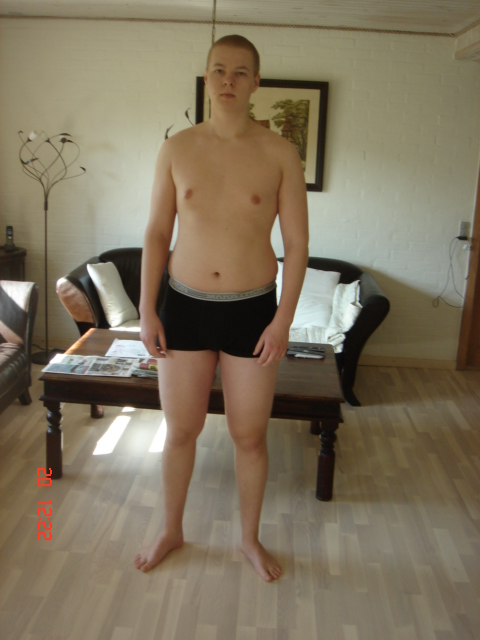 Today, low testosterone levels are an epidemic.
When you walk around on the street, you see men with feminine fat distribution and under muscled physiques everywhere.
And when I say men, I don't just mean older men. You see low testosterone levels in young guys too.
Testosterone is crucial for any fitness enthusiast, since it is responsible for muscle mass, strength and bone density.
With low testosterone levels, you just aren't going to build that much muscle in the gym.
However, they are not only crucial for fitness enthusiasts.
They are crucial for any man who wants optimal life quality!
Testosterone is the male hormone of vitality: it makes you strong, active, energetic and motivated.
Those traits are needed to succeed at anything in life. (Including fitness).
Unfortunately, I suspect that a large amount of skinny-fat guys have low testosterone levels.
Low testosterone symptoms
Lack of muscle mass and difficulty to gain muscle.
Feminine fat distribution (hips and love handles).
Low libido.
Low energy levels.
Low stamina.
Depression.
Weak joints.
The symptoms above are the most common low testosterone symptoms seen in men.
However, reading about symptoms can be confusing.
Let's assume that you have weak joints, depression and low energy levels. Does that mean you have low testosterone levels? No.
The symptoms above are associated with hundreds of medical conditions.
Fortunately, there's one extremely good indicator of low testosterone levels: the lack of morning wood.
Men with good testosterone levels wake up and think of sex as the first thing in the morning.
If you wake up most days of the week without morning wood, there's a good chance you're lacking testosterone.
Skinny-fat men and low testosterone symptoms
The figure above shows a typical skinny-fat guy's body. +90% of skinny-fat guys look like that figure.
Now, compare that figure with the symptoms of low testosterone:
Lack of muscle mass and difficulty to gain muscle: CHECK.
Feminine fat distribution (hips and love handles): CHECK.
Low libido: POSSIBLY.
Low energy levels: CHECK.
Low stamina: CHECK.
Depression: POSSIBLY.
Weak joints: CHECK.
In other words, a skinny-fat body is an indicator of low testosterone levels.
Therefore, if you're skinny-fat, I suggest that you get your testosterone levels measured.
How to get your testosterone levels measured
Getting your testosterone levels measured is simple:
A nurse swipes some blood from you, and sends it in for testing.
After a week or so, you get your result through your doctor or sent by email.
Each country has their own specific procedures which I'm sure you can look up online.
In case you can't find your answer online, I suggest you make an appointment with your doctor so you can explain your problems.
I know that for US citizens, you can get a female hormonal panel done privately for around $60 at PrivateMD labs. (A female hormonal panel is cheaper than male, and is sufficient for most of you).
Thing to watch out for when testing testosterone levels
There are a few things you have to watch out for when getting your testosterone measured.
First, you want to make sure that you sleep well, eat well and avoid alcohol prior to the test.
Those things can skew the results a lot. There are bodybuilders out there who deprive themselves of sleep, food and get wasted prior to a test so they can get a low testosterone level result, and thereby get testosterone injections prescribed.
Second, you want to take the test in the morning where your testosterone levels are the highest.
Finally, you always want to get your results printed out. Don't just rely on the doctors statement that you're good. (More on this in the next sections).
Being "in-range" is not good
Prior to receiving your testosterone results, you want to do your own research first, because nobody else is going to do it for you.
The first time I got my results, my doctor told me that I'm "healthy and in-range" despite having a level of 297 ng/dl which corresponds to the average of an 80 year old man's!
Yes, I was "in-range", however, being in range is not good, since the range shows average testosterone levels for young men, middle aged men and old men.
Often, the range goes from something like 300 ng/dl to 1200 ng/dl, where the upper end of the range mainly consists of the samples of young men, while the lower end consists of samples of older men.
If you're a young man with a level of 300 ng/dl, the doctor will tell you that you're in range, despite having the levels of an old man.
You don't want to aim for "being in-range." You want to aim for optimal levels so you can improve your life quality.
Optimal testosterone levels
Source: Men's Hormonal Health
Older men above the age of 59, typically have levels of 300-500 ng/dl. (This chart doesn't show that, but this is what I've seen on most charts). The chart above shows average testosterone levels, organised by age group.
A male who is below the age of 25, has an average testosterone level of 692, while a male who is 55-59 has an average level of 552.
If you're a guy who is serious about his fitness, you want to aim for around 600-700 ng/dl, which is seen in average men up to the age of 44.
600-700 ng/dl is the minimum acceptable testosterone level for a healthy man.
However, the more, the better.
As a skinny-fat guy it's impossible to get too high levels of testosterone through natural methods.
Your best efforts will most likely get you to around 600-700 ng/dl, so there's no reason to worry about getting "too high levels". It's just not going to happen.
Treat low testosterone symptoms, not numbers
Let's assume that you've gotten your testosterone results in and got a score of 550 ng/dl.
This is slightly lower than what I recommended in the section above, but it doesn't matter if YOU feel great.
Numbers can be a good starting point, but in the end it's all about treating low testosterone SYMPTOMS.
When the symptoms are gone, the number doesn't matter. Who cares if the number is 550 ng/dl or 800 ng/dl if you're feeling energetic, motivated, have good libido and make progress in your training?
Each person's body functions differently, so a guy who has a level of 550 ng/dl can feel better than a guy with over 800 ng/dl.
Be proud but stay hungry!
Oskar Faarkrog