Do you want want to look great naked, feel good about yourself and attract positive attention to your body?
I bet you do.
If you're anything like me and most other people, you have an ideal physique in your mind.
My image of an ideal physique is similar to that of the classical bodybuilder Steve Reeves, pictured on the right.
Compared to modern top-level bodybuilders, he looks phenomenal.
He is lean and muscular without looking like a freak that was produced in a laboratory.
In this article, I will explain why Steve Reeves' body looked aesthetic compared to modern bodybuilders, and I will present formulas that you can use to develop the perfect physique.
Let's get started:
Modern Bodybuilders Do Not Represent Aesthetics
If you look at most competitive bodybuilders today, they are much bigger and much leaner than Steve Reeves, but they lack the aesthetics.
Take a look at 3 of the best modern bodybuilders: Jay Cutler, Kai Greene and Phil Heath.
When I see the picture above I'm impressed by the work they have put into their bodies, but I would never want their physiques.
Modern bodybuilding physiques are not aesthetic.
They are overdeveloped everywhere while being at an extremely low body-fat level that just looks unhealthy.
This overdevelopment is mostly seen in the traps, legs and abs.
They have big guts that stick out further than their chest, huge traps that make them look like they have no neck and bulky thighs that are almost the size of their torsos.
Aesthetics vs. Mass
Now, take a look at Steve Reeves and compare him with the bodybuilders above:
Steve Reeves was smaller and had a higher body-fat level than the top bodybuilders today, but he looked much better.
He looked better because his goal was to build a proportionate physique instead of mindlessly adding as much muscle as possible all over his body.
To be specific, Steve Reeves looked better than modern bodybuilders because of the following reasons:
He had a smaller waist creating the illusion of a greater V-taper: He never trained abs directly so he could keep his waist tiny.
He had smaller traps: He never trained traps directly so they wouldn't overdevelop.
He had thighs, calves and glutes that were proportional to his upper body: He always trained legs as the last thing in his training, after completing his upper body training.
He had a healthy body-fat level: He was very lean, but he was not so shredded that you could see striations and veins everywhere. He didn't diet down to unhealthy body-fat levels that wreck the testosterone levels of a natural bodybuilder.
In other words, Steve Reeves looked better than modern bodybuilders because he didn't take bodybuilding to an unhealthy extreme.
Another great example of an aesthetic body is MMA fighter, Georges St-Pierre. He is just 170 pounds at 5'10" yet he looks amazing: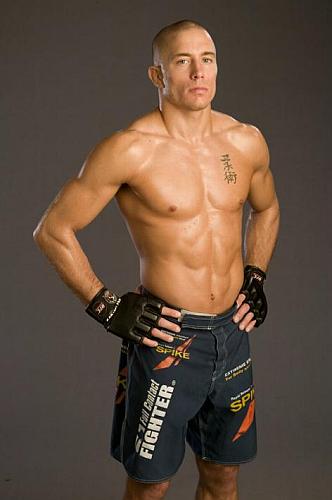 And here's Frank Zane, another classical bodybuilder who weighed "just" 185 pounds at 5'9″:
Steve Reeves, Georges St-Pierre and Frank Zane show that proportions are more important than just mindlessly adding muscle all over your body.
The 5'7″ guy with perfect proportions will look better to the average person than the 6'4″ bulky bodybuilder at 260 pounds.
You Can Change Your NATURAL Proportions
Unfortunately, your natural proportions are largely determined by your bone structure.
I say unfortunately because you cannot change your bone structure.
Here's an example of Ryan Gosling who has the worst bone structure for aesthetics: wide hips and narrow shoulders (in this picture he had already gained a lot of muscle mass for a guy with his genetics, but you can still see he has naturally narrow shoulders and wide hips):
And here's an example of Steve Reeves with the perfect bone structure for aesthetics: narrow hips and wide shoulders (picture is taken before he started training):
If you put both guys on the same training routine and ask them to add as much muscle mass as possible, both of them will simply become bigger versions of themselves:
Ryan Gosling will add a lot of size to his lower body, abs and traps.
Steve Reeves will add most of his size to his shoulders, lats, arms and chest.
In Steve Reeves' case, he will look even better than when he started, but Ryan Gosling will will lack a V-taper on his upper body and his arms will look tiny compared to his lower body.
This is what happens when you chase unclear goals such as "I want to be 220 pounds at 8% body-fat because Steve Reeves was 220 pounds at 8% body-fat ".
You focus so much on adding size all over your body that you forget all about PROPORTION.
Remember, aesthetics are not based on how BIG you are but on how proportionate you are.
Unfortunately, your bone structure determines your natural proportions, but the right type of training can change those proportions.
To be specific, the right type of training for aesthetics focuses on developing wide shoulders while maintaining a tight waist and a proportionate lower body.
The Golden Ratio of Aesthetics
Architects, designers, painters and other types of artists are known to create objects based on the golden ratio of 1.618.
This means that if they draw a rectangle, one side will be 1.618 times longer than the other side.
To relate this to bodybuilding, sculptures of bodies often have a golden ratio between the shoulders since this ratio is naturally pleasing to the eye:
In other words, body sculptures of men often have a shoulder-to-waist-ratio of 1.618.
Hugh Jackman in peak shape displays the golden ratio: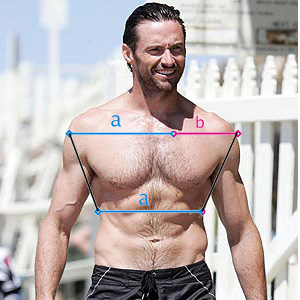 The reasoning is that men with shoulders that are wide relative to their waist signal good physical health:
Wide shoulders = Strength.

Narrow waist = Healthy body-fat level.
Those traits increase your attraction and they will make other people respect you more.
How to measure your shoulder-to-waist-ratio:
Step 1:

Stand straight with your back against a wall in a relaxed state with your arms down.

Step 2:

Use a pencil to make a mark close to the widest point of each of your shoulders.

Step 3:

Use a pencil to make a mark close to the WIDEST point of your waist. (Do not measure at the narrowest like in the picture with Hugh Jackman).

Step 4:

Use a tape to measure the distance between the shoulder points and the waist points.

Step 5:

Divide your shoulder width measurement with your waist width measurement to obtain your shoulder-to-waist ratio.
(You can ask someone to make the marks on the wall for you, or you can do them yourselves. If you do them yourself, do the test 3 times and use the average shoulder-to-waist ratio to get the most precise result.)
If you're like most skinny-fat men, your shoulder-to-waist-ratio probably falls somewhere around 1.1-1.3.
If that's you, make it your goal to reach a shoulder-to-waist-ratio of 1.618 or for simplicity's sake: 1.6. Measure your ratio once every two weeks and note down the numbers somewhere visible in your room so you can see your progression. A white-board is great for this purpose.
In my experience, the golden ratio is by far the best LONG-TERM goal to start your journey for aesthetics, because it forces you to keep your waist tight while adding mass to your shoulders, lats and upper chest.
This goal is simple, yet specific enough to steer you in the right direction in your skinny-fat transformation.
The shoulders, lats and upper chest are by far the 3 most important muscle groups to develop when you're a skinny-fat guy.
My shoulder-to-waist ratio transformation
To showcase the importance of training for proportions, rather than overall size, take a look at my progress picture below:
Pictured: Me in December 2011 vs. December 2014 (Same bodyweight, around 200 pounds)
In the first picture I had been training for almost 2 years, but at that time I didn't know about the golden ratio.
I just mindlessly added as much muscle mass as I could. Most of that mass went to my thighs, glutes, traps, lower chest and abs (I had big abs hidden under that layer of bloating/fat).
But how about arms, shoulders, upper chest and lats? I had a bit of lats, but the rest were pretty much non-existent!
Now, the interesting part is that I'm not MUCH bigger than I was 3 years ago. In fact, I'm at about the same bodyweight and I'm slightly leaner and slightly more muscular.
The big difference is that right now I carry my muscle mass in the right places, thereby creating an illusion of being bigger than I actually am!
To be specific, I have slightly bigger shoulders, upper chest, arms, upper back and lats and I'm slightly smaller around my waist and hips.
The difference is so big that earlier, my shoulder-to-waist ratio was around 1.35 and now it's 1.56.
I'm telling you this to give you some perspective on how crucial it is to tailer your training to your needs.
If you've trained incorrectly for years without results there's still hope.
Steve Reeves' Ideal Measurements
The golden shoulder to waist ratio is a great initial long-term goal to set for yourself, since it can be achieved by anyone who is willing to put in the effort.
However, once you achieve this goal you may want to take it a step further and aim for Steve Reeves' ideal measurements:
Source: BodyBuilding.com
Keep in mind that when you measure your pelvis, you're supposed to use the LEAN measurement, otherwise you will get an inflated chest size number.
To get the lean measurement, just pull the tape tight around your pelvis to squeeze the fat away. The reasoning is that we assume you will cut down and get lean once your desired level of muscular development.
Also, your head should be measured like this:
Finally, your arms and calves should be measured flexed (without a pump) while the rest is measured in a relaxed state.
I believe that Steve Reeves' formulas are as close to perfect as one can get, because they are all based on proportions.
Also, the proportions clearly work. Steve Reeves was very close to achieve his own definition of an ideal physique with the following measurements:
Arms: 18.5
Calves: 18.5
Neck: 18.5
Thighs: 27
Chest: 54
Waist: 30
Can Everyone Build The Perfect Physique?
Since I'm extremely close to having the golden ratio (I will have it once I cut down for spring), my new long-term goal is to achieve Steve Reeves ideal measurements.
Here's how I stack up against his ideals:
Keep in mind that I use my lean pelvis size (when I don't squeeze the fat, I have a 104 CM pelvis).
According to Steve's ideals, I need to work the most on my chest circumference which is done by adding size to my upper back, lats and chest.
I'm surprised by this finding since my back is my most developed body part, and I added over 4 inches to my chest circumference during this 2 month bulk, yet I'm so far away from this ideal.
I believe that the reasoning to my "underdeveloped" chest circumference compared to my hips is mainly genetic.
If you're a guy with wide hip bones and a narrow torso, it will be very hard to achieve a chest size that is 48% bigger than your pelvis size.
However, that shouldn't stop you. 5 years ago I would never have thought that I could achieve the physique I have today. Back then I just wanted a "normal" body.
Similarly, today, the goal of achieving Steve Reeves' measurements seems to be very far away, but that won't stop me.
I will train hard for the rest of my life or until I'm unable to do so, therefore getting as close as possible to Steve Reeves' measurements is one of my life goals.
I don't care whether it takes me 10-20 or 30 years. If you love what you do, time flies. I can still remember my first gym session as if it was today.
Therefore, stop thinking about whether you can achieve some type of physique or not. Instead, do the hard work and do your best to get as close as possible to that goal. If you love what you do, the journey itself will be worth 1000 times more than the destination.
To end this article, I want to ask you 2 questions:
What exactly is your ideal physique? Can you name any people that have this ideal physique? 
Do you believe that YOU can achieve this physique? If not, what's holding you back?
I look forward to hear you answers.
By the way, should it happen that you found this article useful, be sure to follow my daily updates on my facebook page and instagram.
Be proud but stay hungry!
– Oskar Faarkrog