Throughout all my teenage years and early 20s, I had puffy nipples that were visible in t shirts.
Needless to say, they had a massive impact on my confidence.
I was anxious to take my shirt off at the beach.
I didn't want to have a girlfriend, because I didn't know how she would react when she saw my soft chest.
Also, I had really bad posture.
I slouched my shoulders forward to try and hide my puffy nipples, but that just made me look worse.
After years of suffering with puffy nipples, I decided that enough was enough.
I wanted to get rid of them, and enable myself to live a good life.
Today, my chest looks great, and my puffy nipples are barely visible anymore!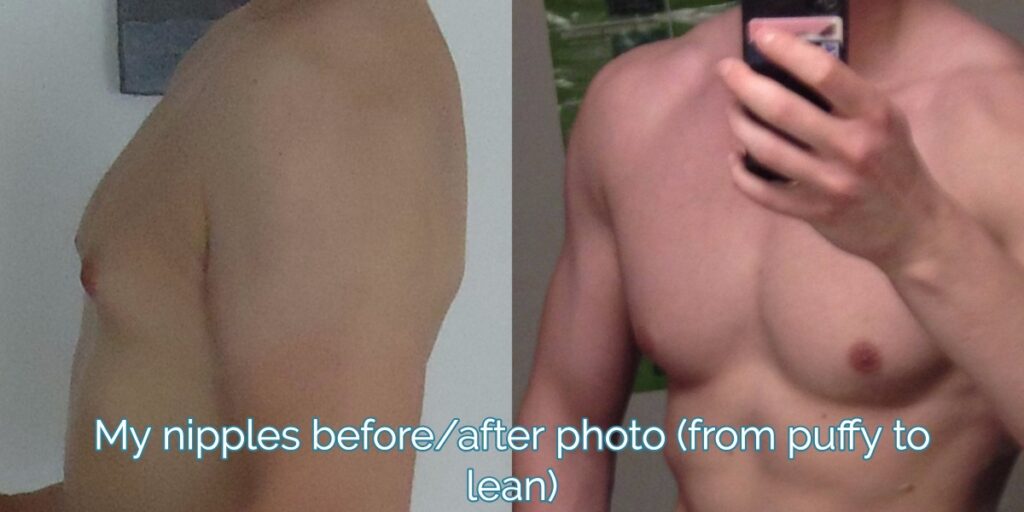 In this article, I will teach you the following things:
The 2 reasons to why you have puffy nipples.
The importance of optimizing your hormones before even considering any surgical procedure.
How to improve the aesthetics of your chest naturally with training.
Why all man boobs pills like Gynexin and testosterone boosting pills are scams and a waste of money.
Let's get started:
Why You Have Puffy Nipples (2 main reasons)
Before I move onto explaining how I reduced the size of my puffy nipples, you need to know WHY you have them in the first place.
If you have puffy nipples, they are a result of one of the following two things:
Excess body-fat in your lower chest area.
A medical condition called Gynecomastia. (Gynecomastia is a development of a gland in your lower chest as a result of hormonal imbalances during puberty or steroid usage).
A combination of 1 + 2. (I personally had Gynecomastia).
So, how do you know which one YOU have?
To find out which one you have, simply put two of your fingers around your nipple and squeeze. (Put the fingers right behind the nipple like in my picture below):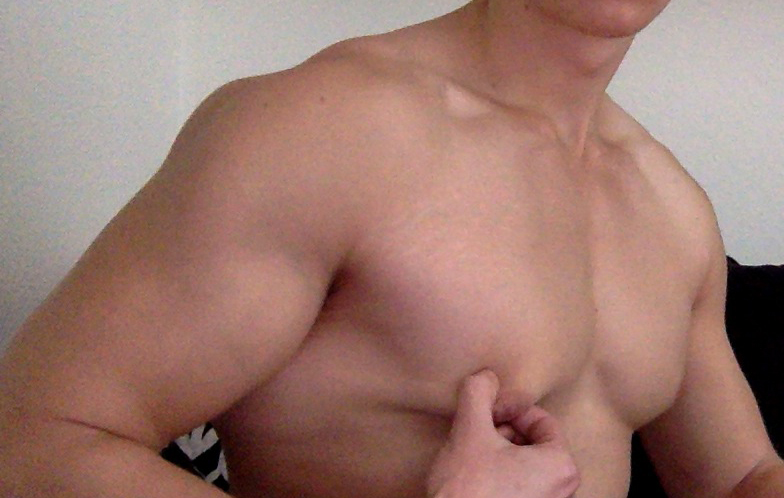 Checking for gynecomastia
However, in a small amount of cases (I believe it's about 10%), the gynecomastia doesn't go away in 2-3 years!
I'm one of these 10%: I got gynecomastia at age 13 and it never went away naturally.
If you've had gynecomastia for more than 2-3 years, there's only one 100% solution: surgery where they remove the glandular tissue.
And if you've had it for less than 2-3 years I have great news for you: You are still within the time-period where this can be reversed naturally by optimizing your natural testosterone levels.
The surgery is a quick 30 min procedure that can be done with local anaesthesia and the recovery time is typically around 7-14 days.
The price of a surgery like that is usually 3000-6000 USD.
No amount of fat loss will remove your gynecomastia, since it's glandular tissue and not fat tissue!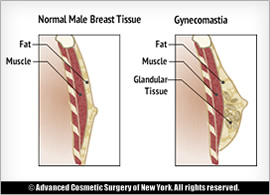 Fat loss won't help if you have gynecomastia as a result of glandular tissue
However, if you have a mild or moderate case of gynecomastia like I used to have, you can still build a GOOD-looking chest without investing 3,000-6,000 dollars in surgery.
Surgery should only be done if you are still dissatisfied with your chest after spending a few years packing on muscle mass in the right places and losing body-fat!
You need to go through the process of optimizing your body naturally first because if you go in and get surgery before optimizing your hormones naturally, the gynecomastia gland can come back after surgery.
And if you are one of the guys who got man boobs because of excess body-fat, chances are that your hormones are out of whack too.
Therefore, it's very important that no matter what your starting point is, you go through the process of natural hormone optimization, fat loss and exercise first.
You have to attack the root cause of man boobs which is a high conversion of testosterone into estrogen.
And this is done without any pills or powders. The most important elements of optimizing the testosterone:estrogen ratio are diet, training and sleep.
Here are some of the symptoms of low testosterone/high estrogen levels:
Hard time gaining strength and muscle mass on the upper body.
Excess body-fat around the lower waist and lower chest.
Man boobs.
Weak skeletal structure (small ankles, wrists and shoulders).
Lack of morning wood.
Brain fog / ADHD.
Depression.
Anxiety.
Sleep problems and low energy levels.
Skin problems such as acne.
Mood swings.
As you can see, the symptoms of low testosterone are nearly identical to being skinny-fat: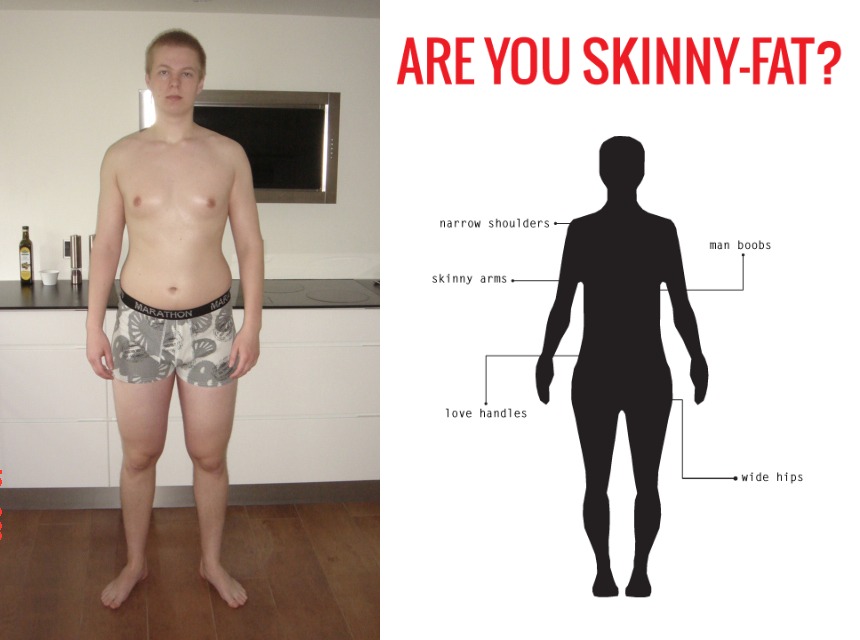 Having low testosterone is common today among young men and that's a problem because testosterone is the master hormone of men.
It controls all major functions in your body and men with low testosterone on average have much more health problems such as high cholesterol, high blood sugar and high blood pressure and live much shorter lives.
Therefore, your physique is an overall image of your health markers.
The root cause of low testosterone is often a combination of poor diet, bad sleeping habits, use of pharmaceutical drugs and women becoming pregnant at a later age.
I know because I raised my own testosterone levels naturally with 270% and went from being deficient at age 18 to having the highest reading they ever saw in my hospital. (My official blood work can be found in this article).
With diet one of the most important things you can do right away is to completely cut out dairy products which includes whey protein, cheese, butter, milk, milk chocolate, a lot of snack products and breads (make sure to read labels) and yoghurt.
Also watch out for dairy when eating out in restaurants.
Many thick sauces and mashed potatoes are made with butter, cheese or milk.
Cutting out dairy is important because dairy products increase the conversion of testosterone into estrogen (the female hormone).
Another thing that increases the conversion of testosterone into estrogen is high body-fat levels.
Therefore, when you're someone with a soft physique and high body-fat levels and you consume a lot of dairy products, you exacerbate the problem.
The key is to work on cutting out dairy while eating a diet high in micronutrients that allows you to shed all that body-fat and while also getting good sleep (most of your hormones are regulated during sleep).
Over time as you do that, your hormonal balance improves, the same will go for your body-composition.
With the right training and hormonal optimization, you will be able to pack on more muscle mass on the upper body, recover faster between training sessions and lose more body-fat.
I want to emphasize that while you go through the process of cleaning up your diet, the emphasis should be on healthy carb and fat intake, not protein.
Protein overall is overrated and has minimal impact on your natural testosterone production.
It's the protein sparing nutrients: Carbs and fats which are responsible for most of your hormonal production.
Do not make the mistake of doing a low carb or low fat diet!
It's about getting that sweet spot balance where you get just enough protein to gain muscle mass and then distribute the rest of your nutrition into healthy carbs and fats.
Also, do not rely on any estrogen blocking drugs, man boob pills or testosterone boosting supplements.
Why? Because supplements and man boob pills have close to 0 effect on your hormonal balance and overall results when compared to diet and training. It's all about doing the hard work and attacking the lifestyle root causes!
All these people selling pills and supplements are scamming you out of hard earned money.
On the other hand, estrogen blocking drugs are VERY effective but dangerous because they can suppress estrogen too much.
When you take estrogen blocking drugs you can end up with having an estrogen deficiency and that will cause similar symptoms as low testosterone (infertility, low sex drive, erectile dysfunction, low energy, bad sleep quality and depression).
So you'll trade one problem for another.
Never take any hormonal pills without the supervision of a skilled endocrinologist that tracks you on a regular basis and knows their stuff.
The key is to find the root causes in your lifestyle and attack those head on. Not add more pills, powders or drugs to the mix.
If you suspect that you have low testosterone I suggest you read thoroughly through my article The 2 Phases of a Skinny-Fat Transformation where I cover it in-depth.
Sculpt Your Upper Chest With the Right Exercises
In addition to raising your testosterone levels you have to work your upper chest hard.
This is the hardest part to develop, however it's the part that gives you that squared masculine look.
You want to avoid training the lower chest, since the puffiness of the nipple is located in the lower part of the chest.
Therefore exercises such as the flat bench presses will simply make the puffiness worse.
Instead, you want to focus your chest training around the exercises below:
Diamond push ups.
Wall push ups.
Incline DB pullovers.
High Incline DB Flyes.
Low to high resistance band flyes.
Handstand push ups.
Overhead presses with barbell or dumbbell.
These exercises are all going to fill out the upper chest area.
I highly recommend that you combine this with training the lats, shoulders and arms.
When you fill out all these areas, you develop a V-tapered upper body and that taper will detract the attention away from the look of your puffy nipples.
By only training the chest you're only hitting roughly 20% of the upper body, therefore you're leaving a lot of muscle gains on the table.
If you can't do 15 chin ups and 30 diamond push ups with clean form, then I recommend that you start building your foundation with bodyweight exercises first.
Do not waste your time on doing heavy barbell programs like Starting Strength or StrongLifts 5×5 or doing excessive amounts of cardio.
Heavy weights and high impact cardio such as running are not optimal for transforming your body because they're too taxing on your body when you have a low testosterone production.
When performing too taxing exercise you raise the hormone cortisol too much which in turns lowers testosterone.
The key to start with is to do mostly higher rep bodyweight exercises because they can be done daily without much fatigue.
They also target all the right muscles on your upper body.
The 3 bodyweight exercises I recommend are:
Chin ups: Lats, biceps, rear delts.
Diamond push ups: Upper chest, triceps, front delts.
Squats: Thighs and glutes.
These hit all the muscles you want to develop to develop that V-tapered physique with a squared chest.
These are essentially the exercises I used to build over 40 pounds of muscle mass in the right places.
You can do them daily for high reps and get that constant stimulus and blood flow going which is crucial when you are a hardgainer with low testosterone and puffy nipples.
Later once you become a master of moving your own bodyweight through space, you can also do weighted pull ups and dips to get a powerful signalling effect.
When you combine the correct training with hormonal optimization, you attack the problem from all angles.
You create the right internal environment for your body to improve while also providing the stimulus from daily bodyweight training.
The result? A complete physique transformation and much better hormonal health markers.
Here's an example of my client Logan from the US who went through my Online Transformation Program and built an amazing chest:
And here is Rikesh Murali from India:
And Harshit Godha from India: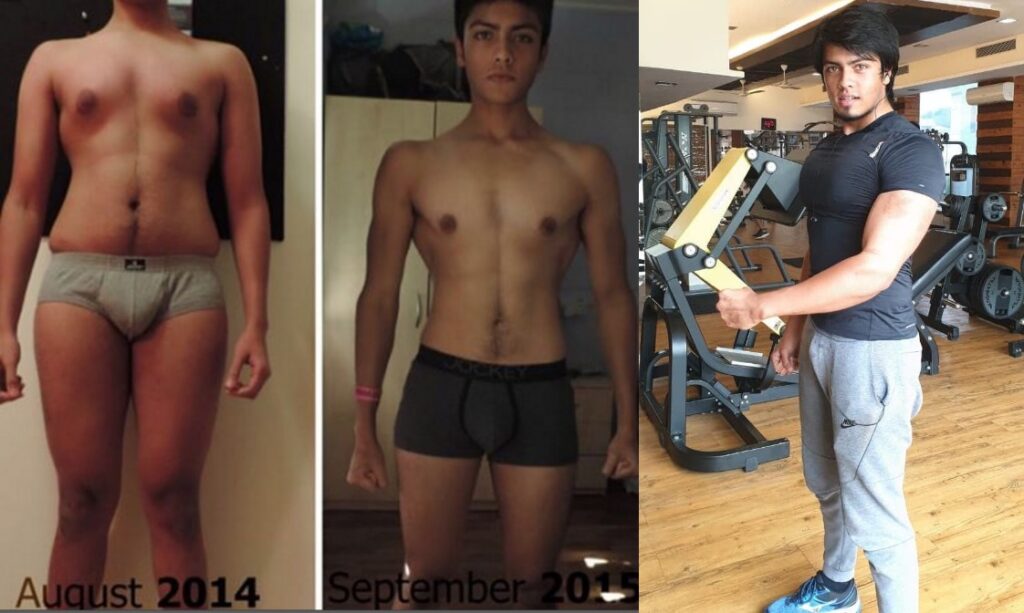 They all followed the strategies from my Online Transformation Program which revolves around bodyweight training and hormonal optimization.
Be proud but stay hungry,
– Oskar Faarkrog, ISSA Certified Personal Trainer