A few years ago I browsed a fitness forum and I came across the term If It Fits Your Macros (IIFYM).
For those of you who are unaware, macros (macronutrients) are composed of fat, protein and carbs.
The argument goes that each of the macros has a function, therefore hitting the right amount of protein, fats and carbs is all you need to do to achieve optimal health and fitness.
In other words, I could eat a diet of butter, toasts and protein powder and hit all my daily macro goals!
Here's a quick example of a butter, toasts and protein shake diet:
The diet is hitting some decent macros with 168 grams protein, 157 grams carbs and 113 grams fat.
I could easily modify any of the foods and hit pretty much any macros I want to.
Obviously, eating a diet of butter, toasts and protein powder won't optimize your health and fitness.
It's outrageous to even think it would, but that is exactly what the IIFYM approach says it would.
Because of that, I never cared to write about it.
That is, until I started seeing that "macro coaching" got popular in the fitness community on YouTube.
When you sign up for macro coaching, the fitness guru sends you a list of macros you have to hit each day, and then you can eat anything you want to hit those numbers.
This isn't real "coaching", it's just programming which everyone could do by themselves with a quick google search.
Now, let's move on to "Why IIFYM doesn't work".
Why IIFYM Doesn't Work
IIFYM doesn't work because the type of food you eat matters for both your health and fitness.
Good food choices optimize:
Digestion.
Health.
Hormones.
Energy levels.
Good Digestion Is A Sign of Good Health
You can take two foods which are the exact same, but your body will digest them differently.
For most people, there's a huge difference between eating white toast or brown rice for carbs.
When I eat white toast I get constipated and bloated to the point where I look pregnant.
The same goes for most other wheat foods such as flour, pizza, cereal and dairy products such as milk, cheese and milk chocolate bars.
I'm sure you have some foods that bloat or constipate you too.
Now, the way you digest the food you eat is crucial because the food you eat has to be changed into smaller molecules of nutrients before it can be absorbed into the blood and then transmitted to the cells in your body.
In other words, when you don't digest food well, you don't provide the cells with the amino acids, carbohydrates, fat and vitamins that are needed for optimal cell function and optimal cell function is responsible for your training recovery and ability to build muscle mass.
Health: Good Food Choices Can Prevent Alzheimer's, Cancer and Heart Failure
Eating foods you don't digest well will lead to chronic inflammation inside your body.
Chronic inflammation matters for your health, because as mentioned in my previous article about Omega-3, it is the root cause of most modern diseases such as Alzheimer's, cancer and heart failure.
The Chronic Inflammation Model below is made by neurosurgeon, Dr. Brett Osborn who performed over 1,000 brain surgeries and it lists the modern diseases which are caused by chronic inflammation.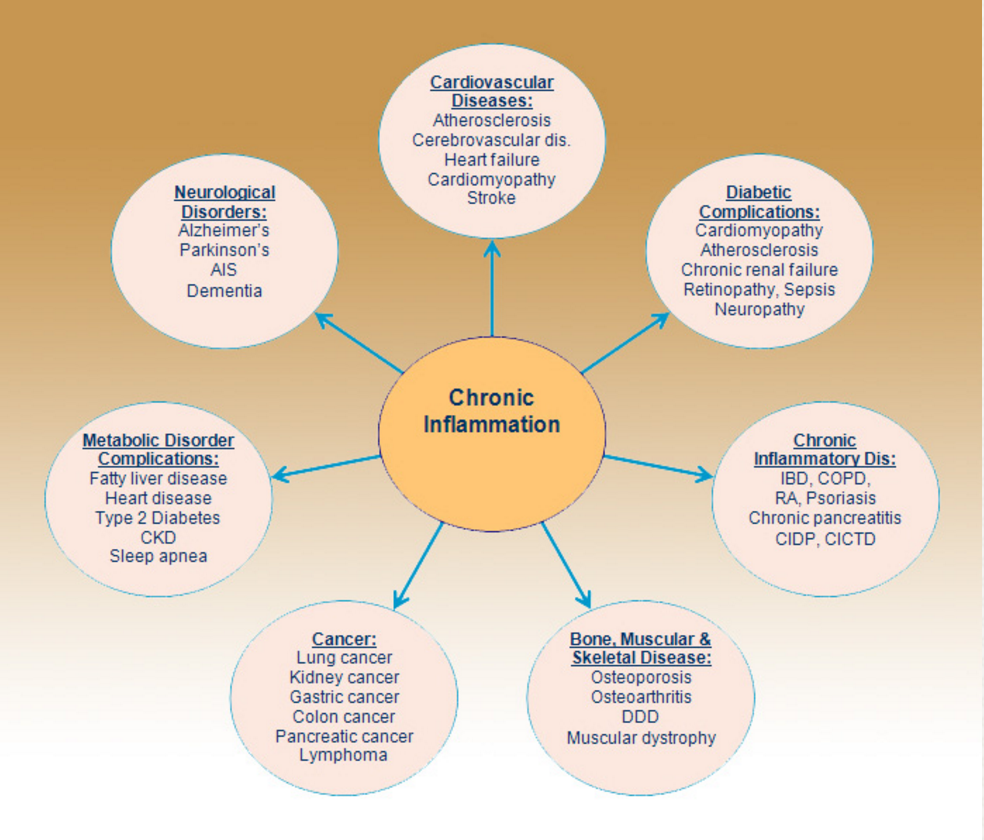 You can prevent most of the inflammation inside your body through high dosage, high quality Omega-3 supplementation and a diet consisting of foods you digest well.
Hormones: Food Choices Affect Testosterone and Estrogen
We also have the issue of 2 crucial hormones in your body: Testosterone and Estrogen.
Testosterone is the male hormone of vitality and it's the main muscle building hormone in your body.
Estrogen is the female hormone, and high levels of estrogen can lead to man boobs and a soft looking physique.
Most men today need WAY more testosterone and less estrogen (especially if you're skinny-fat) to optimize health, aesthetics and performance.
We know for a fact that these hormones go to shit if you eat a poor diet, therefore eating any food if it fits your macros won't work.
Energy levels
Finally, you have energy levels.
We know that eating the right foods, at the right time in the right amounts will lead to better energy levels and mental well being.
This will enable you to train harder, concentrate better on work that requires focus and have an abundance of energy to accomplish your daily goals.
This in itself should be enough convincing to eat the right foods and ditch the IIFYM approach.
Do you really want to take the easy way out and eat crap at the expense of your energy levels, health, digestion and hormonal balance?
Remember, food is fuel.
When you put the right fuel in your body, your body works better and you can get more out of each day!
"But Oskar, I See Ripped Fitness Gurus Eating What They Want"
There's a big difference between you and the naturally ripped guy who has never seen a love handle on his body.
Most of these guys have a better nutrient partitioning which means that their bodies are better at utilizing foods for muscle gains.
When they have good nutrient partitioning, they can get away with more, so there's no reason to compare yourself to guys who have bodies that function differently from yours.
They have better nutrient partitioning because:
Most of them are naturally lean guys. Naturally lean guys have MUCH better nutrient partitioning than skinny-fat guys.
They stay lean year around.
They are able to train hard and often after years of training. Regular training improves nutrient partitioning.
They often eat their "bad meals" before or after their training. You can get away with more bad food when your body is broken down after a training session or if it's depleted before a training session and you fill it up right before training.
They have more muscle mass than you. More muscle mass improves nutrient partitioning. I know, because I used to have poor nutrient partitioning as a skinny-fat guy and now I can get away with a lot more.
In other words, they are ripped in spite of what they eat and not because of it.
IIFYM Can Still Be Useful
After reading all of this you may think that I'm against tracking your macros, but I'm not.
The fact is that macros are important, especially for beginners.
When you're a beginner it's crucial to learn what type of macro structure you respond to.
Some skinny-fat guys do well with a lower carb diet and need to go very low in carbs to lose that last amount of fat.
Others get tired and irritable on a low carb diet and can eat quite a lot of carbs while getting lean.
Testing different macro structures and tracking your mental well being, body measurements and training stats can help you determine what works best for you and your goals.
Therefore, IIFYM isn't completely useless.
It just has to be used the right way.
IIFYM? More Like ITRFFYM
When I start coaching my skinny-fat clients, I always look at their digestive health first.
Do they have any constipation, bloating or diarrhea?
About 60% of them have it, and the first thing we do is find a dietary structure which eliminates these digestion problems.
Once that is done, the client feels better on a daily basis, has more energy to train and looks better since his stomach isn't bloated from eating crap foods.
The next step is then to track body measurements weekly and in the case that these measurements don't change the way we want them to, we experiment with different caloric intakes and macronutrients (using the foods that we know work for the client).
In other words, we are using more of a "If The Right Foods Fit Your Macros" approach, and we often change the macros depending on the training cycle and diet goal.
This is a huge difference from IIFYM which is based on eating anything you want.
IIFYM became popular because it's easy to sell.
It requires less effort from both the client and from the coach.
Every guy who has studied nutrition for a few weeks can send out a list of macros, and it's easy to sell a client on eating any foods he or she wants to eat.
However, if there's one thing I learnt during my body transformation it is that consistent hard work leads to better results than looking for the "easy way".
The same goes for any guy I've coached and emailed with who has made a transformation from skinny-fat to fit.
None of them got their body transformation by taking the easy way out.
Be proud but stay hungry,
Oskar Faarkrog
PS: My first fat loss log is up on my personal blog OskarFaarkrog.com. I will update my log there every Sunday and provide insights from my training and diet.
Read the previous posts in the fat loss series: